WILD THING?
Live music, dead fish and Cleveland's rock repository
L.A. Weekly, September 15, 1995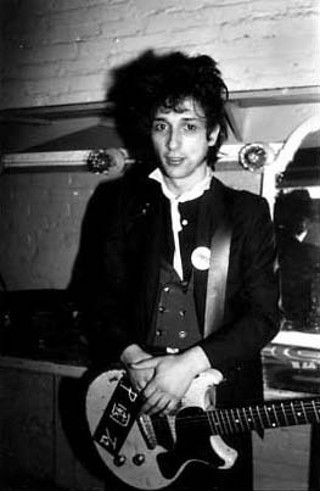 I saw one of Chuck Berry's old guitars in the new Rock and Roll Hall of Fame and Museum in Cleveland, and it felt strange. If it had been Lou Gehrig's mitt, that would have been one thing. I could have thought about how his hand had shaped it, about how the hand must have hurt sometimes when he put it on. Gehrig is gone; baseball continues. Likewise, the guitar bore the marks of Berry's hand, and I could think about how he must have played "Johnny B. Goode" 20.000 times, and usually managed to put something new into it. But my conclusion was different: Berry continues; rock & roll is gone.
For most of the 65,000 at Cleveland Municipal Stadium September 2, though, rock & roll was alive, in their heads at least. Predominantly aged 25 to 50, they were there for the Concert for the Hall of Fame, at which several dozen music legends delivered sound bites from the past. I don't think the two 13-year-old girls with identical straight brown hair and identical jean jackets felt the beat, though. They stood as if they were about to recite "Trees." Every once in a while, a guy in his 50s, an event functionary, I'd guess, stopped by to check on them. Sometimes they'd get up on their chairs for a better look. But they probably would have had a better time at an aquarium. The men knew, but the little girls didn't understand.
God knows Cleveland needs the business. The politicians and corporate heads of Ohio are rockers now. Don't you step on their patent-leather shoes. Because Cleveland is the proud home of rock & roll. Alan Freed, a DJ on Cleveland's WJW in the '50s, is now given full credit for coining the term to describe the R&B he played on his radio program. Later on, he was drummed out of the business for accepting payola, but that was because he made the error of moving his show to big, bad New York and falling in with back-alley players like Roulette Records' Morris Levy. Anyway, Cleveland trade boosters can't fault Freed much; they surely know that business is business.
It wasn't long ago that the city was in default and all but deserted. But since the late '70s, urban renewal has brought in hotels, malls, clubs. And that's a big risk. You build stuff, and you hope folks will come and spend money on it: So far, they have -- but Detroit and downtown L.A. were "revitalized" for a while, too. You've got to give people a reason to keep coming, and that's where the Rock Hall comes in.
A friend of the devil is a friend of mine.
--The Grateful Dead
Sometimes you have to deal with the devil, or at least his music. In 1984, in search of tourist potential, K. Michael Benz of the Greater Cleveland Growth Association was pushing the idea of a rock hall of fame when he found out that a group of music-biz types in New York was already advancing the concept. The following year, along with Ohio Governor Richard F. Celeste and Mayor (now Governor) George V. Voinovich, Benz flew to the Apple to meet with the Rock and Roll Hall of Fame's conceptualizers, including Atlantic Records president Ahmet Ertegun, Rolling Stone publisher Jann Wenner and executive director Suzan Evans. The goal: claim the edifice for Cleveland.
Cleveland thus had a head start over eventual competitors such as Memphis, Nashville, Chicago and New York itself. Thanks largely to an intense mobilization of local citizen support, it was selected as the site, and after a decade of delays, fund-raising failures, cost overruns and near abandonments, the $92 million Rock and Roll Hall of Fame and Museum was opened on the waterfront in the city's lakeside harbor area on September 1.
The city loves it. Folks with something to gain especially love it. The day of the hall's opening, a 110-foot yacht coasted into the harbor to deliver a contingent of tuxed and gowned upper-crusters to an exclusive founders' dinner. As it passed, the inscription on the stern revealed the craft's name: "MODERATION, Cleveland, Ohio."
Politicians and businesspeople are not normally the first to tell you how much they love to boogie, nor do they like to align themselves with the values of Keith Richards or Jerry Lee Lewis. "People would say to me, 'Why are you making a monument to drug users, criminals and sex offenders?'" the hall/museum's director, Dennis R. Barrie, once recounted. "I said, 'Oh, I thought that was at Cooperstown.'" Barrie is a logical choice to act as front man for public alliances of vice and art, having been indicted and acquitted of obscenity charges in connection with his role as director of Cincinnati's Contemporary Arts Center at the time of its 1990 Robert Mapplethorpe photo exhibit. While Cleveland's Rock Hall contains no pictures of foreign objects being inserted in rectums, rock & roll and civic pride don't appear to be natural teammates.
But that's only if you're thinking of the old rock & roll, the music that terrified moms and dads and sparked a generation of revolt. The children of those scared parents are now parents and bankers and mayors themselves, and it's okay with them if they hear "Wild Thing" and "Smoke on the Water" at sporting events, if Lou Reed sold motorbikes and if Bill Clinton honked "Night Train" while campaigning for president. As long as they don't have to hear any of that gangsta rap.
Cleveland is ready to forgive rock & roll for the ill-considered blurts of its youth. Things change. "Tear down the walls" (Jefferson Airplane) had to become "We built this city on rock & roll" (Jefferson Starship). "The time is right for rioting in the streets" (Rolling Stones) turned to "Let's work and achieve" (Mick Jagger). "They dare to push fake morals, insult and stare" (Bob Dylan) became "You might be a rock & roll addict prancing on the stage, money and drugs at your command, women in a cage" (born-again Dylan). So if you see a streetlamp banner of Jim "Momfuck" Morrison glaring in the bright sunlight along Cleveland's Euclid Avenue, or if Barrett Strong's "Money" grinds out at you from a bank cash-machine speaker, or if, when it's dark, the biggest office building on East 12th Street leaves some of its lights on to spell ROCK in 80-foot letters, don't blink. Rock & roll is corporate-friendly now.
School's out forever!
--Alice Cooper
As a practicing Christian, Aretha Franklin in the past has gone so far as to deny the sexual content of the sock-it-to-me's she injected into "Respect." Questioned on Cleveland television about the advisability of building a shrine to the devil's music, she said, "I always thought that rock & roll was very, very wholesome," adding that her image of the music had to do with bobby soxers and high school hops. At the opening of the rock museum, her erstwhile label boss, Atlantic's Ertegun, described the structure as "a place of study, a place of celebration." And as part of an ongoing project, Ford Motor Company has already donated $150,000 to the Rock Hall's education program.
One fondly imagines the potential for rock & roll "study" and "education." I yield the platform to Professor Lou Reed. "Well, first you need something to tie off with," he might croak. "A length of surgical tubing is best, but a necktie or scarf will do in a pinch. Make sure it's good and tight, or the veins won't stand out far enough . . ." The auto company's money couldn't be spent better than on a lecture series by Dr. Jerry Lee Lewis. Tonight's topic: how to bang a 14-year-old virgin at a drive-in movie. "Lord, there aren't many drive-ins left -- or, heh, many virgins," Lewis might chuckle, "so you better act quick. Get you a car with plenty of back seat -- any Ford midsize or bigger should do 'er. And don't forget to get her drunk. Slippin' a little Gilbey's into her Coke always got me to third base . . ."
Or maybe that's not what the Rock Hall people have in mind. What DO they have in mind? A Greil Marcus archive for critical exegesis? Studies in barre-chord stamina with curriculum by Johnny Ramone? Or would the lessons be more of a . . . cautionary nature?
You will find few great rock musicians who emphasize the value of schooling. "Holding me down/turning me 'round/filling me up with their rules" is how John Lennon sang it, and most rock sagas start with "I cut class," "I dropped out," "I got expelled" or "I flunked out." Nobody wants his kid to be a rock musician, because the decision is dangerous. Willfully or not, it amounts to saying, "Fuck school, fuck society and fuck you." When you pick up that guitar, you drop your math book and walk out into traffic with a blindfold on. If you devote yourself to it, you choose to avoid jumping through all the hoops that show you're serious about being a good boy. You don't make profitable contacts, you don't learn skills that will help you earn a living, and you hang around with a lot of losers, boozers and users.
It's no accident that rock music expresses our alienation and our yearning for freedom; it tends to be made by alienated people with an overwhelming need to be free. It also expresses joy and catharsis, which, since they don't promote conformity or cause pegs to be inserted in holes, are antisocial feelings. (It's possible that Elton John caused the collapse of the Soviet Union.) So people who make rock music are putting themselves on the line in a number of ways. For most of us, this amounts to entertainment. For the rock performer, it can mean destruction.
The greatest dilemma of the Rock and Roll Hall of Fame and Museum has been the market-driven necessity of separating the entertainment from the destruction. How do you celebrate Buddy Holly and Brian Jones at the same time? You have to, if you want any kind of credibility -- and credibility still counts for something with a hell of a lot of people. The Rock Hall crew have thought about this. "Rock is about rebellion," director Barrie has said. "We don't want our place to be a mausoleum." But that's not the whole issue. People should have to look directly at the graves, and not just so they can grieve or get scared straight. They have to know that the deaths were necessary -- that if no one died, the music wouldn't mean what it does.
Dance to the music!
--Sly Stone
The Rock Hall concert event was full of rank disappointments and pleasant surprises, electric moments and stretches of snoozeville. The theme was tribute, with many artists performing the songs of their influences. The emphasis was on celebration, but not without a few reflective moments, including a couple of attempts to observe a moment of silence for Jerry Garcia. Ever try to get 65,000 people to shut up at the same time?
There were just a few outright clinkers: Imagine no Bon Jovi. It's easy if you try. No Mellencamp or Hornsby, and Gin Blossoms, goodbye. You may say I'm a dreamer, but, judging from the crowd response, I'm not the only one.
Of course, often your dreams don't come true. For some reason, I can always get my expectations up for Lou Reed and Iggy Pop, the two who, along with Johnny Cash, constituted the event's entire Satan Brigade. As usual, though, Reed and Iggy bombed, this time thanks largely to sluggish backup from Soul Asylum, a boring rock band if I ever saw one. It was, however, quite enjoyable to hear Iggy regale those assembled, along with millions in the HBO television audience, with "I eat more pussy than you all ever seen" during his version of the butt-fucking national anthem, Willie Dixon's "Back Door Man." Cash fared better with his de rigueur excursions into evil, "Folsom Prison Blues" and "Ring of Fire," which were nothing special by his standards (the latter sabotaged by Mellencamp), but I'd pay 10 bucks to hear John Cash snore.
Ohioan Chrissie Hynde added a welcome note of negativity with her polemic against urban renewal, "My City Was Gone." She also sang a beautiful version of Neil Young's "The Needle and the Damage Done": "I hit the city and I lost my band/I saw the needle take another man." Her voice was true; she knows.
It's nice to get a surprise gift, and a couple of times we did. Ann and Nancy Wilson of Heart, whose music I can normally do without, raised the ghost of Sandy Denny with their duet version of Led Zeppelin's 'The Battle of Evermore"; these women can sing. And Sheryl Crow (who, along with Bruce Springsteen, I came to think of as "our co-hosts," because they showed up so often) rocked from the guts on the Rolling Stones' "Let It Bleed." I think she's a little bit more than just the latest MTV commodity, and I have yet to see her crap out. No, I still won't buy her records.
The concert rang all my bells three times. Al Green, doing "Tired of Being Alone" and "Change Is Gonna Come," was celestial, tossing the audience around like a feather on the current of his breath. John Fogerty's hate-the-rich anthem, "Fortunate Son," absolutely laid us low. And I admit that after 30 years, I can still laugh my head off at Ray and Dave Davies, showmen to the point of absurdity, trotting out "All Day and All of the Night" and "Lola." I sang along, okay?
Performances that neared transcendence: Eric Burdon, Melissa Etheridge, Jerry Lee Lewis. Creditable efforts: Martha Reeves, Dr. John, Robbie Robertson, Booker T. & the MG's, the Allman Brothers Band. Since Bob Dylan used to be God, it's hard to accept that the little whiny guy who now calls himself Dylan isn't omnipotent, though he's still great (and cranking on guitar these days). Aretha Franklin, forgetting how "wholesome" rock & roll is, licked her fingers and slid them salaciously up her generous thigh on "Natural Woman." Video replay reveals that Little Richard now sweats only at the hairline; the rest of his face, I firmly believe, is some kind of latex derivative. James Brown, following a blowdown "Man's World," paid tribute to "Garcia and Mickey Mantle." Bruce Springsteen deserves a nod in context for performing "Darkness on the Edge of Town" instead of "Born in the USA"; I liked "She's the One," but I've never understood his success, 'cause I think he's a poser and usually tedious to boot. Significantly absent, though promised: Snoop Doggy Dogg with Dr. Dre, the event's only rap nod, and smack poster boys Alice in Chains.
After six hours, faced with the prospect of enduring a blues duet wank-off between Boz Scaggs and Slash (one of many inspired pairings), I declared my journalistic responsibilities fulfilled and left. I hear it ended eventually.
I woke up this morning and got myself a beer.
--Jim Morrison
The Friday morning I hit town, I had an hour to kill between the morning press conference and the Rock Hall ribbon cutting. I thought I'd see what the locals thought about the whole thing, so I went into an Irish public establishment. It was not a very rock & roll kind of place. The hour was 11 a.m.; five T-shirted gentlemen were lined up at the bar, drinking their brunches. My biological clock having been shattered thanks to no sleep on the previous night's red-eye, I followed suit. Many Irish maintain the tradition of eating fish on Friday; there was a fish-fry special, $3.95.
"Say, Ed," one of the patrons called to the barkeep, "what kind of fish you got today?"
"Dead," said Ed. "Dead fish."
An African-American man and woman in their 30s came in. He got two double Jack Daniel's neat; she got two double Tanquerays with a cranberry splash; they each had a shot of Stoli. Then they left, laughing, having warmed their stools for exactly 8 minutes.
A big young man in a dress shirt and tie entered and pushed some coins into the jukebox. He sat next to me and drank Busch drafts while the juke played several sentimental Irish ballads in a row. He took out his wallet for the express purpose of looking at a picture of a small child he had in it. He gazed at it with unadulterated love.
"How old's the kid?" I asked.
"I have two," he said, "1 year old and 2 years old." It turned out that, due to a clash of blood types between himself and his wife, the first child, a boy, had cerebral palsy: "He didn't sleep for more than an hour a night the first year." The second, a girl, was premature and afflicted with a raft of rare disorders, including bleeding ulcers: 'They're doing a paper on her for a medical journal."
I asked the young man, an unemployed copywriter named Kevin, what he thought about the Rock Hall. "Forget it," he said. "The real story here is the Indians."
"Yeah," I said. The team had the best record in baseball. "It's been a long time since the Indians had a chance to go all the way. I guess Cleveland has something in common with Boston."
"Boston?" spat Kevin, nearly enraged. "They've had the Celtics and the Pats. Do you realize Cleveland hasn't had a team in the finals of any major sport since the Browns in 1964?"
We talked about Irish bars. The one we were in, he said, used to be a real hellhole. Not that it was a palace now -- it didn't even have Guinness on tap -- but neighborhood redevelopment triggered a change of ownership and at least swept out the drug dealers. Kevin spoke with mild contempt of the gentrification that turned the old Flats neighborhood into yuppie town.
'There's a whole line of good Irish bars, though, out on Lorain Avenue, near where I live," he said. "And I know them all. With my experience, I'll bet you a beer that the family of this bartender here comes from . . ." he squinted and stroked his chin, ". . . County Mayo, Ireland."
I later discovered nearly all the Irish in Cleveland are from County Mayo. But I scarcely grudged the beer.
As I exited the bar, I saw a man coming out of a store next door. He wore dark glasses. Snapping a collapsible white cane out to its full length, he strode away with a spring in his step, tapping his way confidently down the street, stick outstretched. I looked up at the sign above the door: "Videos, 25 Cents per Play, Private Booths." The soundtrack, I imagined, must have been exceptional.
I might even end up a rock & roll god. It might turn into a steady job!
--The Kinks
The Rock and Roll Hall of Fame and Museum does not contain a complete set of pubic hairs from the Dictators, though said item, painstakingly requested from the sources and assembled by "Aesthetics of Rock" author Richard Meltzer during the historic 1970s, was offered to the museum gratis from his private collection. And regardless of the fact that the edifice displays an impressive array of Chuck Berry sheet music, photos, etc., it screens no video documentation of the "Sweet Little Sixteen" composer pissing into a woman's mouth, though, as I can personally attest, the footage is readily available.
Which is not to say that the museum lacks a sense of humor. It boasts an exhibit of Little Richard's stage costumes. And when installers found the display cases too short for mannequins of Alice Cooper and Gene Simmons, they simply took the heads off and put them on the floor. Given the realities a public institution faces, it does sometimes manage to push the boundaries of good taste a bit.
Displaying a piece of the airplane in which Otis Redding died, for instance, is a bald example of the necrophilia that is such a valuable part of the music. If the curators couldn't procure a hunk of charred flesh, it's no great loss. And the museum had the foresight to mount a series of Stephen Shore's excellent black-and-white photos of the late Andy Warhol and the Velvet Underground, featuring Sterling Morrison, who died of lymphoma just before the opening. As you look at the glowing, pasty faces in the pictures, you sense an overwhelming aura of drug saturation that doesn't need to be captioned. When I examined Sterling M.'s pockmarked face and then a shot of the young, gorgeous and soon-to-be-dead Edie Sedgwick, I couldn't help thinking of the numerous amphetamine-cocktail injections detailed in Sedgwick's biography, and wondering if her ass wasn't just as pockmarked. This is one of the museum's best exhibits, with the minor quibble that, in a photo of the Velvet Underground with the late Nico, androgynous V.U. drummer Maureen Tucker is identified as "Nico's son, Ari." For requisite obnoxiousness and oppression, the museum's winning entry is "The Wall," Pink Floyd bassist Roger Waters' contribution. A huge inflated mugwumplike creature with floodlight eyes and a puckered asshole for a mouth -- labeled "The Teacher," rock-education fans -- looms over The Wall, at unpredictable intervals bursting into shouted gibberish and menacing the patrons below. A sort of doped-out stuffed dummy, Pink, slumps on The Wall and in front of a TV. And on The Wall itself are handwritten expositions by Waters, chronicling his alienation from the band's fame, his drug addiction and his self-loathing. Long live rock & roll.
The above selections are of course atypical; the museum is distinctly positive and curiosity-centered. Other things I liked: Woody Guthrie's fiddle, with 'This machine killed 10 fascists" written on it; a re-creation of Sam Phillips' original Sun Studios room, which held just two Ampex 350 one-track tape machines when he recorded Elvis; Neil Young's words to "Ohio," scribbled on a big envelope. Things I didn't like: too many TV screens, which are supposed to be modern and interactive and all that, but all they do is remind me of MTV. Mostly, there's a lot of the stuff you'd expect: records, guitars, amps, costumes, magazines, lyrics, pictures, documents.
I didn't really want to see a movie (there are five theaters), but the woman at the door said this one was only 20 minutes and just starting, so I went in. It was the Time/Life condensed reel, I think, and it bit me hard. Dylan, still a child, squinting into the stage lights, singing "Blowin' in the Wind." Clinton saying he didn't inhale. Neil Young singing "Needle." Iggy recalling his school-bus epiphany on hearing "Louie Louie": "It sounded demonic . . . I liked it." Johnny Rotten's definition of rock & roll: "Vast amounts of cash to talentless assholes." Pete Townshend: "They might be your idols, but they were my friends. My friends are DEAD."
I got out in the light, and looked at the pictures on the wall. Aretha, Dylan, Lennon, B.B. King, all looking beautiful and young. I had tears in my eyes, and I couldn't shake them. What is the problem? I thought. The feeling was familiar. I finally figured it out; it was a feeling of loss, the feeling I get when I learn someone I love has died. Someone, or something.
Walk a mile in my shoes.
--Joe South
At dinnertime, I walked out of my hotel into the evening air. A comfortable breeze was blowing from Lake Erie, as it did all weekend.
When I am in a strange town, I gravitate toward the area around the Greyhound bus station. Though it's always the pits, it's often the only part of town that feels real to me, and if I want to eat, I can be fairly sure I will not be confronted with any arugula. I was walking that way when I smelled barbecue, and I turned into the wind in pursuit.
I lost the scent. Next to the bus depot, I saw an alert-looking guy about 40 tending a parking lot, and asked him about the smell. "It's just a hop and a skip up that way," he said, introducing himself as Deke, "but you don't want to go there by yourself." Intent on procuring 'cue for me, although he'd just eaten, Deke decided he was going to abandon the lot and escort me personally. "But I need my cousin to watch my back." His cousin was Bud, a cheerful but mercurial 20-year-old who'd just returned to town after a forced vacation. "I made a mistake," said Bud darkly. "Everybody makes a mistake, right?" Deke assured me we'd be okay with Bud along. Bud agreed: "They slide down a 50-foot razor soaked with alcohol on they bare ass before they fuck with me." He liked that one, so he said it three or four more times.
We walked through the dark streets and alleys. When we would encounter a telephone pole, we had to choreograph our path around it so all three of us went on one side. "Don't split the pole, man," said Bud. The hop-and-a-skip turned out to be about three miles in each direction. Along the way, I discovered that Deke didn't care much for "bitches," except for purely utilitarian purposes. "My mama's dead," he said, "the rest can sink." Equally, neither gave a damn about the Rock Hall, except that Deke suggested Bud could employ his considerable artistic talents to create a T-shirt and sell it to tourists.
The rib shack, engulfed in a cloud of smoke from several black barbecue drums, proved to be the real thing and then some. Neither of my escorts was hungry, so I just bought them a 40-ounce bottle of beer. On the way back, the two entertained themselves with dueling imitations of Elvis (Deke) and Snoop Doggy Dogg (Bud). Bud kept telling Deke to slow down: "My knees, man."
Both cousins suffered from a family condition that caused water to accumulate in their knee joints. Deke, though, said he wasn't suffering: "I just had mine drained on Thursday." We walked. A lot.
The next day, with this publication's sports editor, Dave Davis, in tow, I took a cab back to the barbecue shack. Dave recognized one of the patrons, a portly old gentleman with a suspicious squint, as Robert Lockwood Jr., a local blues stalwart whom Dave had seen rocking the house at a club the previous night. Dave paid his respects, then explained to me that Lockwood had just been written up in the LA. Times after raising a stink by refusing to donate one of his guitars to the Rock Hall. "If they're going to be making money off us, they damn well better make sure some of it comes back here," he was quoted as saying about his dirt-poor neighborhood, the Hough.
Personally, I would like to start a fund for Deke and Bud, and Kevin, and everybody else I encountered in Cleveland. It's what one local reporter described to me as "a soulful town." I would like to think the Rock and Roll Hall of Fame and Museum will in some way help drag the city through lean times, and I hope its people, and not just its businesses, will feel the difference. And I feel lucky.
Got my sonic reducer -- ain't no loser!
--The Dead Boys
I fix up a track and I don't look back.
--Johnny Thunders & the Heartbreakers
You're just a pile of shit -- coming to this!
--The Sex Pistols
Johnny's gonna die! Nah-nah-nah-nah nah nah!
--The Replacements
I saw Johnny Thunders at the Whisky with a hapless pickup band -- must have been around 1982. I remember thinking that I had seen rock & roll die that night. Thunders was wandering around the stage with his nose pointed at the ground, as if he were looking for a dropped plectrum. He took random swipes at his guitar, and occasionally slurred something into the air to the side of the microphone. Later I heard someone had given him a little too generous a taste, and that the next night he was reasonably together. But that night got me thinking about what I was paying to see.
At first I thought Thunders was betraying his music. Then I realized I was paying to see exactly what I saw. The guy was dying, and that was what I wanted. He was going to burn out, and I was going to catch a little of the heat and move on. Few have dedicated themselves to rock & roll the way that little bastard did. He bought the whole salami. After he left the New York Dolls, he wanted to call his new band the Junkies. He was killing himself, and not only did he not care, he was doing it on purpose. Born to lose. He's dead now.
I don't care if Johnny Thunders is in the museum. Kurt Cobain is there, but then, Cobain was a saint, wasn't he? An idealist, someone whose art was his pain, like Lennon. Someone you can mourn with dignity. Thunders was no artist, but he was rock & roll. Nobody wants to celebrate him, because he just did what he had to. He rocked, and he died, and he never made money. He reminds me of another runt who did the same: Stiv Bators. Just another Dead Boy. Hometown: Cleveland, Ohio.
The essence of what the Rock and Roll Hall of Fame and Museum is trying to celebrate is in the past. Rock & roll has been photocopied into nothingness. It's history, and that's what museums are for. I don't like the word "inducted"; you get inducted into the armed forces. It rings too much like "incarcerated." An unfortunate fact: the logo of the Rock & Roll Hall of Fame and Museum looks a lot like the bars of a prison. Still, no harm done.
The Rock Hall will inform, and it will entertain. It may even help save Cleveland, which deserves to be saved. Are those good enough reasons for it to exist? Maybe. As I stood outside the structure, though, I was struck by the abstraction of it all. I.M. Pei's bold, clean, jutting architectural shapes, the huge pyramid with its hundreds of glass panes. It's a personal thing, sort of like when I saw that Oliver Stone movie about the Doors: I hate it when somebody fucks with my memories. And I couldn't help wishing I had a brick.