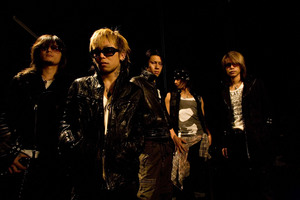 Fri. Feb. 23 -- Dir En Grey (pictured) -- heavy, spooky, dramatic Japanese hard rock, at the Wiltern. Read Burk's preview feature in LA Times here.
Sat. Feb. 24 -- Dir En Grey at Avalon.
Sun. Feb. 25 -- Pan Afrikan Peoples Arkestra were stunning at REDCAT recently; see Burk's review here. Sunday they're in their main home, the World Stage, 4344 Degnan Blvd., LA 90008, 3pm.
Sun. Feb. 25 -- Lamb of God, Gojira, Machine Head, Trivium at the Wiltern. Best of the heaviest metal -- LoG was nominated for a g'damn Grammy this year. In this Saturday's LA Times, read Burk's review of the same bill, based on their Anaheim show Thursday night.
Tues. Feb 27 -- Longtime Ark member Dwight Trible closed out that REDCAT show with his sweat-inducing vocal hyperbole; he leads his own excellent outfit at Jazz Bakery tonight.
Thurs. March 1 -- Can't say I normally pay a lot of attention to Rickie Lee Jones' activities, but when I heard the grainy strains and drony declarations of Sermon on Exposition Boulevard, her new Jesus-themed masterpiece, I was thrown right into a trance. She's at the Henry Fonda Theater.