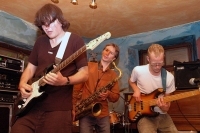 It warmed my heart when the wonderfully named quartet Panzerballett reached out all the way from Deutschland to be reviewed on my little Los Angeles site. But my heart caught fire and actually exploded when I heard musicians who truly embody the spirit of metaljazz, and possess the skill to make it real.
These Germans dig their funk for the rhythmic opportunities it offers. So they plunge right in with "Zehrfunk," drummer Max Bucher and bassist Flo Schmidt popping off each other as if auditioning for James Brown im Himmel, while Jan Zehrfeld crunches out distorted guitar like a hyped-up combination of Michael Stern and Michael Schenker; tenor man Gregor Bürger (not a pseudonym for yours truly, though I've been known to blare some sax) plugs in the jazzish element with clean, strong melody lines and a relaxed improvisational flare. Zehrfeld and Bürger are a hot team throughout, bouncing in counterpoint as often as they nail precise unisons. Zehrfeld can do it all, but his rhythm chops, as on "Abkrassen," are especially lethal. Panzerballett is a band that really SOUNDS like a band and loves being one -- odds are they don't have to drain their cell phones to get rehearsals together.
These guys are versatile as hell, and giggly about their influences; they just HAD to honor both Steve Harris and Herbie Hancock by naming one tune "Iron Maiden Voyage," though it's really a spy tango that breaks down into genuine skank. While they're at it, they also pay tribute to Swedish metalers Meshuggah with the machine-gun doombringer "Meschugge." The twisted hesitation funk of "Schmidtz Kadtse" reminds me of the similarly configured L.A. band the Mentones, which also happens to be led by a funkateer with a German name, Steuart Liebig. Best of all is the blasting "Aspirin Smoke," a rhythm seminar that absolutely erupts -- trippy sax atmospheres, too, a direction the group could explore further.
Panzerballett is an aggro escape, sprung by dynamic studio production that's designed for maximum thump and gouge. So do yerself a favor and play it fucking loud.
Available from www.panzerballett.de. (Greg Burk)