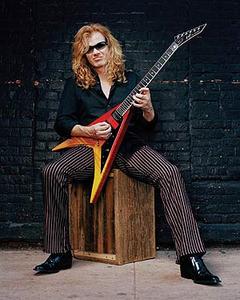 Megadeth, That One Night: Live in Buenos Aires (Image Entertainment). The cultivated bad-ass beard stubble can't hide the fact that Dave Mustaine looks happier than ever, and the huge 2005 Buenos Aires audience sproings along in rapture. A fine selection of MD hits rips with such clarity, tightness and power that one wonders if the recent trend toward overdubbing entire concerts is in effect, though if so, the cutting disguises the fact unusually well, and anyway so what? (One Amazon review faults the DTS 5.1 sound, a mode that usually sounds weak on my appropriately equipped player too, but on Dolby Surround this hits like a truck, so no fault.) A test of Megadeth's pulse is the newer material from The System Has Failed; it throbs as mightily as the '80s chestnuts. One Night is a worthy alternative to Rude Awakening, the DVD shot in 2001 before Mustaine's "retirement"; the latter rocked more desperately, but the new one's more satisfying due to the improved sound and the weightier drumming of Shawn Drover. Between-song footage of Mustaine and current guitar twin Glen Drover out on the lawn picking acoustic renditions of faves such as "A Tout Le Monde" for a circle of fans makes for a warm touch from director Michael Sarna. The question that's never been properly addressed is why original bassist Dave Ellefson wasn't involved, and in fact threatened suit over use of the Megadeth name. I know Mustaine's comeback was originally supposed to be a solo affair, and of course anything on which he sings, blazes guitar and writes the material deserves to be called Megadeth. But Ellefson is missed a bit. He's family.
TNT, Live in Madrid (MTM). The cover shows a locked suitcase, and it seemed like the key got thrown away in the wake of singer Tony Harnell's departure from one of the world's greatest melodic-metal bands, the American (Harnell) and Norwegian (guitarist Ronni Le Tekro and the rest) outfit TNT -- nobody has made the feeblest effort to publicize the DVD/CD package's U.S. availability. (You can get it on Amazon now.) Recorded last year as Harnell's farewell, Live in Madrid makes for vivid history. The body-blow sound was apparently all redone later, judging by its flawlessness and the 100-cuts-per-minute visual editing, which avoids sync-challenging closeups of Harnell while he's wailing his miraculous tonsils off. (See comments re Megadeth above.) That's only a little distracting. Viewers will likely divide, as always, into two cliques: those who prefer the girlier '80s material ("10,000 Lovers in One") and those like me who crave the heavier, more psychedelic post-'97 stuff. But the "live" tonnage here exceeds studio standards, and even latter-day material that seemed a little lightweight on CD ("Invisible Noise," "A Fix") wreaks considerable harm; Le Tekro is a mad slasher, drummer Diesel Dahl a two-fisted killer. Harnell and TNT are both continuing separately; anything either undertakes is eminently auditable.
Einstürzende Neubauten, Palast Der Republik (MVD). Here's a vet act that loses traction when viewed (as in this 2004 show) rather than heard. Front artiste Blixa Bargeld comes off as an overstuffed vest, and all the clanking and scraping behind, set against bassist Alex Hacke's incongruous rock-star posturing, spreads out into near nothingness across the visual field. This music benefits from a little claustrophobia. Close your eyes.
The Heath Brothers, Brotherly Jazz (Dan Sun). Lotta history from brothers Percy (bass), Jimmy (sax) and Albert "Tootie" Heath (drums). Tales of Bird, Diz, Miles, MJQ, cabaret cards and prison -- told in the Heaths' words and those of a paranoid Sonny Rollins and a rather out-of-place Taj Mahal among others -- are informative but less than compelling. Funniest moment: Historian Phil Schaap's words on the bros' relatively prosperous upbringing are followed immediately by Jimmy saying, "We were on welfare" and relating a family diet of blank-label beans. The monumental Heath legacy is ill served by extensive resort to footage documenting one of their last performances together, where Jimmy's chops have slipped below his standards.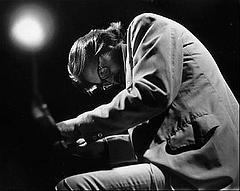 Bill Evans Trio, The Oslo Concerts (Shanachie). Fans of the much-worshiped piano melodist (count me indifferent) will gobble these rare concerts -- from 1966 with bassist Eddie Gomez and drummer Alex Riel, and from 1980 with bassist Marc Johnson and drummer Joe La Barbera. The '66 set does include an attractively twisty rendition of Evans' Monkian early composition "Five," and a young Johnson is already a master. Everything's straightforward, with good sound and quiet, appreciative audiences. In an interview after the 1980 show, a bushy and bearded Evans, sporting the pelican-wing shirt collar that went out a couple of years previous, is alternately thoughtful, cranky and cold, praising listeners who don't need to be hit over the head by music. They certainly won't be hit over the head by this package, which lacks even songwriting credits.