Fri. March 23 -- Bow down to the deities of drone, G.E. Stinson and Devin Sarno. It's a particularly apt co-bill: Stinson's broken industrial grooves and washes of mind-obliterating sensu-noise aligned with Sarno's slowly mutating bass time-stretch. Meditation at its most physical. Dangerous Curve, 1020 E. Fourth Place, downtown, 8pm; $10.
Fri. March 23 -- Puttanesca is the most musically rewarding and poetically extreme lounge act in the universe, getting scary-good via extensive gigging. At Taix, 1911 Sunset Blvd., Silver Lake, 11:30pm. Also next Fri. March 30 at Mr. T's with Double Naught Spy Car.
Fri. March 23 -- Nick Mancini plays modern jazz vibraphone with a fresh, light touch; way more than a tinkler. At Café Metropol, 923 E. Third St., downtown, 8pm.
Fri. March 23 -- Rock ain't dead if Red Sparowes have anything to say; it's just experiencing a big, slow, ever-unfolding nightmare. With Zombi, an artful big-beat tech duo, at the Troubadour.
Fri. March 23 -- Superlative country music with zest, humor and a psychedelic twist: I See Hawks in L.A. With the Chapin Sisters at the Getty Center, www.getty.edu, 7:30pm.
Sat. March 24 -- While the teaming of avant-to-mainstream guitarist Pat Metheny with Brad Mehldau, the most sensitive pianist in history, is definitely compatible, it's a little too nice -- two guys who respect each other and don't wanna get in each other's way. They're best when they've got bassist Larry Grenadier and drummer Jeff Ballard to kick 'em around, and here, they do. Disney Hall, downtown, www.laphil.org.
Sat. March 24 -- For sheer chops -- and I mean the touch around the edges, not just speed -- there's no better alto saxist working than Kim Richmond; he brings an ensemble tonight. At Café Metropol, 923 E. Third St., downtown, 8pm.
Sat.-Sun., March 24-25 -- Metal festivals are among my top five ways to kill beers, and I don't care that I haven't heard of most of the bands in this edition of Murderfest. The big news is supposed to be a rare reunion of original grindcore dudes Repulsion on Saturday, but that day I'm really keyed for the layered Sabbathisms of Kylesa at 5:55. The biggest name Sunday, at 10:55, is Pig Destroyer, whose unvarying noise I find to be a headache, and not the good kind. At the Knitting Factory.
Mon.-Sun., March 26-April 1 -- An unprecedented week of glory: Cryptogramophone, the new-thinking L.A.-based label with the wildest roster you'll find anywhere, presents its artists at the Jazz Standard in New York City. Mon. Jeff Gauthier; Tues. Scott Amendola; Wed. Myra Melford; Fri.-Sat. Nels Cline Ensemble playing music of Andrew Hill; Sat.-Sun. Bennie Maupin.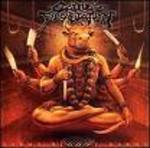 Wed. March 28 -- The Locust (high-buzzing abstraction) and Cattle Decapitation (artistic vegan death metal) are the führers of San Diego's teeming modern metal scene. At the Knitting Factory.
Wed. March 28 -- The spellbinding Sleepytime Gorilla Museum mash art, rock and performance, somehow managing to sound like no one else (maybe cuz they build their own instruments). At El Rey Theater, 5515 Wilshire Blvd.