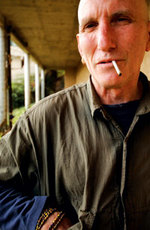 Fri. March 30 -- Z'ev is a sound artist who can really take you places. Dark places, mostly, because that's where the secrets are. His music encompasses whole fields of thought -- as a poet, a student of Kaballah and an overall critical thinker, he's established parameters that range far beyond playing instruments. So when you hear his superabstract records, which these days consist mostly of dynamic arrangements made from electronic samples, you may not immediately understand the effect they're having; you may just find yourself later acting in ways that reflect a mind opened to new possibilities. Last time I saw Z'ev, he had taken up his percussion instruments to accompany old partner Johanna Went. (Went mounts a big display-and-performance series plus DVD release celebrating her extremely important performance-art career over the next two months.) Tonight, he'll probably be hovering over his computer. Hope I can make it, though my stars are not fortuitously aligned. Dangerous Curve, 1020 E. Fourth Place, downtown, 8pm; $10. (Arrive on time and check your Mapquest carefully, as it's hard to find.) See my review of last Friday's G.E. Stinson-Devin Sarno performances at Dangerous Curve in this week's batch of MetalJazz postings. And read my 2004 L.A. Weekly interview with Z'ev at www.laweekly.com. Sorry, the link's not working. Photo by Jeff Gould.
Fri. March 30: If you want to get good food and wine and see some weird shit tonight, try Reptet at Café Metropol (923 E. Third St., downtown, 8pm, www.roccoinla.com). Reptet is a Seattle free-jazz sextet that stirs things up in a relaxed, offhand way. Good chemistry of the kind that indicates folks who've played together awhile. No knit brows.
Sat. March 31 -- Beloved L.A. vibraphonist Ritchie Hass (Zoogz Rift, Saccharine Trust, Joe Baiza's Universal Congress) has got multiple myeloma and needs money for treatment. The blowout benefit at Safari Sam's (5214 Sunset Blvd., Hollywood, 4pm on) features, among others, Backbiter (6:00), the Amadans (6:30), Vinny Golia (7:30), The BellRays (8:00), Mike Watt's Missingmen (8:50), Puttanesca (10:10), Saccharine Trust (10:40) and Atomic Sherpas (11:40) and Fatso Jetson (10:10). Amazing lineup. Cough it up.
Sat.-Sun. March 31-April 1 -- Santa Ana's Galaxy Theater is a comfortable place to see Metalfest, if comfort and metal are not incompatible for you. (Me, I love the combination.) The headliner on Saturday is the redoubtable Testament, back with its classic lineup to steamroll heavy thrash groove, and on Sunday the major German death-metal band Necrophagist, in its last gig with drummer Hannes Grossman. Check for ticket availability before going, as this could be a sellout.
Sun. April 1 -- Mark the first Sunday of every month for Open Gate Theater's Sunday Evening Concerts series, which never presents anything but the freshest edge music by the finest musicians. This time it's the duo of Paul Livingstone (intense sitar) and John Bergamo (all-encompassing percussion), plus Quetal, the duo of Martin Espino and Christopher Garcia playing pre-Columbian flutes and strings and all kinds of stuff. Really tops. Center for the Arts, 2225 Colorado Blvd., Eagle Rock, 7pm; (626) 795-4989.
Tues. April 3 -- You know that beautiful rolling jazz from the early '70s, stretching out forever, reaching past the garbage toward a union that's never gonna happen unless somebody first imagines it? That's our local Atman Ensemble, with vocalist James Love, at the Jazz Bakery.
Mon. April 2 -- Inventive trio of Damon Zick (sax), Todd Millstein (guitar), John Daversa (trumpet), 8pm; and the quartet of the supercreative malletman Brad Dutz, 9:30pm. LAND on 2nd St., 366 E. Second St., downtown, 8pm, $5; (213) 680-0047.
Wed. April 4 -- Alan Ferber Nonet. Miles-Gil-Gerry swing, SoCal breeze, meditating in the gazebo, torquing the bop like a wet towel, clouds gathering for summer rainshowers. Not often you get arrangements this posh in a club, but trombonist Alan Ferber, well known in these parts, is back in town with a CD under his own name, and all you gotta do is sit back and drink. LAND on 2nd St. (see above), 8pm.
Thu. April 5 -- Alan Ferber Nonet at Vibrato, 2930 Beverly Glen Circle, Bel Air, 8pm, www.vibratogrilljazz.com.
Fri. April 6 -- Alan Ferber Quartet (saxist Ben Wendel, bassist Harish Raghavan, drummer Mark Ferber) at Café Metropol, 923 E. Third St., downtown, 8pm.