Fri. March 9 -- I've been plugging Vijay Iyer since the last millennium for the way he plays piano -- beautiful/weird ideas coming at ya from all angles of his math-geek brain, seemingly without precedent. Among his projects is a collaborative thing with spoken-word artist Mike Ladd, which I don't recommend as sweatily as Iyer's instrumental-only stuff, but it gets points for creativity. Iyer and Ladd build a musical environment out of piano, electronics, effects, snips/loops and voices, in service to a central concept (terrorism & travel, and most recently "the information landscape"). They score highest on the musical level; Iyer and a small team of specialists show a real talent for stereo-tweaky collage on the new Still Life With Commentator. On the lyrics front, Ladd rises to neither comic nor poet status with lines like "The home secretary has a lemon-fresh scent." His plight outlines the problem with spoken word (and rap) in general: The non-melodic verbalist has gotta be as good as Burroughs and better than Baraka to sound like anything but a distraction, not to say a bore. Music is music for a reason, right? This was going to be at UCLA's Royce Hall, but I just found out it's canceled.
Sat. March 10 -- At Royce, Tibet seems to be a better bet. Tuning in to the physicality-shattering vibrations of The Gyuto Monks Tibetan Tantric Choir is more rewarding than amateur Tantra. More rewarding than solo Tantra, anyway. www.uclalive.org.
Sun. March 11 -- L.A. is blessed with many musicians who grok the infinitude of the guitar; Tom McNalley is one, and he's got a major trio. Equally untraditional (and proficient) billmates are Such Simple Ears, the duo of cornetist Dan Clucas and drummer Brian Christopherson. I haven't had the pleasure of encountering Nate Scoble, who's first up, but he's both a musician and an artist, so he's in the right place: Dangerous Curve, an art gallery quickly becoming a hotspot for edge music. Sorry for plugging this gig last month as if it were in February, by the way. 1020 E. Fourth Pl., downtown, 4pm.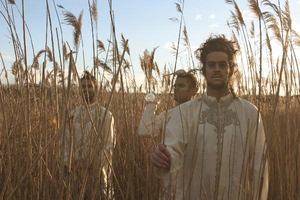 Mon. March 12 -- Due to a trademark wrangle, Tarantula AD had to become Priestbird. Fret not, it's the same rockdudes -- Danny Bensi, Saunder Jurriaans and Gregory Rogove -- and they're gonna be phosphorescent musicians no matter what genus, class or phylum they cleave to. First scent that wafts from the new Priestbird (coming April 17 on Kemado) is an individual aesthetic the group achieves, and hardly anybody can do that. In the Priestbird world, hiss, string noise and incidental room clatter take the place of too much reverb, making you feel as if you're sitting in the corner of a small studio while they spin slowly through their stoned, ever-blooming life cycles. It sounds like a community, much in the way that David Briggs produced Neil Young, and the mix of acoustic and electric, light and heavy, is similar too. Maybe Priestbird don't got hooks, but they got feel, plus offhandedly expert musicianship -- Leo Kottke-like acoustic guitar, neatly applied cello and violin, atmospheric piano, sighing vocal melodies. The album is textured without being layered, easy to hear and addictive; you'll want to keep turning it up, and you'll want to play it again. Satisfying. The Sword (too much Sabbath thievery with insufficient chops to pull it off) closes and Year Long Disaster opens, at the Troubadour, 8:30pm.