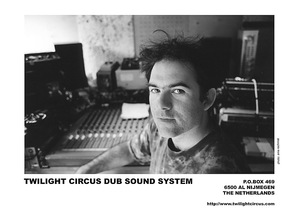 What is authentic? The word once again expanded in my skull like crumpled cellophane when I heard that Twilight Circus Dub Sound System, a.k.a. Ryan Moore, will be hitting the Echo's Dub Club night this Wednesday, opening for the Abyssinians.
An errant twitch of the sub-patella musculature might boot Moore onto the Fake Heap, 'cause he's a short-haired white Canadian who launched his solo dub excursion in the mid-1990s in transit from the arty atmo-technocracy of the Legendary Pink Dots. And the Abyssians on the surface appear to be Real Dealers, since they're a wayback vocal trio rooted in the hot, moist loam of late-'60s Jamaica.
Reflect for a mo, though. The Abyssinians, near as I can discover, currently feature only a single original singer, Donald Manning. Sweetly harmonious and Rasta-reverent, they've followed a course that shuns the shoals of danger; the pursuit of stylistic purity and studio squeakiness has resulted in records good for little but napping. This is authenticity stuffed and mounted.
Moore, on the other paw, is a complete obsessive. No doubt he partakes fully of the sacred ganja (if his riddims aren't proof enough, his relocation to Holland clinches it), but the weed hasn't confined him to his hammock.
Witness that any of Moore's numerous nearly all-instrumental Twilight Circus Dub Sound System records will take you straight past rote cant and into the pumping heart of Jah. It's territory where resistance is far from futile, where the persistence of the subterranean bass pulse and the endless variety of nerve-bristling sound effects make you feel that revolution is possible, and where ingeniously orchestrated fugues of reverb ensconce your lonely head in a universal cathedral echoing with communal affirmations.
Though Moore is a traditionalist, he's no stiff revivalist; for him, authenticity means being true to himself, which means being true to what first fired his childhood mind in the dub of King Tubby, Scientist, Tappa Zukie and the rest. That is, he knows what works, and he knows what's been lost -- Moore's jones for analog sound has a musicianly motive as well as a historical one. While stories of Lee "Scratch" Perry logging thousands of recordings on a basic four-track machine make us think of dub as caveman stuff, many of its late-'70s Jamaican originators were actually technical avantists, designing amps and speakers for a maximum physical impact that digital equipment is only beginning to match. You really feel Twilight Circus music, which comes across powerfully on CD but sounds most at home on the vinyl discs, weighty as pig iron, on which most of the albums are also available.
In a way, dub is a misnomer for Moore's well-considered structures. But dub, as currently defined in relation to the art of mix improv, is a misnomer too, since the term comes from the unmixable acetate "dubs" of instrumental tracks (stripped of their vocals), which could be used for toasting or whatever. Most of the time, Moore composes instrumentals using one or two repeating figures on bass (his main instrument), and then lets his imagination rip on the arrangements, which undulate for three to five minutes with a smoothly mutating character unlike that of Tubby's creations, which often shock the ears with unpredictable dropouts that leave one or two instruments floating in the void.
At the Echo, Moore will be doing a mix set -- his own dub plates chopped and overlapping with rare records by other artists. It will be a heavy turntable experience. So will the intervening DJ stints by house spinners Tom Chasteen, Roy Corduroy, the Dungeonmaster and Boss Harmony, who are exceptional collectors and mixers -- L.A. is damn fortunate to have a Dub Club every Wednesday. And from what I've seen of the musicians who back touring reggae acts at the Echo, the Abyssians will be thoroughly diggable whether you're into their vocal melange or not.
Now that Ras Tafari no longer manifests physically on this planet, His Highness has no color. Good thing. He's getting realer all the time.

Dub Club at the Echo, 1822 Sunset Blvd., Echo Park, Wed. Mar 14, doors open 9pm, www.attheecho.com.
A dub cover story Greg Burk wrote for LA Weekly in 2003 can be found
here.