Dmitri Kolesnik, Five Corners (Challenge). Fans who consider 1959 the year jazz started to go wrong will line up for this hi-pro traditionalist disc by Russian bassist-composer Dmitri Kolesnik, a student and acolyte of Ron Carter. The brisk drum groove comes courtesy of Lenny White no less, and tenor man Eric Alexander has long proved as close as you can get to the Newk that Sonny Rollins ain't been for decades. With Jim Rotondi on trumpet and Andrei Kondakov on piano, "Five Corners" swings, beautifies, blows tough & tender. Keep that time machine polished; we need it sometimes.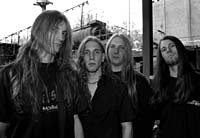 Dew-Scented, Incinerate (Nuclear Blast). Haw-haw, big slap on the black-T-shirted deltoids of Dew-Scented for demonstrating via their name that Kraut deathsters can have a subtle sense of humor, in English even. But bigger kudos for their canny use of soundspace, as furious drums and speedy riffs somehow manage to avoid tripping over each other, and Leif Jensen's battle-bark keeps the troops roused. These are real musicians who know how to let us process their intensity. Slammin'.
Chris Byars, Photos in Black, White and Gray (Smalls). Byars owns a righteous tone on tenor and alto sax -- he's got that dryness characteristic of the Pres/Konitz crew, but with a little more hair on his chest swingwise. On soprano he's listenable -- it's good to hear more saxists avoiding the instrument's squawk proclivities. Two gnats in the batter: the ordinariness of the post-bop tunes, which come off as drawn-out chord/rhythm excursions, and Byars' improvising style, which isn't distinctive enough to pull that off. Accompaniment by Sacha Perry (piano), Art Roland (bass) and Andy Watson (drums) is straight-ahead, no shocks.
Kartet, The Bay Window (Songlines). Overintellectual? For sure, but the four Frenchmen of Kartet are so furry about it that you just can't kick 'em. First they deconstruct Monk's "Misterioso," which decidedly doesn't need it, then they find a bunch of other ways to probe Thelonian territory with lopsided instrumental balances and the piquant insertions of alto man Guillaume Orti. There's some sugar in the lemonade, though: pianist Benoit Delbecq's caressing touch, the unobtrusive inventiveness of Chander Sardjoe's scattered drumming, the substantial sensuality of Hubert Dupont's bass. Play it at low volume while working and you may actually find it to be stimulating background music, if that's not an oxymoron.
Monarch, Dead Men Tell No Tales (Crucial Blast). Bet you never thought the epic '90s sludge of Sleep's "Dopesmoker" album (a.k.a. "Jerusalem") would become a whole movement, but now we find it's spread all the way to France, with the drum crashes spaced even wider apart and the guitar playing one heavily fuzzed and feedbacked note every 20 seconds. Two CDs, five tracks, one idea (and the idea ain't Monarch's). I like it, but just to punish myself, I'll never play it again.