Fri. April 27 -- Roman Stolyar is a Russian pianist and flutist with a disciplined hand in jazz, classical and experimental music. Here he collaborates with members of the CalArts Improvisation Ensemble in multimedia works, which, judging from the samples of his music I've heard, are likely to be quite melodic and attractive. He'll be employing his methods of orchestral improvising -- a growing field, following in the footsteps of Butch Morris and Adam Rudolph. At REDCAT, 8:30pm, www.redcat.org.
Fri. April 27 -- Well-rounded trumpet guy Elliott Caine gets deserved recognition when he's interviewed in the latest installment of World Stage Stories, followed by a performance of his 4tet, which includes pianist Scott Oakley, bassist Peter Marshall and drummer Don Littleton. At World Stage, 4344 Degnan Blvd., L.A. 90008, 8pm.
Sat. April 28 -- If you know anything, you know many amazing artists work in obscurity. It's a PR thing, really. Kind of a drag for them; great for listeners who get to hear them from 10 feet away in small spaces among audiences who haven't bought season tickets so they can see Riverdance next month. Here's one of those occasions. Jim McAuley gets your attention from the first note of his acoustic guitar, then keeps it by choosing thousands more, instantaneously, each one shaped, all interrelated and rubbing against one another like some kind of intense group sex -- a real meeting of mind and senses. A complementary billmate is the ingenious Kraig Grady, microtonal composer, malletman and instrument builder, who understands how sounds vibrate in the air and allows them to meet and travel through your head in the most natural and thrilling ways; he's bringing a tabla player along. I haven't experienced the duo of vibraphonist Dan Raimi and Chris Dingman, but if they can hang with the company here, you better not come late. At Echo Curio, 1519 Sunset Blvd., L.A. 90026, 8pm; $5.
Sat. April 28 -- On the other side of town, an entirely different way to mess your mind: a RE/Search party celebrating the publication of "Industrial Culture Handbook." In addition to mingling, you get to watch special films and visual presentations, as well as dig a panel in which soundtrack composer Graeme Revell, performance artist Johanna Went and RE/Search Publications founder V. Vale discuss their "philosophy of pranks." Huge yet small. Beyond Baroque, 681 Venice Blvd., Venice 90291, 7pm; a lousy $10 gets you admission AND the limited-edition book.
Sun. April 29 -- Check this quintet's all-star lineup of local outfolk: vocal contortionist Bonnie Barnett, windman Richard Wood, guitarist Tom McNalley, bassist Joe McNalley and drummer Richie West, improvising and working from the magical abstract texts of Gertrude Stein. At Poo-Bah Records, 2636 E. Colorado Blvd. (at Vinedo), Pasadena, 2pm; FREE.
Sun. April 29 -- Miss Jim McAuley on Saturday night? He's back this afternoon with a handpicked bill including Warm Climate and the drum duo of Marcos Fernandes and Mike Pride. At Dangerous Curve, 1020 E. Fourth Place, downtown L.A. 90013, 4pm; $10.
Tues. May 1 -- Mastodon isn't just a metal band, it's an all-enveloping, epic, abstract, hyperjazzed experience. The fact that these smart yet unbrainy slobs from Atlanta got a Grammy nomination signals something very strange and good happening in mainstream culture. At the Wiltern.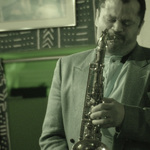 Wed. May 2 -- Azar Lawrence has a heavy-duty history. He's played sax alongside names like Woody Shaw, Horace Tapscott, Ron Carter, McCoy Tyner, Elvin Jones, Henry Butler and Buddy Collette. He wrote and performed on Earth, Wind and Fire's "Powerlight." And he contributed to two albums that stand out as strange and wonderful documents. One was Miles Davis' "Dark Magus," a 1974 live record that found Miles probing his furthest jazz/rock extremities before crashing, burning and lying in his own ashes for five years. Another was Marvin Gaye's "Here My Dear," a 1978 double-album cry of beautiful anguish themed on the singer's divorce -- there's nothing else quite this spectacularly self-indulgent and artistically fearless in the pop canon; even John Lennon's "Plastic Ono Band" sounds almost safe in comparison. I saw Lawrence blow hard and strong with the Pan Afrikan Peoples Arkestra recently; his chops are up through regular Leimert Park work. Though Coltrane tributes rarely make proper sense, Lawrence, with his dark, earthy tenor tone, has the credentials to pull one off distinctively, as he does on his loose, outdoorsy new CD, where he plunges into "Impressions" for 27 minutes. And in a Coltranified evening tonight, his quartet mates are the truest: pianist Nate Morgan, bassist Trevor Ware and drummer Ndugu Chancler. At Catalina's.
Wed.-Sun. May 2-6 -- For clean, penetrating, modern intelligence, it's hard to beat drummer Matt Wilson's Arts & Crafts. There's a soul touch to the easy swing, warm balladry and skittering Ornette buoyancy thanks to organist Gary Versace. Trumpeter Terell Stafford has tremendous feel and control -- he makes Wynton Marsalis sound fake. The bassist on tonight's excursion is Dennis Irwin. Can't miss, really. At Jazz Bakery.