Fri.-Sat. April 13-14 -- Ann Magnuson, Kristian Hoffman and crew bring their blatantly excessive retro pop to the Steve Allen Theater, 4773 Hollywood Blvd., 8pm, $15; (323) 666-4268, www.steveallentheater.com/magnuson. Not your usual concert thing, y'know.
Fri. April 13, Sat. April 14, Tues. April 17 -- Three chances to catch the bands of local trumpeter Elliott Caine this week, Friday at the Biltmore (506 Grand Ave., 8:30pm-12:30am, free), Saturday at El Moro Restaurant (11400 Olympic Blvd., 10pm-1am) and Tuesday at Jazz Bakery (two sets, 8pm). The man cracks the trad-jazz mold without breaking it.
Fri.-Sun. April 13-15 -- The most delicate and melodic pianist what am, Gonzalo Rubalcaba, plays Catalina's; his quintet includes bassist Matt Brewer, drummer Marcus Gilmore, trumpeter Mike Rodriguez and saxist Yosvany Terry.
Fri.-Sat. April 13-14 -- I dunno exactly what to do with Hiromi. She's got huge chops on keyboards, and occasionally goes crazy in a fusiony kinda way, but there's something empty about the whole show. Entertaining, though. She fronts a quartet at Jazz Bakery.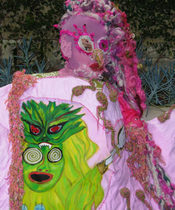 Sat. April 21 begins a month of the great Johanna Went at Track 16 Gallery in Bergamot Station (2525 Michigan Ave., Santa Monica, 310-264-4678, reception Saturday 6-9pm). The Jungian performance artist will continuously display her costumes, videos and photos, which are REALLY something to see, and mounts stage events on the first three Saturdays of May. This writer can attest, as one who mangled sax with her quite a bit in the '80s and got splattered with a lot of stage blood, that Went can make you laugh at the horror of humanity. Buy her DVD of old performances, which is an excellent document. Call the gallery to reserve $18 tickets for the May performances -- they will sell out.
Sat. April 14 -- Sweden's The Haunted straddle metal's old and new schools with great proficiency. Real heavy; real songs. The current "The Dead Eye" CD, flowing in epic fashion, is one you might want to soak up all the way through. At Avalon.
Sun. April 15 -- Some of our best and least traditional local improvisers form a matinee trio: Ellen Burr (flute), Tom McNalley (guitar) and Sara Schoenbeck (flute). Plus intelligently constructed noise from Ogogo. Support local art every which way at Dangerous Curve Gallery, 1020 E. Fourth Pl., downtown, 4pm, $10.
Thurs. April 19 -- Puttanesca, dammit. They riveted the hard-bitten crowd with their elegant sleaze at the Ritchie Hass benefit a couple of weeks ago. At Taix, 1911 Sunset Blvd., Silver Lake, 10pm, free.
Thurs. April 19 -- If you ain't had a good cry lately, the combination of Dino Saluzzi's accordion and Anja Lechner's cello will get you there. The venerable Saluzzi is a heavyweight of Argentine folk/jazz; his new ECM album with Lechner, "Ojos Negros," is a beautiful thing. At the Skirball Center, 2701 N. Sepulveda Blvd., up in the pass, 8pm, $25.