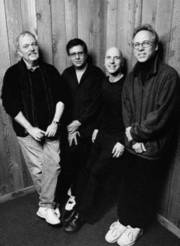 Fri.-Sun. April 20-22 -- John Abercrombie has an electric-guitar sound that's like a personal fingerprint: his chords soft and spare, his leads stinging, flexible, poetic. The only guy he occasionally reminds me of, when he's plucking a quick run on the high strings, is John Cipollina, the leadsman from Quicksilver. Abercrombie has shown a special knack for foilsmanship, as with guitarist Ralph Towner or saxist Charles Lloyd; with his current band, samplable on the quietly stirring new ECM CD "The Third Quartet," his partner is violinist Marc Feldman, and the teaming is muy simpatico. It doesn't hurt that the bassist and drummer are the extraordinarily sensitive Marc Johnson and Joey Baron. They're all here at the Jazz Bakery.
Fri. April 20 -- More guitar of a different stripe: Jeff Kollman blows all the windows out with his dead-rockening improvisations, as he's shown with Cosmosquad, Glenn Hughes and his own stuff. Not just fast, he plays intoxicating shit that even makes sense. Tonight he leads a trio featuring regular compañero Shane Gaalaas (drums), plus Christopher Maloney (bass). Two sets at the Baked Potato, 10 and 11:30pm.
Fri. April 20 -- What is this, Guitar Day? The root-bending Skip Heller Trio featuring DJ Bonebrake plays Hallenbeck's, 5510 Cahuenga Blvd., at 8pm. A Heller show at the same venue in January was my first review on this site; read it here.
Sat. April 21 -- The magnificent Luckman Jazz Orchestra directed by local sax great Charles Owens pays tribute to an Owens hero, the late saxist Joe Henderson. A class evening at Cal State L.A.'s Luckman Auditorium, 5151 State University Drive, L.A. 90032, 8pm; $35; (213) 365-3500 or the evil ogre Ticketmaster.
Sun. April 22 -- Noise and quietness from the incontrovertible trio of Jessica Catron (cello), Jeremy Drake (guitar) and Hans Fjellestad (synths), plus a second set by artist, sound sculptor and instrument designer Liam Mooney. At Dangerous Curve, 1020 E. Fourth Place, downtown, 4pm; $10.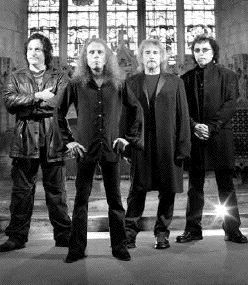 Wed. April 25 -- Heaven and Hell, a.k.a. Black Sabbath with Dio singing. I can't believe this isn't sold out. A history of snits & fits among the principals (Tony Iommi and Geezer Butler on one side, Ronnie James Dio and Vinny Appice on the other) has prevented this artistically blessed powerhouse combo from recording more than a few albums. They called themselves Black Sabbath before, and they would now if Iommi and Butler weren't afraid Sharon Osbourne would cut them out of future lucrative reunions with Ozzy. What a soap opera. But the new CD "Black Sabbath: The Dio Years" features three new songs that show they've lost none of their Stygian magic since 1992's "Dehumanizer." At the Forum.
Wed. April 25 -- Harris Eisenstadt is a terrific avanteer who's established himself on the West Coast and East over the last several years, and you'll be hearing about him for decades to come. As a drummer, he has an ability to merge with an ensemble's subatomic essence while subtly driving it. As a composer, he has a great ear for oblique harmonies and massive cloudy structures. One of his gods is Wayne Shorter, whose "The All Seeing Eye" he revisits credibly but not overreverentially on his fine new CD, which also features some tart and moody new octet music. If you wonder why Eisenstadt's gifts stand out with particular resonance, he regularly visits Africa to soak up the spirit from the source. Tonight he's flanked by Andrew Pask, Chris Dingman, Daniel Rosenbloom, Sara Schoenbeck, Brian Walsh and Scott Walton, stellar locals who know the territory. I wish this were on a different night so I could attend, but I'm reviewing Heaven and Hell for the Times. At LAND On 2nd Street, 366 E. Second St., downtown L.A. 90012; $3. Eisenstadt is at 9:30pm; at 8pm it's Richard Sears and Chris Dingman; at 10:30 it's Phil Fioro's quintet.