Fri. April 6 -- Trombonist Alan Ferber concludes a week revisiting his old L.A. territory by paring down his nonet to a quartet for the intimate environs of Café Metropol (923 E. Third St., downtown, 8pm). Swinging, open, melodic, original stuff with saxist Ben Wendel, bassist Harish Rhaghavan and drummer Mark Ferber.
Sat. April 7 – Gotta like this: pianist Brian Haas of Jacob Fred Jazz Odyssey – one of the few groups schematizing improv music with an intelligent ear toward the youthful melodic and rhythmic sensibilities of this here millennium – forms a trio with keyboardist Zac Baird of Korn (!) and percussionist Stephen Mitchell of Cha Chi. At On the Rox, no less, upstairs from the Roxy, 9009 Sunset Blvd., West Hollywood, 9pm; $10. High concepts flying every which way, and I haven't been in that little room since about 1975, when Al Kooper and Alice Cooper used to hang out there. Or so they say; I didn't see 'em.
Sun. April 8 – Do it, Dwight Trible! Wail that spiraling trail of glory, waving the microphone like you got a cobra by the third vertebra. Couldn't ask for a better Resurrection testimonial, and his bands are always great. At Jazz Bakery, Culver City, 8 and 9:30pm.
Sun. April 8 – You won't know whether you're asleep or awake, but you'll feel good anyway when recently Angelenized rockers Isis push into their waves of slow-moving, melodic weightiness. More of the same but more dissonant from Jesu (members of Godflesh and Swans) and Zozobra (Old Man Gloom offshoot). At the Henry Fonda Theater.
Mon. April 9 – Damned if I know why we gotta go all the way to Australia for Wolfmother, when we got The Sixth Chamber, our own hard-rocking retro psychedelic melody monsters, right here. One of those Metal Skool nights at the Key Club, 9pm.
Tues. April 10 – Got to admit I was surprised when L.A.'s funkyrockin' guitar rhythm machine Dean Chamberlain (Motels, Code Blue, Skin) decided to go folkie, but he does the form credit, and that right hand still whips the strings with inerrant momentum. Molly Malone's, 575 S. Fairfax Ave., 8pm.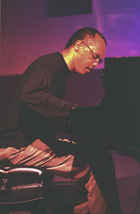 Thurs. April 12 – Billy Childs is the classiest composer-pianist within driving range, and won his Grammys in the post-boredom era. With saxist Bob Sheppard, bassist Hamilton Price and drummer Marvin "Smitty" Smith at the Vic, 2640 Main St., Santa Monica.
Thurs. April 12 – Greg Camphire of the all-improv Trio Formaggio had me when he mentioned Sun Ra, Albert Ayler and dub as influences; with the trio of up-and-thumping bassist Nick Rosen on the same bill, as well as the Pasadena Jazz Institute's Dave Culwell Trio, this night could be a lot of fun. At Mr. T's Bowl, 5621 ½ Figueroa Ave., Highland Park, 9:30pm.
Thurs. April 12 – One of the more hyped-up of the Bay Area heavy rock units, Fu Manchu aren't scared of a little melody and, of course, crank up those great tube-amped guitar sounds. At the Troubadour.
Thurs. April 12 – Xu Xu Fang play the Silverlake Lounge every Thursday in April at 10pm, and this expansive (in size and sound) local ensemble is well worth a check, floating around the borders of rock and noise, eyes closed, in a way that really invites you to share the pipe. California music.