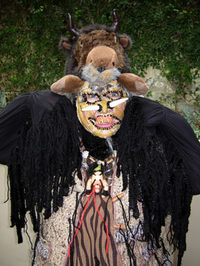 Sat. May 19 -- Johanna Went. Tonight is the mindfuck performance artist's last of three Saturday stagings, and I can especially recommend it having been present at last week, when other attendees included former L7 singer-guitarist Donita Sparks, artist Ewa Wojciak and author Bruce Kalberg. Assisted by old comrade Stephen Holman and several other costumed auxiliaries, Went presented her biggest cavalcade of hallucinogenic perversities. Many manifestations of the seething Went imagination pranced and twirled across the floorboards, among them the Tall Red Devil, the Giant Skull (with blood gushing from eyes) and, of course, the latest mutation of the Vagina Dentata (vomiting lace cum). While the visual display was insane, some of the most intense moments arrived when Went shed her headgear and stepped to the microphone to deliver incantations about aging and art. "I don't need to understand something," she mock-scolded, "to know that it's bad." The show was boosted by the multitrack loop mixing of longtime music director Mark Wheaton, who layered Went vocal samples, his own synth noise and the percussion recordings of Z'ev and the late Brock Wheaton to add aural undulations. Old fans were satisfied; newcomers were floored. Congrats, Johanna. It was like 1979 all over again, except we weren't drunk. Track 16 Gallery in Bergamot Station, 2525 Michigan Ave., Santa Monica, 8pm, reservations recommended at (310) 264-4678; $18.
Sat. May 19 -- Obliteration Quartet. Percussionists Brad Dutz, Joseph Berardi, David Shaffer and Billy Hulting gather found objects and make amazingly coherent group noise with 'em. You'll be surprised. At Café Metropol, 923 E. Third St., downtown, 8pm, $5 cover plus $10 minimum.
Sat. May 19 -- Make fun of the armor they used to wear in the '80s all you want, but Armored Saint were and are a damn good melodic-metal band. At the Viper Room.