Wed.-Sat. May 23-26 -- The Stryker-Slagle Band, led by guitarist Dave and saxist Steve, play straight-ahead jazz without being generic. Good feel, and you can bring your friends without likelihood of pissing them off. At the Jazz Bakery.
Thurs.-Sat. May 24-26 -- Roy Haynes keeps swinging those sticks like he did with Trane and Dolphy and so many more, and he's better now than he was then. All over the kit, mixing it up, playing one hand against the other, while twirling a groove that just about drills you into the floor. When I heard his current CD, "Whereas," I couldn't believe how fresh the Monk and Bird covers sounded -- largely thanks to the rough, loose, crazy sax reels of Jaleel Shaw, who's on board for this week's stand. The quartet is filled out by pianist Martin Bejarano and bassist David Wong. At Catalina's.
Fri. May 25 -- Alcatrazz. Sometimes a list is all you need. Graham Bonnet belted powerful soul-rock in a platinum version of Ritchie Blackmore's Rainbow; he also founded the '80s metal group Alcatrazz, which featured (at different times) Yngwie Malmsteen and Steve Vai on guitar. Tonight's version of Alcatrazz includes guitarist Howie Simon, and since Bonnet has also played with the likes of Slash, Bob Kulick and Vivian Campbell, you know Simon does not stink. The rest of the new Alcatrazz includes Tim Luce (bass) and Glen Sobel (drums). They're working on material for a new album and will be doling out hits by Alcatrazz, Rainbow, Bonnet, etc. If you like classic hard rock, this sounds like a can't-miss proposition to me. At Paladino's, 6101 Reseda Blvd., Tarzana 91335, midnight, with a UFO tribute band immediately preceding.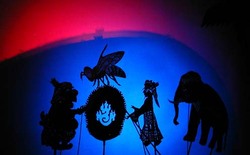 Sat.-Sun. May 26-27 -- Kraig Grady Shadow Play. Mr. Grady's microtonally tuned metallophones and organs are best experienced live, where you get the full surrounding physical massage of sustained harmonies vibrating against one another the way nature intended. It's like adding another dimension to the way you normally hear, and Grady has many years of practice making it work. For these nights he has expanded his ensemble to nine -- bound to be intense and ethereal at the same time, whether that's a contradiction or not. Still another dimension comes to life in the shadow plays Grady occasionally presents. The puppets, based on ancient models from Asia and worldwide, are very spooky presences; his decision to let them interact without words this time is a judicious one. The shows are dedicated to the memory of fellow microtonalist Rod Poole. At the Folly Bowl, 1601 E. Loma Alta Drive, Altadena 91001, 8:30pm, (323) 258-3260, www.anaphoria.com. No info on price, but it won't be a lot.