Fri. May 4 -- Like God, Pete Christlieb breathes a soul into every single sax note he plays. He and trombonist Andy Martin lead a quintet featuring pianist Terry Trotter, bassist Jim Hughart and drummer Dick Berk on the patio of LACMA, 5905 Wilshire Blvd., 6-8pm, free.
Fri.-Sun, May 4-6 -- I mentioned last week that drummer Matt Wilson's Arts & Crafts are one of the smartest and groovinest jazz quartets around, and I ain't changed my mind. At Jazz Bakery.
Sat. May 5 -- Johanna Went returns to splatter your mind with Jungian performance art. Made your reservations yet? Might be too late for this week, but maybe not for her other two manifestations, May 12 (I'll be there) and 19. Track 16 Gallery in Bergamot Station, 2525 Michigan Ave., Santa Monica, (310) 264-4678, 8pm.
Sat. May 5 -- It's sorta pop, but Victoria B.C.'s Frog Eyes have a weird fascination. Like Incredible String Band meets Wild Man Fischer and, I dunno, Suicide, or something. Abnormal. At Spaceland.
Sun. May 6 -- Avishai Cohen has a DVD out now that's superintelligent and just a little too clean, possibly trying for a spot o' crossover. The terrific bassist and pianist is a genuine rhythmic thinker, though, capable of getting postmodern and textural. Matinee at Jazz Bakery, 2pm.
Sun. May 6 -- SASSAS presents the "Sound" series at Schindler House, and could use some support via this boggling benefit featuring My Barbarian, Puttanesca, Stephanie Taylor, Pelicanman (Mike Watt and Petra Haden), and DJs Dublab Soundsystem and Tom Recchion. At a private home in Brentwood, 4-8pm; get tickets at www.sassas.org.
Sun. May 6 -- Ambient tuba and didgeridoo from Tom Heasley. Ain't nothing more ambient than those two instruments. Folly Bowl, 1601 Loma Alta Drive, Altadena 91001, (818) 398-9939, 4pm; $12.
Sun. May 6 -- Great date, where one-stop shopping nets you a basketful of genius. The sine quo non (quo is the masculine ablative relative pronoun, scholars) of our local edge scene, windman Vinny Golia, brings a quartet. The relaxed yet mind-blowing Cosmologic, featuring Jason Robinson, Michael Dessen, Scott Walton and Nathan Hubbard, slips into some Dolphy-influenced inventions. And Choir Boys, trumpeter Jeff Kaiser and reedman Andrew Pask, go electronic in fantastically wonderful ways. At Dangerous Curve Gallery, 1020 E. Fourth Place, downtown, 4pm.
Sun. May 6 -- Z'ev, the ultimate percussive/electronic mystic. Not just entertainment, folks. At Dangerous Curve, 8pm.
Sun. May 6 -- Y'all know Rich West, don'tcha? The percussionist, always doing something different and good, has assembled a superb ensemble called Homunculus with trumpeters Bruce Friedman and Dan Clucas, reedman Brian Walsh, keysman Ben Rosenbloom and bassist Jeff Schwartz. You're also blessed with CalArts master David Johnson, playing a set of solo marimba. At Center for the Arts, 2225 Colorado Blvd., Eagle Rock, as part of the priceless Sunday Evening Concerts series, 7pm; $10.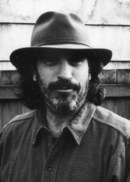 Thurs. May 10 -- Richard Meltzer. No, the great modern writer isn't in town; he's still farming mildew in Portland. I just wanted to point out that it's his 62nd birthday, and solicit your prayers. Progressive cancer of the dick, from which Meltzer has suffered since the age of 2 months, has caused his penis to fall off, as well as both legs, all his fingers, his right nipple and, finally, his head. Meltzer doesn't want your fucking sympathy, however, and feels the absence of his head in particular will speed the completion of his latest novel, which he describes as being "full o' smut."
Photo by Tom Cashman.