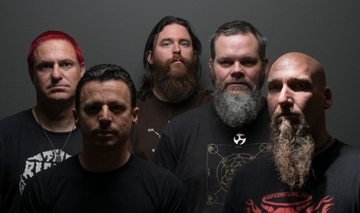 Isis, High on Fire, Pelican and others have acknowledged Neurosis as a founder of the slow-and-heavy rock academy. But the Bay Area depressives clearly felt, after 22 years, that they still had something to prove.
"Given to the Rising" weaves a luxurious shroud of orchestration, pace and sound coloration that will be tough for any emulator to match, as noted engineer Steve Albini, a man who knows his noise, returns for his fifth Neurosis album. Believe it: The grinds and gushes get all the room they need to frappé a listener's head.
Never content with repetition, "Rising" always wants to take you somewhere. The title track's hissing, squirming sound effects build a bridge between a suicidal Scott Kelly guitar riff and a bloodied Noah Landis keyboard passage that sounds like amputee Bach; Jason Roeder's drums blast into sluggish spasms as the other instruments battle for turf.
The agonized crawl of "Fear and Sickness" lives up to its title, scoring art points for the feedback that smears across the stereo image and for the scary wind-up mechanisms that lurk in the background. "Water Is Not Enough" deals its wrathful riffs with deadly restraint as a rusty metal pterodactyl screams in circles above.
The album caters repeatedly to the growing market in execution and funeral music; muttered interludes of vocal rasper Steve Von Till's poetry ("tension/animal response/blind eyes dawning") recall Doors and Stooges dirges of a wartime past.
It's like a bath in dirt. Somehow, though, it cleanses.