Megadeth, United Abominations (Roadrunner). Complain till you're commie about Dave Mustaine changing bands all the time and harboring weird concepts like this one (about how the U.N. is the root of all evil), but his various Megadeths are pretty damn consistent metal models. And "United Abominations," with the Drover brothers now well integrated on guitar and drums, is actually an improvement over 2004's "The System Has Failed," which was already an impressive return from "retirement." The best thing about "Abominations" is the billy-goat determination of its rock groove, but second-best attraction is the casual sparks generated by the ax interplay of Mustaine and Glen Drover. There's even some jazzworthy yet heavy rhythmic push-pull here and there. The revival of the 'Deth classic "A Tout Le Monde" (with Lacuna Coil singer Christina Sciabba tagging along) is whorish, but not unwelcome. Put it on, tune out the lyrics, and chug Bud all the way through.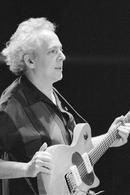 David Torn, Prezens (ECM). What a wonderful piece of art. This is why old notions of jazz need to go away, so we can recognize electronic improvisation (and composition) as part of the same continuum that produced Pops, Bird, Trane and Miles. Great idea to team guitar texturalist Torn with avant saxist Tim Berne's noisy/meditative crew (drummer Tom Rainey and keysman Craig Taborn); together they're at their most conscious -- experimenters with a clear sense of where quest meets grail. The way the sounds mix, like a lava lamp, rewards concentration even if you're not high. "Prezens" sounds composed, but must have come about through a lot of jamming and mixmastering; as you listen, you keep turning corners into vistas that are shocking, strange, beautiful -- truly exciting. Torn must have wanted his first ECM album in 21 years to be something special. Oh yeah. And this guy is deaf in one ear, which doesn't prevent "Prezens" from being a fantastic stereo album. I bet if Torn lost the other eardrum, he'd hear God.
The Leaders, Spirits Alike (Challenge). Chico Freeman, Bobby Watson, Eddie Henderson, Fred Harris, Cecil McBee, Billy Hart. You could say this version of the Leaders plays it a little safe, considering what they're capable of. But that would be to undervalue the simple riches they offer. "Spirits Alike" is clean, direct, warm. The easy pressure of its swing, the way beauty rolls from the solos -- as if it was there all along, and these vets just drew back the curtain -- it all communicates that this is exactly the album they wanted to make. You'll probably spin it a lot.
Michael Wolff Trio (Wrong Records). Pianist Michael Wolff excels at anything he does. His faux-spiritual "world" stuff is good, his fusiony stuff is good. I even liked last year's singer-songwriter thing, "Love and Destruction," with its bizarre covers of "Miss You" and "Mellow Yellow" -- his voice was quirky-strong, and the perversity factor was part of the appeal. While the material on the current record is predictable ("Autumn Leaves," "Footprints," "My Funny Valentine," for chrissakes), again the concept is slightly sick so that's okay, as Wolff turns the material inside-out so very slickly with that polished-marble technique of his. And the seasoned chemistry with his mates, bassist John B. Williams and drummer Victor Jones, ensures spontaneous rippery. If there's usually something a little hollow about a Wolff record, you don't mind, because the guy can't help entertaining you half to death.
Ijahlar featuring Zaro and Jey, Life. Tuning in to this reggae record by a band from the little Caribbean island of Anguilla, I wondered how in the digital age they got that true roots-reggae sound -- warm and drifty, with clouds of sensual reverb, and weird little noises popping out of the soup. Then I checked the credits, and it was mixed by a feller named Hopeton Brown, a.k.a. Scientist, one of the all-time great original Jamaican producers and dubsters. Guess that explains it. Laid-back, melodic vocal stuff, which I can normally resist if the setting's not perfect. This is perfect. www.ijahlar.com.
Christafari, To the Foundation (Lion of Zion). I get a huge kick out of this dreadlocked white reggae evangelist. Dude really aerosols the vocal cheez (updated in a growlier, more dancehallish direction this time) while quite capable musicians lay down the grooves in a squeaky-clean aquarium of studio tech. Christafari would rate as a total fake if he weren't such an original. Kids: Toss the needle and mainline the Messiah, okay? Jah wills it.