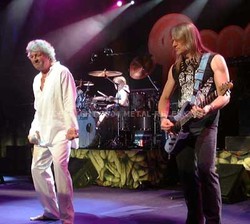 Yeah, there are reasons to keep checking out the DVDs of Deep Purple during this era of Steve Morse on guitar -- at least five vid releases this millennium. One: They always rock with gitdown authority, as the presence of Ian Paice (drums), Roger Glover (bass) and Ian Gillan (vox) godforces them to; even the replacement of the magnificent Jon Lord with Don Airey on keys has resulted in only the slightest deficit (in the category of spontaneous mad buggery). Two: You wanna hear the new material (three numbers from 2005's "Rapture of the Deep"), 'cause it's good and it keeps them fresh. Three: It's fascinating to observe the ways these veteran campaigners keep their dicks hard for the old tunes.
Montreux is special to Purp because of its history as the setting for "Smoke on the Water." This dynamically recorded 2006 concert follows up last year's issue of a DVD commemorating the band's 1996 performance in the city. And it contains a nice moment where D.P. bring onstage, as guest harmonica player, none other than Montreux Fest founder Claude Nobs, the very "Funky Claude" pictured running in and out of the burning concert hall in the "Smoke" lyric.
You might be tempted to skip this zillionth document of the Most Famous Rock Riff, but that would be a mistake. You get to scrutinize Morse's especially hot bent-duotonic approach to the solo during an excellent 10-song bonus set from London's Hard Rock Café the same year, which contains some alternate selections: "Fireball," the R&B strut "I Got Your Number" (from the "Bananas" album), and "Perfect Strangers," where Morse seizes the whammy bar to layer his own sheets of Aurora Borealis atmosphere upon the grim hard-rock stomper, completely transforming it. Most hilarious is the Montreux version of "Smoke," where Airey leads a spiffy jazz rendition for a couple of minutes; the Purpmen totally fake the crowd into disbelief until they stop and crunch into The Riff to be rewarded by star-shaking cheers. (It reminded me of another testament to the song's enduring power, last year during Gillan's appearance at L.A.'s House of Blues, when Ronnie James Dio stepped up and tore into it. My jaw was damnsure flapping on my chest hairs.)
Gillan sounds and looks great on the 2006 DVD, as well as being in vintage form for his between-song babble: "That's the last new song we'll inflict on you this evening." These old idiots are still having fun.
There's an HD version of this coming out in a few weeks; guess I'll have to sell my kid's Beanie Babies (she's too old for them now anyway) and buy some new equipment.
Anyway, it's long past time to quit moaning about the absence of Ritchie Blackmore. If you don't like this DVD, you're not playing it loud enough.