Fri. June 1 -- G.E. Stinson, Steuart Liebig and Igor Amokian. Electromen Stinson (guitar) and Liebig (bass) really walk the edge with their colliding cosmic improvisations, and they've now enlisted Chris Wild (a.k.a. Amokian), who does impermissible things with microchips. Call the star troopers; these three are code violators. At Dangerous Curve, 1020 E. Fourth Pl., downtown, 8pm; $10.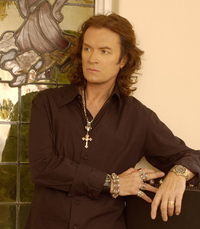 Sat. June 2 -- Many treasures yet await those who plumb the mines of classic rock, of which not least is Glenn Hughes. One of the biggest pure talents what am, the former Deep Purple bassist-singer keeps whipping out superior albums chock fulla heavy psychedelic rock, funky whambam and even crafty balladry, all to little public notice. Listen to "The Valiant Denial," the electrifying extended wildlife tour that opens last year's "Music for the Divine," and know that it's quite typical of what Hughes has been churning out for years -- inspired (in part by Jesus), well thought out, and executed by prime musicians. Tonight on drums he's got Chad Smith (Chili Peppers), and on guitar Jeff Kollman, lead prestidigitator of his own head-exploding Cosmosquad, Mogg-Way, etc. Noted guitar sideman Danny Johnson (Rod Stewart, Rick Derringer, Van Halen) opens. I guess the word's out, cuz it looks like this is sold out. At the Whisky.
Sat. June 2 -- If they'd just leave all the vocalizing to Christina Sciabba, Italy's Lacuna Coil would be about 50 percent better, but I guess the clueless bellowing of the guy who plays bass is some misguided attempt at modern metal cred; still, their set will have some dramatic and dynamic moments. About billmates Kylesa, though, I have no reservations. Spooky, heavy and uncontrolled as the Atlanta quintet's "Time Will Fuse Its Worth" is, their butts-out two-drummer live attack, braided with PCP linework, gave me chill after chill -- one of the vibiest up-close stage experiences I've had this millennium. At the Key Club.
Sat. June 2 -- Jazz Funk Fest. All the organizers had to do was invoke the names of my gods in connection with the musicians (whom I have not heard), and I had to list the event. The following are the times, the players and, in parenthesis, the gods. Beware of blasphemy. 7pm: Black Shoe Polish (Sun Ra, Cecil Taylor). 8pm: Freddie Ginns & Zebra Party (Detroit funk). 9pm: The Vampors (AEC, John Coltrane). At Sponto Gallery, 7 Dudley Ave., Venice, (310) 306-7330, free.
Sun. June 3 -- Sunday Evening Concerts always feature the topmost, and I often wish they weren't on Sunday (family day) so I could go more often. This show, one of the last at the current venue, presents the seasoned Bay Area duo of pianist Matthew Goodheart and percussionit Garth Powell, plus intense electric guitarist Tom McNalley's eruptive trio with Joe McNalley and Alex Cline, here augmented by highly esteemed Portland saxist John Gross. At Center for the Arts, 2225 Colorado Blvd., Eagle Rock, 7pm, $10, (626) 795-4989.
Thurs. June 7 -- Heavy noise-rock ain't much without good songwriting, and Unsane have got it on their new album, "Visqueen." The NYC trio, on and off cuz of drugs and whatever since 1989, sound together, serious and seriously unhinged, with Chris Spencer's guitar coming off like a lawnmower in a gravel pit. Also on the bill are L.A.'s aggressively arty and pissed-off The 400 Blows, featuring one of the darkest and best guitar sounds in rock from bassist axman Christian). I'll be there. At Spaceland.