Fri. June 29 -- Get real real gone with the new trio of guitarist Tom McNalley, drummer Peter Valsamis and windman Andrew Pask. McNalley rides the noise/melody wave like a surfin' kahuna. Pask is a favorite of mine -- this virtuosic blower often electronicizes his instruments for effects that truly enhance his already rich tones. I don't know Valsamis, but McNalley says he's worked with Cecil Taylor, George Lewis and Steve Lacy, and if he's good enuf for them . . . At Dangerous Curve, Fourth and Molina, downtown, 8pm; $5.
Sat. June 30 -- Y'all know Matt Piper as the grinning space case who used to book the various incarnations of the performance space Rocco, and you may also know that he gets rad on electric guitar his own self. He's bringing all his hardware to Rocco Somazzi's current watering hole for maximum versatility in the swamplands of ambient and plaster-stressing sound. Accompanying him will be venue regular Motoko Honda; she uses the whole damn piano in her extreme improvisations (most ecological). At Café Metropol, 923 E. Third St., downtown, 8-10pm; $5 plus $10 minimum.
Sat. June 30 -- Jackie Stewart of the Portland improvisational noise group Smegma doesn't get down here often, though Smegma began amid our own Los Angeles Free Music Society. Stewart (a.k.a. Oblivia) has a feel for something cosmic I can't put my finger on -- probably will be abusing vintage turntables among other things. Stewart is aptly paired with L.A. electronic composer and performer Leticia Castaneda, an artist for whom I've got a lot of respect. Her recorded drones and loops don't sound random, because they ain't -- she puts the time into making them organic. And as a performer, she can be shatteringly emotional in word and action. Haven't caught her in a while, though, so I'm looking forward to seeing what she's into now. A SASSAS event at Schindler House, 835 N. Kings Road, West Hollywood, 7:30pm, $20. The little garden parties at this historic architectural landmark often sell out, so get tickets beforehand at www.sassas.org. And you likely won't be able to find parking; there's a garage on the north side of Santa Monica Boulevard a few blocks away.
Sun. July 1 -- Cornetist (and -ist of assorted other instruments) Dan Clucas has the gift of being soft and penetrating at the same time -- a real original as well as an open-minded soul who'll try anything; he's in duo with windman Richard Wood of the watershed And Now Ensemble. Whole lotta improv goin' on. Plus, Thollem Mcdonas is a "free" pianist with classical chops, bringing a lot of melody and structure to the table; dazzling and fun. This fine bill is the second to last Sunday Evening Concert at this venue; pay homage. At Center for the Arts, 2225 Colorado Blvd., Eagle Rock, 7pm; $10.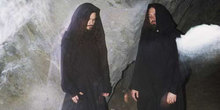 Tues. July 3 -- If you're looking to get absorbed into the tarborne coagulation that is drone metal, look no further than SunnO))). You may be fascinated; you may be bored; partaking of the Sacrament will certainly help. At El Rey Theater.