Fri. June 15 -- Who doesn't respect ex-Plimsoul Peter Case as a songwriter? Nobody. At Largo, 432 N. Fairfax; (323) 852-1073.
Fri. June 15 -- Puttanesca, the most entertainly bent lounge blues in existence, at Taix.
Fri.-Sun. June 15-17 -- Joshua Redman Trio at Catalina's. See my blurb last week.
Fri.-Sat. June 15-16 -- Steve Nelson at Jazz Bakery. I plugged this last week too.
Sat. June 16 -- Kingsizemaybe (fun country/rock) and Dean Chamberlain (folky songwriting) are playing Taix. I've seen these local vets together there, and the chemistry is ideal.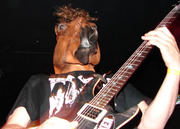 Sat. June 16 -- Major death-metal fest featuring eight bands, including a bunch of my favorites: Necrophagist, Cephalic Carnage (pictured) and Cattle Decapitation. Bring your shoehorn to the Sunset Boulevard House of Blues.
Sat. June 16 -- Steuart Liebig's chamber quartets are among the bassist's best expressions -- intellectual but airy and approachable. (He just released a good spooky example, "Sulphur.") Tonight he's enlisted an irreproachable outfit: percussionist Brad Dutz with trumpeters Jeff Kaiser and Kris Tiner. At Café Metropol, 923 E. Third St., downtown, 8pm; $5.
Sat. June 16 -- You know Don Preston? A Mother of Invention, yeah, but I like him better playing his keyboards in his own groups, and this trio's a great one, with Christopher Garcia (drums) and Anders Swanson (bass). At Rosalie & Alva Performance Gallery, 1417 W. Eighth St., San Pedro, 8pm; $15. Reservations suggested at (800) 403-3447.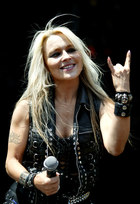 Wed. June 20 -- The queen of German melodic metal, Doro. I'm reviewing; see you there. At the Whisky.
Thurs. June 21 -- It's pretty amazing that you can go to a club these days and absorb The Michael Schenker Group and George Lynch on the same bill. Metal guitar that will require asbestos overcoats. At the Key Club.