Sun. June 24 -- Electronics, noise and space experimentation were exploding in '70s Europe, with early Tangerine Dream, Amon Duul, Eno and what-all stretching the hippie dream into a darker sci-fi hallucination. And guitarist Richard Pinhas was right there in France with the band Heldon. He kept at it on his own, too, his music evolving into a highly vibrational, ambient strain that nevertheless communicates plenty of movement, either internally or via percussion auxiliaries. Here he is, right in our face with electronicist Jerome Schmidt, plus a ghostly gathering of comparable local sound mutators: the duo of G.E. Stinson & Steuart Liebig, and the trio of Emily Hay, Brad Dutz and Carey Fosse. Presented by Highways and Newtown at Highways Performance Space, 1651 18th St., Santa Monica, 7pm, $15; (310) 315-1459, www.highwaysperformance.org.
Sun. June 24 -- I saw Sadistic Intent a few years ago and never forgot them, mainly because I couldn't figure them out. Plainly this Downey quartet was not ordinary death metal: all this dense motion, and an underlying pulse that didn't seem to be coming from anywhere. It drew me in like a spell. There seem to have been some personnel changes, so I dunno. But S.I. doesn't play that much, and it's headlining a long metal bill at the Knitting Factory.
Wed. June 27 -- Saxist Azar Lawrence has got a good head of steam going, so climb onboard. Dude plays the Trane and whatever else suits him with as much effortless energy as anybody -- a local musician who deserves support, especially when he plays one of his more high-profile gigs, as with his quartet tonight. At Catalina's.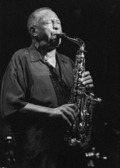 Wed.-Sat. June 27-30 -- Alto man Frank Morgan recovered from a stroke to resume his status as one of the rippinest boppers and heart-tugginest balladeers of the very old school -- he's been at it close to 60 years. He's playing in duo with Ronnie Mathews, a quick, easy-flowing pianist underrecognized despite gigs with Art Blakey, Roy Haynes, Johnny Griffin -- and a long stint with T.S. Monk, who might be a little picky about who sits at the keys. At the Jazz Bakery.
Thu. June 28 -- L.A.'s own Xu Xu Fang: mood, mist, ambient noise, drifty melodly. Rock? I guess. Release party for the single "These Days," which only feels like it's been out for a while already. Unusual, and also good. At the Echo, 10pm; $5.