Fri.-Sun. July 13-15 -- When Kenny Burrell invented himself, he practically invented jazz guitar. He's clean, tasteful, bluesy, and plain classic -- not even bad when he sings. His Jazz Heritage All-Stars live up to the name: Jeff Clayton, Bobby Rodriguez, Tom Ranier, Clayton Cameron, Roberto Miranda, Nick DePinna, Tibon Pennicott and Mayuto Correa. You think just anybody can muster a band like that? At Catalina's.
Fri. July 13 -- Sean O'Connell's piano trio, Leviathan Brothers, has got a new EP coming out, and tonight's the release party. The Bros covered Fiona Apple and Lou Reed on their last record (I like their version of "Perfect Day" better than Uncle Lou's), and that'll give you an indication that they want to communicate, not show off -- this is swinging, friendly music that tells a story, and there ain't nothing wrong with that. Open Books, 2226 E. Fourth St., Long Beach, 7:30pm; $7; www.openbooks.com.
Sat. July 14 -- I've come to trust Rocco when he books European artists I haven't heard of, so Federico Ughi looks like a good bet. The drummer's got good credits worldwide (William Parker, Daniel Carter), and he teams here with solid mates: windman Vince Meghrouni and imagineering trumpeter Dan Clucas. At Café Metropol, 923 E. Third St., downtown, 5pm; (213) 613-1537; $5 plus $10 minimum.
Sat. July 14 -- Good to see Mike Garson getting around again. His swirling, dissonant, crazy piano work is one of the main reasons "Aladdin Sane" remains one of my favorite Bowie records -- I put on my old LP the other night and was transfixed by the postmodern torch atmospheres he worked up on the title cut and "Time." Not just Bowie's "music director," obviously he's a jazz-classical guy with his own thang as well, which he'll demonstrate here with drummer Bert Karl and young bassist Nick Rosen. At Café Metropol, 923 E. Third St., downtown, 8-10pm; (213) 613-1537; $15 plus $10 minimum.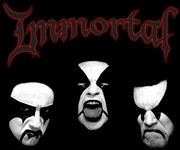 Sun. July 14 -- A substantial black-metal event: Norwegian mainstay Immortal has re-formed and plays one of two U.S. shows in our unworthy city. Abbath conjures simple, powerful riffs on guitar; Horgh is one of the mighiest thunderers in metal drumsmanship; the new bassist is Apollyon of Aura Noir. A band you can actually listen to, rather than just congratulate yourself on how hip you are for digging it. At Avalon.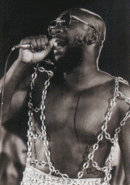 Wed. July 18 -- Isaac Hayes is a bad motherfucker. He was bad humping the stuff about "Shaft." He was bad moaning over an ocean of strings on "Walk on By." He was bad crooning through the rhythmic change-ups, octave-jumping melody and amazing structure of Clifton Davis' "Never Can Say Goodbye" (1971), which I regard as one of the finest pieces of songwriting in pop's hellish history (and Michael Jackson agreed when he covered it the same year). Hayes was even bad on "The Rockford Files" as a dangerous jailbird out raking the slums for his old squeeze. Tough yet sensitive, that's Isaac Hayes. I was thinking about that, and about how Lou Reed never credited Jean Knight's "Mr. Big Stuff" after he boiled it down to "Walk on the Wild Side," when I listened to the 50-track "Stax 50th Anniversary Celebration" box. I was also thinking about those things when I noticed the Stax anniversary was carrying over to a concert setting, with Hayes, Lalah Hathaway, Angie Stone, William Bell ("You Don't Miss Your Water"), Eddie Floyd ("Knock on Wood"), Mable John ("Your Good Thing Is About To End") and Booker T. Jones (who's bound to crank some good organ, with or without the MGs). Good gawd. At the Hollywood Bowl.
Thurs. July 19 -- You want a groove that don't stop? You want melodies that cycle through your head till you lose it? You want to feel the spirit? You wanna have FUN? Maetar is your instrumental trio -- two dizzy Israelis and an American Christian. Buy their records, too -- great for parties. This is the first installment of the group's "Summer of Peace," at Harvelle's, 1432 Fourth St., Santa Monica, 9pm-1am.
Thurs. July 19 -- Or if you want to dance with Moses but you're less intent upon getting loaded than I is, try the Middle Eastern techtonics of Zohar. It was really Zohar's Erran Baron Cohen who was doing his brother Sacha the favor when he did the soundtrack to "Borat" -- Erran had already established himself as one of the world's smartest and spaciest electromen long before the movie. You could pop some X. At the Skirball Cultural Center, 2701 Sepulveda Blvd. up in the pass, 8pm; free; www.skirball.org.