Fri. July 27 -- Getting off work? Head over to the LACMA patio for Dwight Trible. You know how I feel about his celestially liberated jazz vox, and his band includes old Tapscott mates Derf Reklaw (perc) and J. Sharps (winds). 6-9pm, free.
Fri. July 27 -- Fusion that rocks and trips: former Megadeth guitarist Chris Poland's Ohm, featuring Rob Pagliari on bass and the spectacular groover/expander Kofi Baker on drums. Poland has also guested on a couple of Lamb of God records, dontcha know. At the Baked Potato.
Fri. July 27 -- Saxist Azar Lawrence is ratcheting up his presence all over town, channeling Trane and diving into the soul ocean. Tonight, with vocalist James Love, he celebrates John Coltrane and Johnny Hartman. At the Jazz Bakery.
Fri. July 27 -- Pianist Motoko Honda has hijacked some of the city's best edgesters for her Sound Escape Project: bassist Ivan Johnson, violinist Jeff Gauthier, windman Vinny Golia and drummer Alex Cline. Whew. At Café Metropol; 8pm; $5, $10 minimum.
Sat. July 28 -- Can't stop the folks at SASSAS, and Jeremy Drake has put together a show that's as rad as they get, both sonically and conceptually. Noisy Night will feature harsh electro musicians jamming (by lottery!) with modern-metal crunchers -- that's right, noise on noise. In this corner: Bob Bellerue (Redglaer), Bobb Bruno (Goliath Bird Eater), David Kendall (The Kentucky Knobs) and Jessica Rylan (Can't). In that corner: Troy Oftedal (Cattle Decapitation), Gabe Serbian (the Locust), David Scott Stone (Melvins) and Shannon Walter (16 Bitch Pile-Up). At the Steve Allen Theater, 4773 Hollywood Blvd. (across from Barnsdall Park), Hollywood; 8pm; $20; www.soundnet.org; (323) 960-5723. Limited parking in the lot in back of the Center for Inquiry.
Sat. July 28 -- Congratulations, Meninas Quartet is officially the one millionth band name associated with bassist Steuart Liebig, and he's celebrating by collecting an especially potent crew of improvisers: drummer Brad Dutz and alto saxists Andrew Pask and Brian Walsh. Near as I can tell, he's named it after a Velazquez painting in which an artist paints five little girls -- or is one of them NOT A GIRL, hence the "quartet"? Damn, now he's got me doing it. At Café Metropol; 8pm; $5, $10 minimum.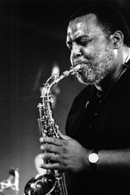 Sat.-Sun. July 28-29 -- Heavy lineup at this year's Central Avenue Jazz Fest. Saturday (in approximate reverse order) it's Arthur Blythe (pictured), Jazz on the Latin Side All Stars, Phil Ranelin, Ernie Andrews, Paul Bryant and Clora Bryant. Sunday it's Charles McPherson, Sandra Booker's Underground Jazz Movement, Gilbert Castellanos Latin Trumpit Summit, Roy Gaines, Henry Franklin featuring Michael Session, CJS Quintet, and the Buddy Collette-sponsored Jazz America. On Central Avenue between 42nd Place and 43rd Street, 11am-7pm; free.
Tues. July 31 -- Wassamatta, not man enough for prog metal? Symphony X will show you the light the Greek way: This is a band that has based an entire album on "The Odyssey"! Seriously, unlike many proggers, they rock with considerable weight and fury. With North Carolina's Sanctity (good fast chug, a touch of old school) and Echoes of Eternity (as if Candice Night -- here impersonated by Francine Boucher -- fronted a double-kicky drama-metal band). At House of Blues.
Tues. July 31 -- Outside guitar hurter Tom McNalley is starting a regular Tuesday gig with his new free trio featuring Andrew Pask on winds and Peter Valsamis on drums -- glue your wig for this stand. At Highland Perk, at York and Aldama, Higland Park, 8pm, free, all ages.
Wed. Aug. 1 -- The Elliott Caine Quartet plays its versatile post-bop at the Arboretum in Arcadia, 5:30-7:30pm, free.
Wed. Aug. 1 -- Glen Wood, whom you may remember as horn man of the art-noise outfit Bottom 12, has got cancer. Kick in some bucks to benefit him and dig the music of Bottom 12, Good To Be and others. JUST ADDED: The popular reggae-rock riddims of the latest Horny Toad incarnation. At Safari Sam's 5214 Sunset Blvd., Hollywood; 8pm; $15 or whatever you can afford; mistajohn@gmail.com.
Thurs.-Sat., Aug. 2-4 -- Synth noiseman/composer Hans Fjellestad sets up for one of three extreme performances in the far-reaching New Original Works series. Gotta like musicians, dancers and video folk who try something different. At REDCAT, www.redcat.org.