Biggest week of the year so far, and I've got no time for MetalJazz wisdom cuz I'm writing other stuff I actually get paid for. Maybe that's not such a bad thing.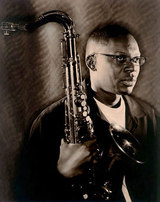 Fri.-Sun. July 20-22 -- If you haven't seen Ravi Coltrane play sax, do it. Dude has exquisite technique, and the tunes are provocative. With pianist Luis Perdomo, drummer EJ Strickland and the fabulous bassist Drew Gress. At Catalina's.
Fri.-Sun. July 20-22 -- I like this pianist Marc Cary. When he plays a note, he means it. With bassist Earl Travis and drummer Sameer Gupta. At the Jazz Bakery.
Fri. July 20 -- I also like this pianist Andy Milne, for completely different reasons. He's totally obsessed with beauty rather than mathematics, and covers a lot of Joni Mitchell and Neil Young on his new solo album. (He's Canadian, and that's the law.) Milne also has a new album of very quiet, intelligently lovely originals with harmonica player Gregoire Maret. At Café Metropol, 8pm.
Fri.-Sat. July 20-21 -- Tom Heasley, the ambient tuba player, told me I'd better check out Michael Landau, because he knows I like guitar heroes. Landau has done a million sessions, and all the musicians respect the way he blends chops and noise. Landau was kind enough to send me his live album; sure enough, the man is a slipslider who truly rocks and truly gnarls the blues. I'll get out to see him soon, just not this week. Friday he's with his quartet, Stolen Fish; Saturday with his trio. At the Baked Potato.
Fri. July 20 -- Y'all know about Puttanesca by now, right? Genteel yet steamy. At Taix.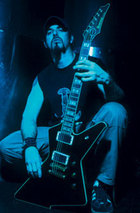 Sat. July 21 -- Free via web sign-up (and with most of the musicians going into corporate-sponsorship bondage or record-company debt just to show their faces), this year's Ozzfest is nevertheless packed with solid talent. Ozzy's new album is good, but he won't play much off it. Lamb of God rule so totally, we need to guard against taking them for granted. Poland's Behemoth rocks so goddamn dark and passionate. The sometimes proggy Nile goes heavier with its latest record, which may be its best. The hyperdramatic and quite listenable black-metal band Chthonic would be headlining in its native Taiwan. The best find is Ankla, a Puya spinoff that rocks the stadium with hip-shaking, bad-ass Puerto Rican metal. Go early, stay late; I'll wave to ya as I'm being carried off on a stretcher thanks to heat prostration. At Hyundai Pavilion, Devore.
Sat. July 21 -- When I saw violinist Harry Scorzo sawing his head off with Vinny Golia's Large Ensemble, he grabbed me. The guy has feel and guts, not to mention great technique and a resiny sound, and his quartet tonight features guitarist Kenton Youngstrom, bassist Guillermo Guzman and drummer Christopher Garcia. At Harbor College Music Recital Hall, 1111 Figueroa Place, Wilmington; 8pm; $10.
Sat. July 21 -- Jennifer Terran is a fantastic and original songwriter and pianist who can make you weep. If you'll be in Santa Barbara, sign up now for one of her special home concerts at www.jenniferterran.com.
Sat. July 21 -- "I'm Your Man," the documentary surrounding a Leonard Cohen tribute concert, screens. Cohen says he was depressed when they interviewed him, so he doesn't know why he said all those sad things. A good film if you can stand too many words from the wonder that is Bono. At the Skirball Museum; 2:30pm; free; www.skirball.org.
Sun. July 22 -- Helen Money has gotta be the best amplified cello player since Jonathan Gold; maybe she'll switch careers and become a Pulitzer-winning food critic too. Her album drones, wheedles and clangs like a heavier V.U., with moments of unexpected meditation. Best title: "See You in Hell." Good stuff, really. At Tangier. Also at Silverlake Lounge Tuesday and Bordello Wednesday.
Mon. July 23 -- Nile and Chthonic squeeze in a date on an off night from Ozzfest. It's a Monday, which might make it quite pleasant. Or is that the wrong word? At House of Blues.
Wed. July 25 -- MONDAY UPDATE. I just heard that Twilight Circus Dub Sound System is back. Multi-instrumentalist Ryan Moore brings his own plates and mixes 'em up live; he is one of the few who knows dub's real feel, depth, soul. Last time he was in town, the line was so long that I gave up on getting in, and that's no accident; everybody know this dude is the shit. This is a Dub Club night, featuring the usual array of superb DJs: Tom Chasteen, Boss Harmony, Roy Corduroy and Dungeonmaster, plus MCs Jah Faith, Dylan Judah, Benjamin and Chicho Don. Awhile back, I told a friend about Dub Club (every Wednesday), and he said, "I wish there was something like that where I live." He lives in New York. At The Echo, 1822 Sunset Blvd.; doors open 9pm.
Thurs. July 26 -- The Door with more, drummer John Densmore, has a swell little world-music ensemble called Tribaljazz featuring Art Ellis, Aziz Faye, Marcel Adjibi, Cristina Berio, Quinn Johnson and Carlitos del Puerto. Guess it's not so little at that. At the Skirball Museum, 6pm; free; www.skirball.org.