You can read my short LA Times review here, and enjoy a good picture of Behemoth's leg spikes. But I had a few hundred other things to say as well, as you may discover below.
Tattooed metal dudes and hardcore desert bitches were already on their fourth beers in the parking lot when I got there at 11am, which was the announced time for gates to open. Guess the swillers didn't care much about the opening bands, cuz there was no way they were gonna see 'em -- the gates were closed, and at least 600 waiters were waiting in the waiting line; this number would grow to a couple thousand by the time the entry patdowns and water confiscations began at 11:50.
A pavilion employee stalked the line, actually SELLING water for the same $4 that attendees would be charged inside. Allow me to paraphrase: "Hey, it's kinda hot waiting out here for an hour after door time, huh? No, they won't let you take in your own agua -- somebody once brought in a bottle of nitroglycerin and exploded all Ozzy's hair off!" If I had balls like that, I'd open a demolition business.
From the Hyundai Pavilion's Second Stage a quarter-mile away came the reverberations of a half-assed sound check -- crunch, thud, yeah, the plug has been inserted. In front of me in the bleaching sun stood a young woman with flaming red hair, milky skin, 9.7 million freckles and no hat. We sho' do grow 'em stupid out heah.
Nothing especially wrong with fest opener Circus Diablo, and nothing especially right. It took one song for skinny Brit Billy Morrison to whip off his shirt to display all dem tattoos, and y'know, he can actually sing quite raw in a showbiz-junkie kinda way. There was doubt as to whether Cult guitar whanger Billy Duffy would show, and you couldn't prove it by me if he did, although (since I arrived earlier than the many hundreds behind me) I heard C.D. from their first song. Matt Sorum had been a session-only drummer, but the replacement (Charles Ruggiero I think) sounds just as Cult/GNR/VelvRev-ish; solid groove. C.D.'s cover of the Sex Pistols' "Pretty Vacant" seemed like an odd choice in this context. There's a continued demand for Guns, and also Roses, and other revivals of revivalists reviving Aerosmith sans soul and sans songs. But there's a limit. Diablo started at 12:10, halfway between the 12:20 announced on the Ozzfest web site and the noon that the ticket non-purchasers expected.
A word on the fact that this festival was free, since all tickets were given away online: hmmm. The Osbournes obviously figured that they'd been giving away too much money to previous co-headliners such as Judas Priest, Iron Maiden and Marilyn Manson. Since most of the other bands have been paying large sums to be on the Ozzfest bill, and since the Ozzbournes reap a big cut of the concessions (I spent $88 on beer, water and burritos, and didn't have to pay for the $20-$30 parking), why not just jettison the big stars and bring more beer-drinking bodies through the door with free tickets? The seeming generosity would also serve to undercut Sharon Osbourne's ever-burgeoning reputation as a scheming, greedy harridan.
It seems not to have worked that way financially. Though only two tickets per e-mail address were permitted, Ms. Osbourne reckoned without the fact that most people have several e-mail addresses, and customers ended up with tickets they couldn't sell or give away. So after light attendance at the first couple of tour stops (Seattle was first), more tickets were released here days before the show.
I heard people comment that there were fewer attendees this year than last; it didn't seem so to me. But the lines for concessions were definitely shorter early in the day. Probably the biggest losers will be corporate sponsors such as the liqueur maker Jägermeister, which, in addition to underwriting bands, gave away grog and gear in the interest of advertising. Judging from the piles of puke and the shirtless dudes passed out next to emptied "yard" glasses, though, some Jägermeister memories will not inspire customer loyalty.
But back to the bands. Things cranked up immediately with The Showdown, who blasted away thoughts of their recent rather weak album with a set of dangerous Southern blues-metal. Heavy riffs, a gonadal midtempo groove and the truck-stop stoner scowl of singer David Bunton made these crackers a hit with Black Label Society fans like me. Bunton, who's got a rough and real voice and walks around like he owns the whole junkyard, kept looking out at the sparse early crowd with an expression like, "Y'all call this a festival?"
Nile, on the other hand, are better in the studio, where they can work on the shadings of their Egyptified riffs and proggy structures; their excellent new "Ithyphallic" displays a moody direction that will likely steer them away from many of their fans, who desire nothing more than a blast beat and a circle pit, and don't care if the musicians can play "Hall of the Mountain King" backward in 9/8 time (and these guys can, even if they don't).
What a great festival band Ankla is. The combination of metal with Latin American folk riddims (Sepultura, Puya) has proved to be a natural, and these weedmen can really move a mob. Big, sluggardly beats accented with percussion counteraccents and nasty guitar shred -- I could have danced all night. If I could dance.
And this other fan really was dancing. Amazing scene: A young Latino dude apparently loses a bet to a white guy. And what the Latino has to do for losing the bet is pull down his pants and let the white guy snap his underwear elastic. Which the white guy does, with great relish, in a downward direction. Yow! The victim was jigging around with his hands over his balls, whining, "That hurts. That really hurts!" as their girlfriends stood wondering what kind of homo shit these morons were into. The victim was not seriously damaged -- he ended up being one of the day's biggest pit dogs.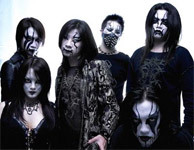 Chthonic, face-painted black-metalers from Taiwan, were intense and dramatic. The lithe chick bassist was hot. It was fun to see one band member sawing on some kind of Asian violin, even if you couldn't hear the damn thing. And the musical styles varied enough to keep it interesting. Throughout the day, the amplified sound kept changing for each band; Chthonic sounded clearest way in the back of the grounds, past where the Ozzfest "Sideshow" ("Come one, come all, come suck my balls!" the barker invited several thousand times) was selling shade for $5 along with a peep at freaks and bondage chicks. No, I didn't go in there, I had work to do. Work.
I played the latest In This Moment CD in the car on the way up, and kept skipping ahead -- lawd, I dislike that emo metal. Still, Maria Brink is cute, even if she's not much of a singer, and the genre always has more of an edge live. Somehow it comes off a lot more credible if it's a woman who's doing the whining, because women have more to complain about.
"We explore the dark sides of the human mind," declared Daath. "Let's destroy ourselves together!" It sounded like a reasonable idea, and these American black-metal hippies tore it up so hard, you had to wonder why they bothered with keyboards.
Ever see a band base its entire sound on "Painkiller"? Try 3 Inches of Blood. Which doesn't mean they did not rip. They did.
Hard to figure out what to do with Mondo Generator. They were more metal than bassist Nick Oliveri's previous band, Queens of the Stone Age, but not much, and some of the riffs were very Queensy. Oliveri went all out with his fever-pitched vocal rasp, though, and people liked it. Halfway between Kyuss and DevilDriver.
Around this time (4pm), despite a prevailing breeze, it was getting so hot that little guys were looking for big guys so they could stand in their shade. Earlier I had asked two hefty young gents dressed in black suits, white shirts and black ties what they were up to, and they said, "We were going for a 'Reservoir Dogs' look, but it didn't work out." They were driven away by the sun. People were crashed out flat on the ground all around the perimeter; I poured some ice cubes into my Seahawks cap and joined the faint. I saw maybe six African-American metalheads all day, and one of them was staggering out of the stageside pit, bleeding from his earring to his clavicle.
It was into this wonderworld that Poland's Behemoth, face-painted and encased in spikes, stomped. Now, these veterans have got riffs, attitude, and enough double-kick drums to level every tenement door in Warsaw. But they were having a spot of trouble resurrecting the wilted masses. So voxman Nergal, a glaring mofo whose very toilet seat must reek of metal, stepped up and delivered one of the funniest little speeches I have ever heard from a rock stage. "So, it's hot?!" he yelled. "Fok the sun! FOK! IT!" It worked. Key song: "As Above, So Below." Yeah.
I've never developed any great love for Hatebreed. Partly that's because I hate being told, before every damn song, to yell, raise my horns, slam my neighbor, join the Army Reserve, whatever. And partly it's because, though HB has a decent low groove, the songs all sound the same: Despite all my prayers, rap-metal has not quite croaked its last. Therefore, I drifted over to the Main Stage for a breather halfway through their hourlong set. Still, I respected the shirt one big clod was wearing: "FUCK YOU. I LIKE HATEBREED." I bet he drives an SUV.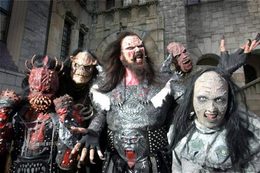 Short of a July 4 exhibition, I have never seen as many fireworks in one place as Finland's Lordi brought to the Main Stage. Rockets from the fat Klingon jackal-headed lead singer's scepter, bombs from his bazooka, sparks from his chainsaw -- even the mummy-woman keyboardist added some pyro to the general flame geysers and pinwheels. I was in my candy-ass stageside VIP seat, and I swear, I had to rub my eyes with spit to get the carbon fragments out. Ridiculous as it all was, I had to admit the songs were good in the gritty-melodic Kiss mode these Scandiknaves favor, and who can argue with lines like "We're the kids who wanna play with the dead" or "You got stronger but your mind got weak/You made a promise that you couldn't keep"? Unquestionably entertaining.
Static X was a steel-hammer dance machine, very impressive and party-conscious -- "Let's do some more shots!" The L.A. homeboys' KMFDM-influenced headbang was getting a bit wearisome, though, till they brought out John 5 to play guitar on their new "Cannibal." Mr. 5 (a.k.a. John Lowery) has been partner to Rob Halford, Marilyn Manson and Rob Zombie, among others, and has a couple of very good instrumental solo albums under his violet vest, but somehow he's underappreciated outside the musician community. (Zakk Wylde digs him.) But he showed his shit here: spinning, sneering and spitting as he whipped out a noisy, wiry, snot-slick solo. Every band is gonna need a lead guitarist again; listen and learn.
Since the access to the stage pit area was directly in front of me, I got to watch a lot of people trying to sneak into it, and also a lot of people getting thrown out of it and sometimes handcuffed, including full-grown adults as old as me, which is old. One guy was prevented by security from swallowing something, which indicates drugs. (Please, not at Ozzfest!) But most of the problems seemed to revolve around besottedness (Jägermeister, anyone?) and physical confrontations (in a slam pit?). And there were many disturbances up on the greensward above. So it was a festival, all right.
I never really thought of the serious modern-metal killers Lamb of God as a stage-smoke band, but there they were, a-raving 'midst the billows, and that was fine. "We didn't come here to go to church," barked Ichabod-gaunt preacher Randy Blythe, "we came here to destroy this fuckin' place." He unsubtly hinted that he didn't prefer to play on a stage with seats in front and all the real fans in the back, but that didn't prevent Lamb from delivering magnum penetration in a perfectly balanced tightwire configuration that's matched by no one. "Take a Walk With Me in Hell" indeed. And Willie Adler has become a wizard with the wah-wah. I wondered what drew LoG, formerly an Ozzfest staple, to return after a couple of seasons of independent touring. Maybe they found that being your own boss ain't all it's cracked up to be, or maybe they just did the math and decided they wanted maximum face time with the fans -- it's worked so far for these tireless road dawgs.
Ozzy -- what a lovable bastard. Nobody puts out more, and the silly pre-concert fake movie reels he strings together keep getting funnier; Sharon must hire a full-time editor just for that. The O.C. Register said Ozzy can't rock no more, which is bullshit. Yeah, I wish he would play more of his new material, just to keep things fresh, but his voice was unexpectedly vigorous, and with Zakk Wylde aboard, things will never stand still. My favorite moment came on "Suicide Solution," about the specter of alcohol addiction -- Ozzy knows a thing or two about that, and even the defiant slurper Zakk has done time in rehab now. So there was Zakk, hair blown back, going totally batshit on the frets (nice close-up from the vidscreen camera), throwing in a piece of "The Star-Spangled Banner" and CROSSING HIMSELF in the middle of that, while Ozzy, 10 feet away, first folded his hands in adoration of Zakk's exploits, then got down and salaamed to him. (Best to cover your religious bases these days.) They've done that schtick before, of course, but it was magnificent.
And right around that moment, Sharon Osbourne's father, Don Arden -- former manager of Black Sabbath, Ozzy Osbourne and ELO; mafia crony; showbiz legend; total motherfucker -- died in a Los Angeles nursing home. We didn't learn that till Tuesday. I wonder if Ozzy knew.