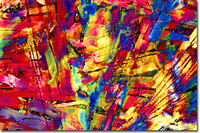 The chestnut filly looked nervous. Last entry to take the track before the race, she kept sticking her head over the mane of her walker horse pal for comfort, kept swiveling her wide eyes as if expecting the Red Baron might swoop down. She wasn't even sauntering on her skinny fetlocks, she was jittering along sideways like a crab. Last one in the starter gate, too.
Well, Spenditallbaby was a 3-year-old, and the other fillies and mares were mostly aged 4 to 6. Yet she was listed at 5/2 odds, which didn't change much as the betting progressed. There were expectations.
The number on the jersey of Spenditall's jockey, the green-capped Michael Baze, was 6. Like every other horse in every race that day, the horse had been administered Lasix, a diuretic that lowers blood pressure to prevent burst capillaries.
This for a change was a turf race, not dirt. The gates swung open, and hooves rumbled sweetly on the grass. Within seconds, the race appeared finished: Star Voyager, at 20/1, had streaked out to a seven-length lead halfway around the one-mile track.
Just as quickly, Star Voyager lost wind. She slid back as the whips did their work on the other horses; the field started sorting itself out according to the odds. (Handicappers know their trade.)
Bai and Bai, at 2/1, pulled in front, strong and steady, on the home stretch. Riding the slipstream, feet skimming bladetops, Spenditallbaby seemed almost motionless. She had forgotten this was a race. She was just letting her young legs run.
Bai and Bai won by a length and a half. Spenditallbaby breezed in second, just ahead of Gentle Charmer.
It was not a dogfight. Spenditallbaby will not be hung or electrocuted. She will continue to run. For a while.
THE ACCOMPANYING PICTURE IS THE DRUG FUROSEMIDE (BRAND NAME LASIX), AS VIEWED THROUGH A MICROSCOPE. IT IS AVAILABLE AS A POSTER FROM MOLECULAR EXPRESSIONS™.