Fri. Aug. 31 -- G.E. Stinson has been infiltrating the audio-visual meld for a long time and knows how to keep your whole head engaged. A.k.a. Halfmonk, the guitar extrapolator/loopsman this time collaborates with the real-time video improvisations of B.K. Bynum and the vocal digitizations of Jen Hung. Opening is bassist Steuart Liebig, manfully battling a semicircle of effects devices that threaten to assault and devour him. But Liebig always wins, quietly. At Dangerous Curve Art Gallery, 1020 E. Fourth Place, downtown 90013, www.dangerouscurve.org.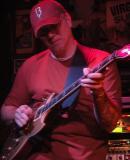 Fri. Aug. 31 -- Chris Poland (or is it Chris Walken?) has inspired guitarists worldwide to attack their hands with pruning shears so they can imitate the accident that ended up permitting his left pinkie to accomplish such remarkable stretches. Kicked out of Megadeth in the '80s for being a junkie in a band full of junkies (hey, the same thing happened to Coltrane with Miles), Poland pulled himself together and has long fronted one of L.A.'s most respected fusion outfits, the beautifully shaded space trio Ohm, with Robert Pagliari on bass and Kofi Baker (Ginger's son) on drums. They're real, real good. At the Baked Potato.
Sat. Sept. 1 -- Never heard Vancouver pianist Lisa Miller, but if our local edge-leaning flutist Ellen Burr is playing with her, she's gotta be worth checking out. At Café Metropol, 923 E. Third St., downtown 90013, (213) 613-1537, 5pm; $5 cover, $10 minimum.
Sat. Sept. 1 -- Vibraphonist Nick Mancini has an ususual presence: He sort of looks like he's asleep and dreaming the mallet flights that his hands are executing. As a composer, he's got some bop influences and knows how to entertain a wide spectrum of customers, but he can get weird, too -- a tendency that I obviously encourage. Dunno who'll be in his Collective tonight, but fine musicians gravitate in his direction. At Café Metropol, 8pm; $10 cover, $10 minimum.
Sun. Sept. 2 -- Don Preston's piano improvisations are like brief journeys through strange regions of natural beauty. He's collaborated with Frank Zappa, Carla Bley, John Carter and many others, but my favorite Preston expression is the trio he leads tonight with drummer Alex Cline and bassist Joel Hamilton, playing his own compositions and others from his life associations and beyond. This guy is experiencing about the busiest "retirement" short of Glenn Danzig. Opening is a special manifestation of this concert series' sponsor, Open Gate Theater, featuring multidisciplinary performer Will Salmon, windman Vinny Golia, trombonist George McMullen, bassist Bill Casale, percussionist Brad Dutz, drummer Alex Cline, and assorted theatrics from Maya Gingery, Laura Allen and Mitsu Salmon. Heckuvan evening. A Sunday Evening Concert at Center for the Arts, 2225 Colorado Blvd., Eagle Rock; 7pm; $10.
Sun. Sept. 2 -- I'm torn. The theatrical Florida metal outfit Kamelot spells "camaraderie" correctly in its web bio, yet ignores the fact that "unique" has no comparative or superlative degree ("most unique"), and hews to the bastardized "homogenous" rather than the historically proven "homogeneous." Plus, singer Roy Khan, the guy who does all the Maiden-style "whoa-oh-oh-oh-oh-oh-oh-OH-ohs," has short moussed hair, and so does one other guy, the drummer I think. I tell you what -- if at least one member can prove he's gone through more than one rehab, I'm onboard. At the Key Club.
Wed. Sept. 5 -- Otmaro Ruiz is a highly skilled and soulful pianist, but I haven't heard him play Latin jazz, which the club site claims he's gonna do tonight. However, I don't know whether to believe that, as the site also spells his name "Otrmoro Ruis." Anyway, it won't matter, cuz he's got a first-rate band: bassist Jimmy Johnson, saxist Ben Wendel and drummer Jimmy Branley. At the Baked Potato.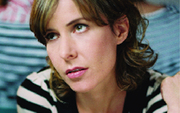 Thurs. Sept. 6 -- You know I like songwriters who can write songs, and Eleni Mandell can. Her whole thing is intimacy, so it'll be something to see her in a semibig venue with her quiet band, which these days includes our fine local avantician Jeremy Drake on normal guitar. Opening for the Frame, I think. At Henry Fonda Theater, Hollywood.