Fri. Aug. 10 -- Pulling in opposite directions of lyricism and angularity, Empty Cage Quartet (a.k.a. MTKJ) winds through sometimes startling vistas of avantland. Jason Mears (winds), Kris Tiner (trumpet), Paul Kikuchi (drums) and Ivan Johnson (bass). At Café Metropol, 923 E. Third St.; 8pm; (213) 613-1537; $5; $10 minimum.
Sat. Aug. 11 -- Poison, Ratt. I get it. Not exactly heavy metal, more like '80s lite metal, but you can't deny the talent, the songwriting, the . . . the rock. Except for Poison, I mean, which is sugarcoated Cap'n Crap, so who (except millions of 35-year-old toddlers) cares if it's the original lineup? And Ratt, well, singer Stephen Pearcy has a raw way of delivering the meat, and he's back with guitarist Warren DeMartini and drummer Bobby Blotzer, and they had that tuff hit "Round and Round" and also, uh . . . something. The pretty good White Lion dropped off the tour, replaced by Vains of Jenna, which at least imitates Motley Crue better than Poison does. Come to think of it, what's on TV? Oh, the VH1 Bret Michaels reality show. Shit. At Gibson Amphitheater.
Sun. Aug. 12 -- The World Stage Jazz Festival is pumped with big talent this year, staging the quartet of resurgent saxist Azar Lawrence; a tribute to the recently departed saxist Herman Riley by the miraculous windman Charles Owens; singer (a word inadequate to describe his flights) Dwight Trible; violinist Karen Briggs; the Taumbú International Ensemble; the sextet of former Harper Brothers drummer Winard Harper; performers drawn from the World Stage's various workshops; and lots of food and vendors. In the parking lot at 43rd Street and Degnan Boulevard, noon-7pm . . . wait, am I reading this right . . . FREE??? I guess we gotta thank Union Bank, L.A. City Council District 8 and the L.A. City Department of Cultural Affairs.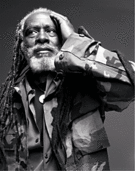 Sun. Aug. 12 -- Not that Burning Spear's post-1980 records are bad or anything, but they lack the smoke, the struggle, the magic of his deep-roots Jamaican reggae masterpieces from the '70s. Still: Bring the old sorceror out in the sun for an audience that's likely to include legions of hardcore fans, and you could get something beyond simple irie festival vibes, especially with the irrefutable drums-and-bass mastery of Sly & Robbie setting the stage. Also with The Taxi Gang (featuring singer Horace Andy, who goes back to Studio One days, and young vocalist Cherine Anderson), and the original four singers of the classic Wailing Souls, reunited after 20-plus years. At the Hollywood Bowl.
Sun. Aug. 12 -- You wanna see Deep Purple this year, you gotta go to the Pacific Amphitheater in Costa Mesa today (O.C. Fair) or the Ventura Theater in Ventura tomorrow. But you know they will deliver; they always do. And not just with their old tunes. It's the Gillan-Paice-Glover-Morse-Airey lineup.
Thurs. Aug. 16 -- Second of four Thursdays in August for An Endless Contortionist: saxist Matt Hayes, drummer Nate Cole and bassist Guy Pinhas, gettin' way out there with different pals each week. At Relax Bar, 5511 Hollywood Blvd.; midnight; $7.