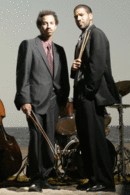 Fri. Aug. 24 -- Calling it "traditional" jazz makes it sound so boring, but The Cross-Hart Jazz Experience are fresh and true to the feel, largely cuz bassist Ryan Cross and drummer Lorca Hart have learned at the feet of Larry Nash, Phil Ranelin and Charles Moore, and Hart's the son of Billy Hart, a dude who's slapped the essence of the beat with Charles Lloyd, Herbie Hancock and Wayne Shorter. On the patio of the L.A. County Museum of Art, 5905 Wilshire Blvd., 6-8pm . . . free.
Fri. Aug. 24 -- Brendan Mullen knows more about music than you, so check out the golden discs he spins at the Hyperion Tavern, 1941 Hyperion Ave., Silver Lake, 10pm-2am. Kateri says there's a barber pole at the door -- it's in my hood, why have I never been there? Oh, I know, cuz I'm barberphobic.
Fri.-Sat. Aug. 24-25 -- I kid Ernie Watts for being a show-off, but y'know, the guy controls his tenor sax down to the last molecule. He's recording for a live album this weekend, and his bandmates are the all-encompassing pianist David Witham (whose album I review this week), bassist Bruce Lett and drummer Bob Leatherbarrow. At the Jazz Bakery; $25.
Fri.-Sat. Aug. 24-25 -- Marilyn Manson and Slayer are at the Verizon in Irvine Friday and the Sports Arena in San Diego Saturday. I interviewed them both for LA Times; read the metal scripture here.
Sat. Aug. 25 -- Bagpipes are boss. So why did it take so long for somebody to come up with the idea of playing 'em the way Albert Ayler might've? Congrats to David Watson for finally doing it. Good company: local cellist Jessica Catron, who can make you hear the insides of sounds. A SASSAS presentation at Schindler House, 835 N. Kings Road, West Hollywood 90069; www.sassas.org.
Sat. Aug. 25 -- Andrew Pask is loose again! Well, nobody ever bothers to lock his cage, because they want him abroad wreaking havoc with his deadly woodwinds. And his septet tonight is equally out of control: trumpeter Dan Rosenboom, keyboardist Wayne Peet, guitar twister G.E. Stinson, bass scrambler Steuart Liebig, percussionist Brad Dutz and drummer Peter Valsamis. Plus live video from Carole Kim, Maile Colbert and Astra Price. Yikes! I'm insulted that they scheduled this for when I'll be out of town; they know I especially love these underground shows at off-the-path venues. At Brand Name Label, 3010 N. Coolidge Ave., LA 90039, near where the 5 meets the 2.
Sat. Aug. 25 -- You gotta see Watch Me Burn -- shifty, intense modern metal with a singer who's totally possessed. At Cobalt Café, 22047 Sherman Way, Canoga Park, 10pm; $10.
Sun. Aug. 26 -- Look who's turning out to celebrate the late microtonal guitarist Rod Poole. Trios: Jessica Catron, Jeremy Drake and Cat Lamb: James Grigsby, Joseph Hammer and Doug Wilford; Erin Barnes, Heather Lockie and Michael Whitmore with Jim McAuley (who plays Poole's microtonally fretted guitar). Irish reels with Spencer Savage, Michael Intriere and Emily Hay. And a microtonal hum led by Bonnie Barnett. At Dangerous Curve 1020 E. Fourth Place, LA 90013, 4pm, free.
Mon. Aug. 27 -- The tech that refreshes: George Sarah. At Temple Bar, 1026 Wilshire Blvd., Santa Monica, 8:30pm.
Thurs. Aug. 31 -- Last chance in August for An Endless Contortionist: saxist Matt Hayes, drummer Nate Cole and bassist Guy Pinhas, gettin' way out there with different pals each week. Mr. Pinhas also recommends billmate UEM, an ambient group that plays earlier. At Relax Bar, 5511 Hollywood Blvd.; midnight; $7.