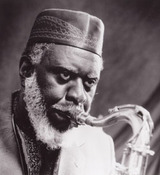 Fri.-Sun. Aug. 3-5 -- Near as I can tell, Pharoah Sanders hasn't made an album since Adam Rudolph put him on Meta Records documenting a 1998 trio featuring Rudolph and Hamid Drake. That made sense, because it placed Coltrane's former tenor foil in a sympathetic atmosphere of African droning and beating. Sometimes in a club, the omens aren't as positive, because Sanders feels like he's gotta please the drinkers with standards and balladry. And there's no news posted as to who'll be in his ensemble this weekend. (Sometimes Dwight Trible tags along.) But Sanders always taps into a rarefied spiritual dimension at some point. July 17 was the 40th anniversary of Coltrane's death. At Catalina's.
Fri. Aug. 3 -- Tee Pee is a fine label -- one that has lavished superior works of art by Sleep, High on Fire, Drunk Horse, Bad Wizard, Brian Jonestown Massacre and Witch among other members of what we should not be ashamed to call the stoner-rock genre. Tee Pee's Manifest Destiny Tour features RTX (Royal Trux spinoff), Earthless, Entrance, Titan, Assemble Head in Sunburst Sound, Astra and Magic Lantern, and if you can relax and rock at the same time, this is your night. At Safari Sam's, 5214 Sunset Blvd., Hollywood, doors 6pm; $12.
Fri.-Sat. Aug. 3-4 -- Synth noiseman/composer Hans Fjellestad sets up for extreme performances in the far-reaching New Original Works series. Gotta like musicians, dancers and video folk who try something different. At REDCAT, www.redcat.org.
Sat. Aug. 4 -- Do I hear call (call)? Do I hear response (response)? Do I hear poetry (poetry)? Dottie Grossman has the words, Michael Vlatkovich has the trombone, and they've made the very intelligent decision of adding the wonderful Christopher Garcia on percussion. At Café Metropol; 5pm; $5, $10 minimum.
Sat. Aug. 4 -- Nick Mancini spreads out his vibes and coasts beyond bop; his Collective comes in tonight. At Café Metropol; 8pm; $5, $10 minimum.
Sun. Aug. 5 -- You remember Thurman Green? He was an excellent trombonist and composer -- used to play with Horace Tapscott. Well, there's a scholarship fund in his honor, it's raising some funds, and it's managed to secure both the amazing trombonist Phil Ranelin and the true-blues singer Barbara Morrison to perform. At Catalina's, 11:30am brunch.
Sun. Aug. 5 -- Kevin Fetus of the blend-and-blaze metal outfits Fetus Eaters and Watch Me Burn lent his invaluable comments and photographic image to my Metal/Jazz story in LA Times last Sunday; you can find a link to it among today's MetalJazz.com postings. And goddamn, both bands are playing tonight -- two of the last three to hit the stage. At the Knitting Factory.
LATE POSTING: Sun. Aug. 5 -- The quietest and subtlest of environmental electronics with Steve Roden, Jeremy Drake, Substrate, Robin Streb. At Dangerous Curve, 1020 E. Fourth Place; 4pm; $10; 213-617-8483; www.dangerouscurve.org.
Tues. Aug. 7 -- Dean Chamberlain brings his guitar, his songs and his nose to open Ronnie Mack's Barndance. At El Cid, 4212 Sunset Blvd., 9pm; $6.
CANCELLED CUZ A-HOLES FIRED 'EM: Tues. Aug. 7 -- Outside guitar hurter Tom McNalley undertakes the second of his regular Tuesday gigs with his rampaging new trio featuring Andrew Pask on winds and Peter Valsamis on drums. At Highland Perk, at York and Aldama, Highland Park, 8pm, free, all ages.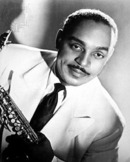 Wed. Aug. 8 -- This would've been Benny Carter's 100th birthday if he hadn't died in 2003. Alto saxist, trumpeter, swing-to-bop institution, big-band-leader (he hired Miles Davis in 1946), film scorer -- if anybody deserves a posthumous tribute, he does. And he's got Quincy Jones, the Clayton-Hamilton Jazz Orchestra, James Moody, Roy Hargrove, Russell Malone, Marlena Shaw, Eldar, Roberta Gambarini and others to oblige. Looks like Flavor Flav couldn't make it. At the Hollywood Bowl.
Thurs. Aug. 9 -- An Endless Contortionist is a freakin' no-holds-barred improv trio featuring Matt Hayes on saxes, Nate Cole on drums and our redoubtable evil friend Guy Pinhas on bass. This is the core of an ensemble that will include multidisciplinary auxiliaries, different each time, every Thursday in August. Tonight AEC is the fifth performer. At Relax Bar, 5511 Hollywood Blvd.; midnight; $7.
Thurs. Aug. 9 -- When it comes to '60s psychedelic proto-punk, it's hard to believe The Sixth Chamber are not old. At the Viper Room, 10pm.
Thurs. Aug. 9 -- George Sarah is an electronic musician to whom you can expose the family: straight beats, relaxed atmospheres, intelligent. His acoustic String Quartet saws along, and this time he's also got tabla player Satnam Singh Ramgotra and vocalists Monique Powell and Gingger Shankar. At Levitt Pavilion, 87 N. Raymond Ave., Pasadena 91103; 7pm; all ages; free; (626) 683-3230.