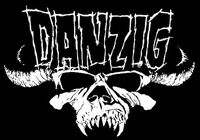 After my Spin interview with Glenn Danzig came out last week, I realized I had to take notice of his new double album of outtakes, "The Lost Tracks of Danzig." And that leads to considering his whole career. In brief, y'know.
Listening to "Lost Tracks" feels like any other Danzig experience: There's nothing I want to skip. The songwriting's consistent, even in the occasional instance where the sound is demo quality; when Danzig says he likes these songs and just couldn't find spots to release them earlier, you should believe him. "Cold, Cold Rain," with its organ and its gospel feel, stands out because it's a rare glimpse into the side of Danzig that's pure soul -- a side he hides for the sake of image, but everbody (and especially Jerry Lee Lewis) knows that if you cut open any Baptist you'll find a demon, and vice versa. I also like the music-fan side of him displayed in T. Rex's "Buick McKane," the Germs' "Caught in My Eye" and David Bowie's "Cat People," to each of which he adds his Cainish twist and a batcave full of dark mood. "Bound by Blood" is one of his best hooks, as well as being flat-out touching (yet another rare window, this time into the man's familial emotions). If the rest follows the basic infernal riff-and-moan template -- well, nobody riffs and moans as starkly and deeply as Danzig. The slim but vertically expanded packaging, a takeoff on '60s sensationalist pulp trash, would fit better with Misfits material than with the Danzig group's more artistic, uh, oeuvre, but what the hell.
Now a few words about each of the main Danzig releases, which form the context.
1 (1988). After hearing "Twist of Cain" during the first florescence of KNAC metal radio, I bought the LP, clamped on the headphones and played it till my ears bled. "Not of This World," "She Rides," "Am I Demon," the original "Mother" -- god DAMN. Ragged and stark, total guts, total rock.
2 (1990). So I wasn't prepared for the more sensitive and bluesy "Lucifuge," and even panned it in LA Weekly -- I thought the sound was sterile, the cover art's Doors homage was cheap, and the blues was fake. Couldn't argue with the romantic agony of "Her Black Wings," though. Of course, I played the LP again this week for the first time in ages, and realized why it's many fans' favorite -- it's got something for everybody.
3 (1992). "How the Gods Kill" is Danzig's murkiest and most poetic album. I wasn't initially drawn to it cuz I thought the single, "Dirty Black Summer," was boring, but you gotta listen to the set as an EPIC. This was the first album produced by Glenn, and he took advantage of the distance from Rick Rubin (now "executive" producer) to expand the previous bare-bones studio sound with depth and shading.
Thrall/Demonsweatlive 7-song EP (1993). How weird that this would prove to be the popular pinnacle of Danzig's career, via MTV putting the live revival of "Mother" on heavy rotation. The three studio cuts could've been outtakes from "Danzig 3." But the live tracks possess a punk energy that nearly transcends music, and people responded to that. Having seen the original band featuring John Christ, Eerie Von and Chuck Biscuits live a few times, I can tell you that these tracks are representative -- that revered lineup could be sloppier than fuck, with tempos overrevved and instruments out of sync. But that could also be exciting.
4 (1994). Some of the songs on "4" are overextended, although the mantra/trance mode has always been part of Danzig's aesthetic. The best feature is the fine-grained, restrained but powerful studio sound, which was beginning to incorporate elements of industrial tech.
5 (1996). Then Danzig became a tech/repetition/control addict and fired the whole band, deciding that drum machines and effects boxes would enable him to shoulder much of the work himself. This, nearly all listeners agree, was a bad idea; the "Blackacidevil" album sounded sluggish and amateurish. Alice in Chains' Jerry Cantrell played a little guitar on two songs -- an inspired team-up that Danzig hoped would continue, but they could never pull it together.
6 (1999). Many observers had now written Danzig off, thereby never giving one of his best albums, "Satan's Child," a chance. The songwriting, hightlighted by "Belly of the Beast," was relentlessly superior. The fully modern production struck an unusual balance of heft and transparency. And though Danzig's voice showed signs of wear, he adapted his approach to project a new bone-charred resiliency. I interviewed him at the time for LA Weekly; you can read the story http://www.metaljazz.com/2006/01/glenn_danzig_interview_1999.php#more ****here.
7 (2002). With three years' worth of songs to draw from, Danzig made a record that kicked ass on every level. Joey Castillo, one of this era's solidest and most creative skin-beaters, had settled in. Nick Raskulinecz was at the knobs, concentrating power in ways he's also brought to Marilyn Manson, Velvet Revolver and the Foo Fighters. The sequencing of the tracks made for a steady build that was enormous by the final track -- people who'd forgotten how to listen to whole albums should've been forced into a refresher for "I Luciferi."
8 (2004). Though "Circle of Snakes" wasn't as cohesive as # 7, Danzig drew a tangle of excellent selections from his songbook's back pages -- notably "1,000 Devils Reign" and the ferocious closer, "Black Angel, White Angel." The twisting, intense guitar of Prong's Tommy Victor made for a foil equal to John Christ; Victor also added a jolt to Danzig's live shows, which, abetted by Bevan Davies' casual drum clobber, were the most concentrated of the band's career.
Other stuff: The double "Live on the Black Hand Side" (2001), featuring concert material from 1992 through 2000, isn't the dog many say it is, though disc 2's recording quality is variable; many of the selections aren't the obvious ones, and the playing is strong. Glenn's 1993 and 2006 solo instrumental "Black Aria" discs, especially the second, are good, spooky background music, useful for scaring away trick-or-treaters. Danzig's ambitions as a cinematic auteur reap uneven results in his 2003 and 2005 video collections, "Archive de la Morte" and "Il Demonio Nera," but it's great to hear the "Danzig 4" material on the latter in hi-def DVD sound.
More odds and ends exist, but I gotta pump more iron if I'm gonna write about maxi-singles.
Speaking of lost tracks: I wish there'd been space in the Spin interview for Danzig's observations on visuals. For instance, he named two of his favorite movies growing up -- Jean Cocteau's surreal "Beauty and the Beast" and Joseph L. Mankiewicz's cannibalistic "Suddenly, Last Summer" (with Montgomery Clift, Katharine Hepburn and Elizabeth Taylor, screenplay by Gore Vidal from the Tennessee Williams play). Makes sense. A lot of sense. Also not making the magazine cut was mention of Danzig's Verotik comix mini-empire; he gave me a copy of Simon Bisley's grotesque illustrated interpretation of "Paradise Lost," which is worth checking out.
Danzig is one of my favorite musicians. Some people can't stand him -- I think because he forces them to hold all these contradictory forces in their heads at the same time: anger, caricature, belligerence, sensitivity, muscles, melody. But that's part of the fun.