This is why we live in a big city, folks.
Fri.-Sat. Sept. 14-15 -- Arthur Blythe, that rare combination of compositional intellect and deep blues, is blowin' his alto, baby. Dunno if his group is the excellent bunch I reviewed several months back, featuring drummer Alex Cline, vibesman Gust Tsilis and bassist Nick Rosen. At Café Metropol, 923 E. Third St., downtown 90013; 8pm; $15 cover; $10 minimum; reservations highly recommended at (213) 612-1537.
Fri. Sept. 14 -- I get a fuzzy-bunny feeling whenever I hear the name Cannibal Corpse. One of the earliest death-metal pustulences of the late '80s, the group has maintained a mostly consistent lineup for over a decade, and its current "Kill" thrashes with undiminished energy. I find The Black Dahlia Murder's death metal unvarying, like supercharged oatmeal, but I'm ready to suck the toes of The Red Chord, whose new "Prey for Eyes" I review in today's postings. Goatwhore is irritating, and other croak metal isn't, so what does that mean? And just today I was getting my hair blown back thanks to "Riders of the Plague" by Florida's The Absence, who combine old and new to rip, rock and make a severe twin-guitar statement -- one of the best things I've heard lately. This is the Metal Blade Records tour that was kicked off Disney property on both coasts, and I'm sorry, but if Disneyland ejects metal, it can pretty much use its parks as ammo dumps or Christian camps for the coming decades, cuz metalheads (and they are legion) love fantasy, but they hate censorship. At House of Blues Sunset; the Absence is present at 7pm.
Fri. Sept. 14 -- Now that jam bands are no longer in fashion and it's harder to acquire X, you can start thinking of Particle as just a grooving, improvising, exciting instrumental experience. At the Knitting Factory.
Fri. Sept. 14 -- And are the '60s in fashion right now or not? I can't fuckin' keep track. But The Sixth Chamber have strong songs and a warm, slightly psychedelic feel, so who cares? And anyway, they're opening for The Strawberry Alarm Clock, who were kinda old already when they had that 1967 hit with "Incense and Peppermints," so god only knows about the wear and tear, but good for them. Rumor at the time was that the Clock had never dropped acid. At least they made some money. At Malibu Inn, 22969 Pacific Coast Highway 90265; 8pm; $25.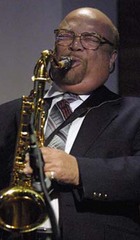 Fri.-Sun. Sept. 14-16 -- I remember about a quarter century ago seeing short, round Red Holloway at the Parisian Room (which he used to run I believe), and thinking that he looked like a sleazeball in his '70s polyester shirt with the long lapels. Then he stuck his tenor in his mouth, and I shut mine. Ain't many left who can play the bop like this son of a B, and it's his 80th birthday this week. Saxist Donald Harrison is his dueling partner, a format Red always enjoys. At the Jazz Bakery; $25.
Sat. Sept. 15 -- No doubt you're thinking: Scorpions -- weren't they a famous band a long time ago? Well, yeah, but since there's no radio that keeps up with classic rock developments, few know that the Kraut quintet, in addition to doing knock-you-on-your-whory-can live shows, have continued to craft excellent albums in recent years, and the new "Humanity Hour 1" is one such. It's produced by Desmond Child, and don't tell me you're one of those hardcases who thinks Child ruined Aerosmith, and who wishes everybody was still a junkie. Talented musicians plus canny songwriting equal mighty music, nearly without exception, and the album is dark, kinda ballady, but you probably won't skip a single track and will come back for more. Try "Game of Life," I dare ya. At Gibson Amphitheater.
Sat. Sept. 15 -- Order Chinese dinner and hang for this one. At 7:30: Julie Christensen -- former singer of Divine Horsemen, and before and after that a passionate, sensitive solo artist -- who can do jazz, folk, rock and whatever you want; with Joe Woodard on guitar and the rest of her superior band, she'll be certain to essay the sexy yet Neil Youngy "Where the Fireworks Are," from her upcoming country-rock album of the same name, and maybe "Woodstock," too, which she actually pulls off, revealing herself as some kind of Jesus miracle worker. At 8:30: Jennifer Nash, a songwriter and warbly-acrobatic post-Stevie singer whom I truly trust, dramatic yet real; she hasn't been out much lately I think, and will be in duo with Dan Ostermann. At 9:30: Bill Mumy, the kid from "Lost in Space" and elementary-school deskmate of my wife, playing rootsy rock now. At 10:30, Nicole Blanco, whom I don't know. Wish I could be there, but I gotta review another show. At Genghis Cohen, 740 N. Fairfax Ave. 90046, (323) 653-0640.
Sat. Sept. 15 -- Why have I never quite connected with The Melvins? They're loud, they're crude, they're adventurous, but could never keep my attention, something removed about them. And Mudhoney -- I'm from the Northwaste, so maybe I'm jealous that they made loud crude rock and got sorta famous for it but I didn't, and anyway I was listening almost entirely to jazz when they came out. Man. In a post-9/11 trend, both bands are playing their most renowned albums. Anyway, this strikes me as a good show at which to consume several beers. At the Henry Fonda Music Box Theater.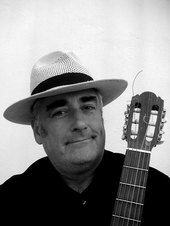 Sat. Sept. 15 -- Guitarist Fred Frith: Henry Cow, Art Bears, a veritable Vishnu of progressive and avant music. Collaborating with him: Ikue Mori (laptop) and Zeena Parkins (electric harp), two NYC denizens who create atmospheres so thick and fragrant that you almost can't breathe, so just pretend you're smoking. Should be a most involving event. A SASSAS presentation at REDCAT, 631 W. Second St. in the Disney Hall edifice's rear area, downtown, www.redcat.org; 8:30pm; $25.
Sun. Sept. 16 -- "Step Across the Border," a Fred Frith film documentary by Werner Penzel and Nicholas Humbert. At REDCAT; 7pm; $8.
Sun. Sept. 16 -- Jessica Catron has put together a phantastic improvisational opportunity: a traveling musician named Killick, who plays "h'arpeggione" (an amplified acoustic instrument he calls "the devil's cello"), jams intuitively with Catron's cello, Jeremy Drake's prenatally damaged electric guitar, Laura Steenberge's bass and Rich West's drums. At Dangerous Curve, 1020 E. Fourth Place, downtown 90013; 4pm; $10.
Sun. Sept. 16 -- Everybody around here knows William Roper and his risky tuba, right? He's doing a video installation in collaboration with Joseph Santarromana as part of a humor show, and the opening party is today from 2-5pm with music by Chris Joyner, free. At Barnsdall Art Park thru Dec. 30, www.humorus.net.
Wed.-Sun. Sept. 19-23 -- Trumpeter Roy Hargrove has taste. He plays a lot of different stuff, from post-bop to electro. He's no bozo. At Catalina's.