Fri.-Sat. Sept. 26-29 -- Where to start with Oliver Lake? A founder of the World Saxophone Quartet. A solo artist who spans avant, funk, blues and the post-bop Dolphy tradition. A mentor to the likes of Geri Allen, Russell Gunn and Pheeroan AkLaff. It's all in his alto sound: grainy, insistent, deeply rooted. Musicians who know what's what will flock to this stand, with Lake in an unusual organ-trio format with Jared Gold on keys and Bill McClelland on drums, plus Lake's son, DJ Jahi Sundance. What, did you think it'd be ordinary? At Jazz Bakery; $25-$30.
Fri.-Sun. Sept. 28-30 – Hurricane Katrina shot an emotional jolt into New Orleans trumpeter Terence Blanchard, inspiring one of his best albums, "A Tale of God's Will." Despite moments of roots groove and genuine sadness, it kind of soundtracky in places, but this longtime film scorer has learned how to use an orchestra for texture, not just heft. He's got a sextet here. At Catalina's; (323) 466-2210; $20-$30.
Fri. Sept. 28 – A wide-ranging modern composer and a sensitive pianist with a sure touch, Myra Melford teams with one of the tent poles of the avant, windman and fellow New Yorker Marty Ehrlich, in duo. This is a red-letter event. Pick up Melford's new Cryptogramophone CD with Mark Dresser and Matt Wilson (yikes), "Big Picture," which comes out in a few weeks. At Café Metropol, 923 W. Third St., downtown 90013; 8pm; $15; (213) 613-1537, reservations recommended.
Fri. Sept. 28 – Check out Mike Keneally if you want exciting guitar -- the thing just squirms like an octopus in his hands, extending inerrant tentacles of ambition and color. Given the the emphasis on everybody in the band singing tonight, he may be in one of his twisted-songcraft phases, but that doesn't mean he won't crank a lot. With bassist Brian Bellar, guitarist Rick Musallam and drummer Joe Travers. At the Baked Potato; (818) 980-1615; $20.
Fri. Sept. 28 – Dean Chamberlain is looking more and more like a cranky old country preacher these days. Listen to his hotly strummed folkie guitar and reedy voice, but DO NOT LET THIS MAN BAPTIZE YOU. Abetted by Kevin Keller and Laura Kass; also appearing are Groovy Rednecks and Michael Ann. At SW Hill Country Western Store, 1412 Colorado Blvd., Eagle Rock, 90041; 6:30pm; $5; BYOB.
Sat. Sept. 29 -- Day of the Drum Fest, featuring Derf Reklaw Drum Ensemble (4pm) and Drum Master Summit (5pm). At Watts Towers, 1727 E. 107th St., 11am-6pm; free.
Sun. Sept. 30 -- Simon Rodia Jazz Fest with highlights from the very fine vet pianist Larry Nash (1pm) and the Pan Afrikan Peoples Arkestra (4:15pm). Just a very cool scene. At Watts Towers, 1727 E. 107th St., 11am-6pm; free.
Sun. Sept. 30 – For something completely different after the jazz fest, you can head on over to Cavalcade of Trapeze in the same general hood. It's got good amateur performers in it, says our friend Judith Lewis, who is one of them and ought to know. At Hollywood Aerial Arts, 3838 W. 102nd St., Inglewood 90303; 6pm; $5.
Sun. Sept. 30 – An 11-band metal fest featuring Obituary, Alabama Thunderpussy, Hemlock, Full Blown Chaos. Lotta good outfits including some local ones; my pick is the Blown engine from Queens, which, though kinda samey in tempo and feel, acts in terms of songs and truly rocks (and I like the way drummer Jeff Facci keeps things moving forward while lashing out in many alternate directions). At the Knitting Factory; 6:30pm; $22.
Tues. Oct. 2 – Saosin, Norma Jean, Alexisonfire, The Dear and Departed . . . Norma Jean seem to get themselves booked in all kinds of situations, cuz they don't exactly fit in anywhere with their rhythm-sprung, kinetic noise-metal, and they're also Christians. Anyway, I dig them. And this is almost the end of their last tour with their longtime drummer, Daniel Davison. At Avalon.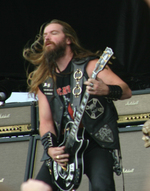 Fri. Oct. 5 – The hardest-working, hardest-rocking, baddest-shredding motherfucker in metal (and the funniest interview), Zakk Wylde and his Black Label Society. Absolutely reliable. Do not arrive sober. At House of Blues Sunset; $32.50. Also at the Grove of Anaheim, Wednesday October 3.