Fri. Sept. 7 -- Former Horace Tapscott saxist Michael Session hauls a ton of revolutionary soul with his sextet. At LACMA, 5905 Wilshire Blvd., 6-8pm, free.
Fri.-Sat. Sept. 7-8 -- If you want to see the speediest guitarist alive, Allan Holdsworth, you might have to kill and remove several hundred admiring axmen standing in your way. With bassist Jimmy Johnson and drummer Chad Wackerman. At the Baked Potato; $30.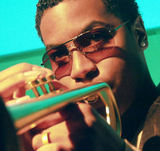 Fri.-Sat. Sept. 7-8 -- This young trumpeter Christian Scott has got something: electronic weirdness, mood, spatial awareness. At Catalina's; $20-25.
Fri.-Sun. Sept. 7-9 -- Guitarist Kurt Rosenwinkel brings a tasteful, intelligent and modern group (Does that sound like an insult? It's not.) featuring one of my favorite saxists, Mark Turner, plus pianist Aaron Parks, bassist Ben Street and drummer Rodney Green. At the Jazz Bakery; $30.
Fri. Sept. 7 -- Saxist Matt Hayes, bassist Guy Pinhas and drummer Nate Cole, a.k.a. An Endless Contortionist, abstract it out; drummer Danny Frankel opens. At Dangerous Curve, 1020 E. Fourth Place, downtown 90013; 8pm; $10.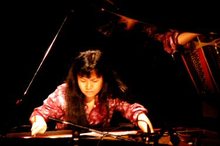 Sat. Sept. 8 -- Special occasion: In from Japan, the duo of pianist Satoko Fujii and trumpeter Natsuki Tamura sit on the edge so much that they bleed, but it's worth getting some on ya, as it's very thoughtful, original stuff. At Café Metropol, 923 E. Third St., downtown 90013; 8pm; $10 cover; $10 minimum; (213) 612-1537. Be sure to make a reservation for this one.
Wed.-Sun. Sept. 12-16 -- Vet tenorman Red Holloway, one of the last of the '50s boppers, celebrates his birthday. A slice of history. At the Jazz Bakery.