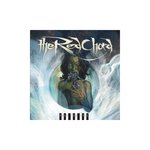 I'm driving along, and the next CD on the changer cycles into the play position. I recognize it's hypercharged metal. Then I'm paying attention. Then I'm fixated. Then I've forgotten where I'm going.
The Red Chord do some math stuff, some thrash stuff. But you can tell that these five New Englanders have soaked up a mess of rock, back to the late '60s. They're not niche guys. They're musicians.
Brad Fickeisen, for instance, the drummer. Most stickmen get bored with thrash puckapucka after a while, regardless of how effective it is in generating knee-jerk pit roil. So, even more than on their last album, "Clients," Fickeisen uses thrash only as an occasional allusion. Now involved subliminally in his ever-shifting vocabulary of beats, it's semisubmerged in a rolling and tumbling group sound chockfull of instantaneous interaction and puffed with just enough reverb.
The feel will appeal to other musicians and Mastodon lovers, while the Red Chord also take a big leap beyond, into arenas of what we old folks used to call songcraft. "It Runs in the Family" carries a Taste of blues-rock. (Sorry about the Rory Gallagher pun.) The title cut, "Pray for Eyes," though thoroughly heavy, borders on beautiful. "Tread on the Necks of Kings" cranks from a cyberseaman's chantey into a flesh-tearing assault. The guitars of Jonny Fay (who's left the band, replaced by Mike Keller) and Mike McKenzie frequently pair up in striking pas de deux, or twirl into solos of melodic economy. Take Procol Harum, add a few decades of modern bitterness and betrayal, and this is pretty much what you'd get -- something entirely different, but the musical sensibility still reverberates.
"It Came From Over There" is the best track, and the most anomalous. But is it really a sore thumb? Of course, it's an instrumental, lacking Guy Kozowyk's standardized vocal roar and humorously aggressive lyrics ("No one ever wants to own up to eating nine cans of ravioli"). But the main difference is just the addition keyboards from Marai Kawashima (formerly of the Tokyo black-metal band Sigh), which throw the Red Chord's already obvious prog influences into high relief. The song is majestic, a trifle Arabic, and Kawashima's old-school synth tweedling makes me smile -- laugh, almost. That's permitted, ain't it?