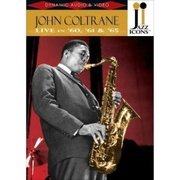 It's weird at first to see John Coltrane through German and Belgian eyes, but then I remember what I felt like when he first ran over me about a decade later, and the impression is not so different. It's dark, very dark. Black magic, even.

Here's Coltrane fulfilling a contract in a Dusseldorf TV studio in 1960 with Miles Davis' band sans Miles, who apparently grunted and said he didn't wanna (and who was going to make him?). The director has lighted Coltrane, Wynton Kelly, Paul Chambers and Jimmy Cobb the same way Fritz Lang lit Peter Lorre in "M," i.e. almost not at all; spotlights like street lamps barely prevent the musicians from vanishing in great pools of ink. Somebody's idea to superimpose oscilloscope patterns outside the bell of Trane's tenor suggests an additional subterranean sci-fi inspiration ("Invaders From Mars," maybe), with the players cast as aliens broadcasting a mysterious, threatening message.
While the music's a little moody, the Miles-oriented material – a classy "On Green Dolphin Street," the tear-it-up blues of "Walkin'," a quick jaunt through "The Theme" -- doesn't justify the menacing murk. When a substantial Oscar Peterson and a stone-faced Stan Getz stop by to augment a medley of standard ballads and an upbeat reimagining of Thelonious Monk's "Hackensack," it's funny to see the shadows transforming Getz, too, into a lurking Negro as he swings and slurs so very elegantly. Coltrane comes up with some neat new melodic ideas on "Hackensack"; Kelly's silvery sound and brisk attack shine throughout.
All in all, the Miles outfit overmasters Coltrane's early collaboration with McCoy Tyner and Elvin Jones (plus Eric Dolphy and Reggie Workman) showcased in a Baden-Baden TV studio late in 1961. Once again the setup is strange, with the group imprisoned behind a grid of industrial gears and girders that clashes with the elevated humanity of their sound. Though Dolphy's flute hits some notes from Planet Zeno on "My Favorite Things," his burning interplay with Coltrane is simmered down some in this constricted context, and Tyner hasn't yet reached beyond the prettiness stage of his piano collaboration. Jones steals the show, shuffling beats around like a deck of tarot cards, spreading out the specificity of the pulse -- this man would be the unfailing cloud foundation who would support Coltrane's flights for five years.
The quartet hit an apex in 1965, when the Belgian footage was shot. Coltrane, Jones, Tyner and bassist Jimmy Garrison, who can all read one another's minds by now, stand on an outdoor stage. The audience huddle in hoods, hats and overcoats, because though it's midsummer, the night is cold. And steam is rising from the musicians -- their breath, their bodies. They look like smoking demons freshly arrived from hell, and play as if a fire's been lit under them. Coltrane and Jones use the wide-spanning intervals of "Vigil" as a warm-up, the saxist serving notice that he's here to blow his brains straight through his mouthpiece; he doesn't fully melt the frost off his horn, though, till one off Tyner's more violent solos kicks him in the pants. Tyner's grand stylings on "Naima" show he has no emotional connection to the subject, Coltrane's wife, to whom Trane was still legally married though he'd been separated for two years. Coltrane, however, whose relationship with both the song and the woman has evolved in the six years since he wrote it, adds a powerful sense of memory and loss to the original beauty and tenderness. Coltrane no doubt feels he's expected to play his biggest hit, "My Favorite Things," and amazingly, he continues to find new kettles and snowflakes to favor in it; this version settles between the exploratory twists of 1961 and the complete demolitions of 1966. His solo, an endless outpouring made possible by circular breathing, runs especially deep; the band energy spirals higher and higher; spit drips from Trane's soprano. I'm just laughing, the way I do at a magnificent sunset.
Indeed, it's getting dark, and that darkness was what attracted me to Coltrane -- his passion in the last couple of years of his life, when he was plunging into the very center of his soul, dredging out the anger and the fear and exposing them to the light. But the sun's going down -- stop the world! He died at 40.