Fri. Oct. 12 – If anybody still doesn't know, Phil Ranelin is a trombonist and composer of the highest rank. He came out to L.A. in the '70s with Motown, and lucky for us, he got stuck here. His ensembles always feature locals who can stand beside the best of New York or anywhere. At Café Metropol, 923 E. Third St., downtown 90013; 8pm; $10; (213) 613-1537, and you better get dinner reservations cuz the room is small.
Fri. Oct. 12 – You think Kim Richmond is slick? Like how he can bend alto-sax notes over an octave's span like Johnny Hodges, or flutter through a glasperlenspiel of fast bop like Sonny Stitt? You got a problem with that? Good bandleader, too, bringing a sextet here. On the patio of LACMA, 5905 Wilshire Blvd.; 6pm; FREE.
Fri. Oct. 12 – Good outsider triple bill: the duo of electronicators Curtis Glatter & Nathan Hubbard; spooky experimentalists Oaxacan; and creative vocals and object abuse from the duo of Marcos Fernandes & Anna Homler. At Dangerous Curve Art Gallery, 1020 E. Fourth Pl., downtown 90013; 8pm; $10.
Fri. Oct. 12 – My old college pal Thomas Doherty, now a prof at Brandeis, has knocked out a bunch of deeply researched and fun books on film, the latest of which hits stands today: "Hollywood's Censor: Joseph I. Breen and the Production Code Administration," about the Catholic who first shielded our delicate eyeballs from cinematic filth. Great unexplored subject, and I get a kickback of 8 cents for every copy I sell, so check it out here.
Sat. Oct. 13 – I reviewed vibesman Nick Mancini a few weeks back; read my gush here. He'll probably have his more usual ensemble with Otmaro and the gang this time. At Café Metropol, 923 E. Third St., downtown 90013; 8pm; $10; (213) 613-1537; he packs 'em in -- get reservations.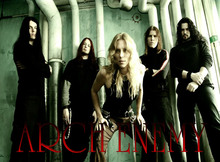 Sat. Oct. 13 – A pair of veteran metal bands that've retained some old-school armor and remain distinctive participants in the era of modern rasp: Sweden's Arch Enemy and the Bay Area's Machine Head (banned from Disneyland House of Blues!). Plus Sanctity and O.C.'s Throwdown. At Avalon.
Sun. Oct. 14 – The vocal extremities of Bonnie Barnett, augmented by Richard Wood, Tom McNalley, Joe McNalley and Garth Powell. Plus the CalArtsified trio of Jacqueline Bobak, Paul Berkolds and Mark Bobak doing John Cage; and BoorBaar Percussion Trio. At Dangerous Curve Art Gallery, 1020 E. Fourth Pl., downtown 90013; 4pm; $10.
Sun. Oct. 14 – Up in Oakland, Mills College has been a hotbed of music made out of electricity for 40 years, an anniversary celebrated tonight with compositions by John Bischoff, David Rosenboom, Chris Brown, James Fei, Maggi Payne and Mark Trayle. At REDCAT in the Disney Hall Complex, 631 W. Second St., downtown; 8:30pm; $20; www.redcat.org.
Sun. Oct. 14 – Prong had hits with their original shrapnel metal at the turn of the '90s. Prong is a trio fronted by Tommy Victor, who can make nasty noises with his guitar and strangled almost-melodies with his voice and sometimes plays with Danzig and Ministry. Prong is good. Prong tops a bill that includes eight bands I haven't heard of. At the Whisky.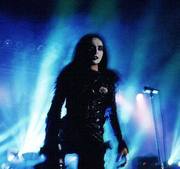 Mon. Oct. 15 – Talk about rock theater. Cradle of Filth is the world's biggest black-metal band and a big show with costumes and lights and stilts and really dense shrieking sounds; you might actually be able to hear them here. GWAR is even more costumes plus toilet humor and crude rock. Vains of Jenna is a pretty good Motley Crue imitation from Sweden. Plus CKY (Camp Kill Yourself), whom I know not. If you can handle all this on a Monday, you have earned your shroud. At the Wiltern.
Wed. Oct. 17 – You can't deny that black metal is often kinda funny, and Sweden's Therion don't seem to mind -- they've got a picture of their female singer (or one of FOUR singers, actually) swinging a driver as the band members stand by doing caddy duty, an acknowledgment perhaps that Annika Sorenstam is their nation's most prominent cultural export. And with roots in Nordic folk music, their operatic, determinedly melodic metal isn't only funny, it's fun. At the Key Club.

Wed.-Sat. Oct. 17-20 – Once there was an album on Impulse called "The New Wave in Jazz," which featured Coltrane, Shepp and a bunch of other upsetters playing live in '65. When I first heard it a decade later, the alto sax of James Spaulding poked out at me from a gangbang on Monk's difficult "Brilliant Corners." Here was a committed avantist who was also committed to beauty, weaving into the mix his burnished, physical yet flexible lines, the kind of sound Paul Desmond might have admired. Spaulding is still at it, here bringing famed bassist Cecil McBee (who played with him on "New Wave"), drummer Roy McCurdy, and a couple of non-Irishmen, trumpeter David Weiss and pianist Danny Grissett. At the Jazz Bakery; $25-$30.