I'm gonna repeat the blurbs of these first two from last week, cuz I'm too lazy to write new ones.
Fri.-Sat. Oct. 19-20 – Once there was an album on Impulse called "The New Wave in Jazz," which featured Coltrane, Shepp and a bunch of other upsetters playing live in '65. When I first heard it a decade later, the alto sax of James Spaulding poked out at me from a gangbang on Monk's difficult "Brilliant Corners." Here was a committed avantist who was also committed to beauty, weaving into the mix his burnished, physical yet flexible lines, the kind of sound Paul Desmond might have admired. Spaulding is still at it, here bringing famed bassist Cecil McBee (who played with him on "New Wave"), drummer Roy McCurdy, and a couple of non-Irishmen, trumpeter David Weiss and pianist Danny Grissett. At the Jazz Bakery; $25-$30.
Fri. Oct. 19 – You think Kim Richmond is slick? Like how he can bend alto-sax notes over an octave's span like Johnny Hodges, or flutter through a glasperlenspiel of fast bop like Sonny Stitt? You got a problem with that? Good bandleader, too, tonight celebrating the release of his "Live at Café Metropol." No, I don't think he'll be recording and releasing the record at the same time, though technology now makes that possible. At Café Metropol, 923 E. Third St., downtown 90013; 8pm; $10; (213) 613-1537, reservations recommended.
Fri. Oct. 19 -- Hindustani ragas rule. Please welcome sarod player Pandit Rajeev Tranath and tabla beater Nitin Mitta. At REDCAT in the Disney Hall Complex, 631 W. Second St., downtown; 8:30pm; $20; www.redcat.org.
Sat. Oct. 20 -- Oguri will rip your ribs out extremely slowly and quickly with his butoh dance -- it's an emotional drama that must be experienced sometime in your life. And he's got trumpeter Wadada Leo Smith -- AACM stalwart and CalArts conjurer -- and pianist Motoko Honda with him. Big event at Barnsdall Gallery Theater, 4800 Hollywood Blvd. 90027, 8pm. Tickets are $36 at the door, but you can get them as low as $12 here, printable by e-mail.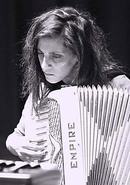 Sun. Oct. 21 – The accordion electronicist half of the NYC Parkins sisters, Andrea Parkins, hits town for a rare afternoon appearance you won't want to miss -- this woman raises mists that put Macbeth's witches to shame. Really strong bill, too, with the electromegatonic guitar-bass duo of G.E. Stinson & Steuart Liebig, plus a fave of me myself, the calmly gliding loops of Leticia Castaneda & Mitchell Brown. At Dangerous Curve Art Gallery, 1020 E. Fourth Pl., downtown 90013; 4pm; $10.
Tues. Oct. 23 -- Pianist Josh Nelson leads a quintet; read my review of his new "Let It Go" among my postings this week. At the Jazz Bakery; $25.
Thurs. Oct. 25 -- Balkan polka weirdness from rising stars Gogol
Bordello, about whom I care little, but openers Dub Trio tear apart the instrumental firmament with their unreal improvisations, as I reviewed here. At the Mayan Theater, 1038 S. Hill St., downtown 90015.