Fri. Oct. 19 – As Dio would say: Look out! One-stop shopping for some of the best in L.A. metal. Such as. The fabulously musical, intense and heavy prog-metal of Intronaut, who've got a new record coming out Tuesday. The eyes-rolled-back shrieking abandon of Sawa and the guitar noise jolts of Kevin Fetus, fronting Watch Me Burn. The powerfully orchestrated black metal of Exhausted Prayer, whose new record I review in this week's postings. Plus National Sunday Law and Hurt Model, whom I have not yet experienced. At "Hollywood's Best-Kept Secret," Relax Bar, 5511 Hollywood Blvd. 90027, across from the Hollywood & Western Red Line Metro station; doors open 8pm; beer-only bar; $10, best value in town; see ya there.
Fri. Oct. 19 -- Azar Lawrence is blowing his sax like the voice of one calling in the wilderness. With Roy McCurdy on drums and the limitless Nate Morgan on piano. At Charlie O's, 13725 Victory Blvd., Van Nuys, 8pm; (818) 994-3058; no cover I think.
Sat. Oct. 20 -- Azar Lawrence. At World Stage, 4344 Degnan Blvd., Leimert Park 90006; 9:30 & 11pm; cheap.
Sat. Oct. 20 -- Chuck Manning plays the cleanest, steadiest sax around, and listen to his lines if he doesn't lull you too much with the beauty, cuz he's also one of the most inventive. At Café Metropol, 923 E. Third St., downtown 90013; 8pm; $10; (213) 613-1537, reservations recommended.
Sun. Oct. 21 – Mallets of the gods from Brad Dutz, plus concrete abstractions from Warm Climate and guitar abuse from Anthony DiGennaro. At Dangerous Curve Art Gallery, 1020 E. Fourth Pl., downtown 90013; 4pm; $10.
Sun. Oct. 21 -- The double-kick landslide of drumsman Inferno would be enuf by itself, but Behemoth also throw in these weird Polish folk and classical deals and huge riffs and military stomps, and they're one of my favorite bands. Best title from their current "The Apostasy" has to be "Christgrinding Avenue." Thanks, Nergal. Also, worst metal band name in recent memory: Job for a Cowboy, and their current "Genesis" is almost as bad of an album title and their sound is kinda samey blast-and-diggle, but they got a couple of things that sound like the exhalations of dead cathedral choirs and "The Divine Falsehood" is quite grand, so yeah, okay. And France's Gojira set things up well with their sea-slog originality. At House of Blues.
Mon. Oct. 22 -- Like every other jazz musician who plays an instrument, saxist Eric Person is struggling in the current environment. But he has a distinctive tart sound and plays lines that'll make you sit up, and he's leading his well-broken-in band, Meta-Four. At Jazz Bakery; $25.
Tues. Oct. 30 -- They're calling it Honig-Pilc Project because drummer Ari Hoenig leads his own groups to compare with the stature of Jean-Michel Pilc, who's one of the freshest pianists on the global scene. The two have played a lot together and will assuredly rock the joint with versatile local bassist Dan Lutz gluing the bottom. At the Jazz Bakery; $25.
Wed.-Sat. Oct. 31-Nov. 3 -- Dave Liebman, who bridges the soprano-sax gap between Trane and G Who Must Not Be Named. Way on the Coltrane side of the chasm, of course. With Vic Juris (guitar), Tony Marino (bass) and Marko Marcinko (drums). At Jazz Bakery; $25.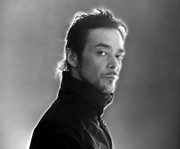 Wed. Oct. 31 -- DJ Krush, an all-encompassing master of not-just-turntables from Japan. Sure you can dance to it, but I'd rather sit alone in a completely dark room and listen. Still, to see this artist improvise a special four-hour set in person on Halloween, that will be something. At the Knitting Factory; $18.
Wed. Oct. 31 -- Danzig, of course, is the king of All Hallows' Eve. Pray to the infernal gods for good weather. He doesn't play many shows anymore, so do what you gotta. Danzig's band is former Samhain bassist Steve Zing, frequent Danzig mainstay Todd Youth on guitar and Karl Rosqvist on drums. Opening is Gorgeous Frankenstein, the new Danzig-produced band fronted by Doyle from the Misfits. At the Greek Theater.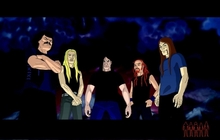 Thurs. Nov. 1 -- I don't wanna get in over my head describing stuff related to a Cartoon Network/Adult Swim animated show called "Metalocalypse" that I haven't seen, but its very existence is a phenomenon I'll have to investigate further. Dethklok, the band on which the show centers, is touring with non-animated musicians including Mike Keneally on guitar, and geez. Well, the music is parodic, and it's hard to argue with a hardcore metal cover of the Duncan Hills Coffee jingle: "Do you folks like coffee?" At UCLA's Ackerman Grand Ballroom, 8pm, students only, www.myspace.com/dethklok.