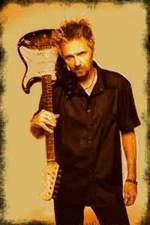 Fri. Nov. 16 -- I saw Cosmosquad last night at the Fender Bass Bash in Burbank (thanks for the invite, guys), and that feller Jeff Kollman keeps building on the first impression I got on hearing him five or ten years ago: He's a total '70s guitar superstar unstuck in time. It's not just his technique, which is incredible -- the speed, the finger shading, the invention, the spontaneity, the effortless rhythm, the aggression, the command of effects, the way he can slash his hand down repeatedly like a savage chicken chopper yet select exactly two strings and sound them perfectly. It's also the way he does it -- thin and flexible, he undulates and drifts across the stage with natural grace and command. Though with Andy Megna replacing the telepathic thunder of Shane Gaalaas on drums, this was not the standard Cosmosquad lineup, it rocked, funked and tripped heavy and easy. Cosmo heads out on an Asian excursion soon, and is putting together a DVD. Tonight, Kollman will be joined by Gaalaas and Thursday night's bassist, the deep-grooving Christopher Maloney. At the Baked Potato, 3787 Cahuenga Blvd. West, Studio City 91604; 9:30 & 11:30pm; (818) 980-1615, reservations highly recommended.
Fri. Nov. 16 -- Artillery Magazine party. First up is Forward Energy, the avant ensemble of windman Jim Ryan, bassist Aaron Kohen, saxist Alicia Mangan and vibesman Nathan Hubbard. Then my longtime writer comrade Michael Simmons emcees readings by John Tottenham (haven't seen you in a while, dude), Jason Flores-Williams, Mary Woronov (!) and Gordy Grundy. Last comes the meditative chamber group Mad Gregs, of which I am not a member. At Dangerous Curve Art Gallery, 1020 E. Fourth Pl., downtown 90013; 8pm; FREE.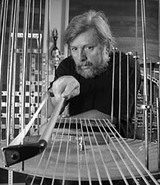 Fri. Nov. 16 -- Scream 2007: Analog Live! This looks like a hell of a program: Notables of analog sythesizer, acoustic-instrument invention and kinetic video, all joining together. You got film composer Gary Chang, multi-instrumentalist Alessandro Cortini (Nine Inch Nails), sound designer Richard Devine, instrument designer Peter Grenader, instrument designer Chas Smith (pictured here; his vibrating assemblies are a joy to look at as well as to hear), and video sculptor Paul Tzanetopoulos. Yow. At REDCAT, 631 W. Second St. behind Disney Hall, 8:30pm; $20; www.redcat.org.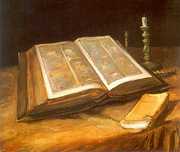 Fri.-Tues. Nov. 16-20 -- The annual meeting of The Society of Biblical Literature rocks San Diego this year, and that's where I'm gonna be. Scrolls, synoptics and semiotics, bitch, dat right. www.sbl-site.org.
Sat. Nov. 17 -- The Nick Mancini Collective is back, folks. Stand back for the hottest young vibraphonist in town, about to record an album. At Café Metropol, 923 E. Third St., downtown 90013; 8pm; $10; (213) 613-1537, reservations recommended.
Sat. Nov. 17 -- From Pasadena to Portland to Perdition, it's Smegma, one of the first West Coast ensembles to investigate the outest of the outmusic. They're third, it seems, on a 5pm bill of four groups at the Echo, 1822 Sunset Blvd., Silver Lake 90026; www.attheecho.com.
Sun. Nov. 18 -- An unusual pianist is David Troy Francis. Now famous for having written music to the canine-themed "Bark! The Musical," he has long approached the standards of musical history from a very personal perspective. Today he plays Rachmaninoff and selections from his new album of American hymns. At Pasadena Presbyterian Church, 585 E. Colorado Blvd., Pasadena 91101, 4pm; doesn't say how much but it might be free.
Tues. Nov. 20 -- I'm one of those idiots who think Van Halen were better with Sammy Hagar singing; I don't care that they've reunited with David Lee Roth. But after all this time, I figure they deserve that big MetalJazz boost, without which the show certainly wouldn't sell out. At Staples Center.
Tues. Nov. 20 -- Fight was the band Rob Halford started when he left Judas Priest back in 1992 -- hard, raw music. He's putting out a surround-sound film about the band that'll be shown at the Hollywood Chinese at 8pm with a Halford conversation afterward; you can buy tickets here. And the original Fight reunites to hype and sign a CD collection at Best Buy, 1015 La Brea Ave., West Hollywood, same day at 5pm.