Fri. Nov. 23 -- Nasty masses of technical, FX-extrapolated guitar with a blues subtext from the trio of Michael Landau with drummer Gary Novak and bassist Mike Elizondo. At the Baked Potato.
Sat. Nov. 24 -- Landau's back with The Jazz Ministry, also featuring Greg Mathieson, Abe Laboriel and Abe Laboriel Jr. At the Baked Potato.
Sun. Nov. 25 -- Azar Lawrence and his sax from the spirit realm, plus his soulmate band: Nate Morgan (piano), Trevor Ware (bass) and Fritz Wise (drums). Tapscott territory revisited. At the Jazz Bakery; 8 & 9:30; $25.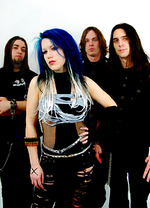 Sun. Nov. 25 -- Montreal's The Agonist (pictured) hit with a clean, dynamic, distinctive metal attack, mostly modern with heavy kick and vocal rasp, but voxmistress Alissa White-Gluz also does some of that wounded-angel melodic serenading, and she is quite the babe, which never hurts. They open for Norwegian black-metal vets Enslaved, thoroughly evil MFs who nevertheless retain substantial twisted tunefulness and eclectic weirdness. I gotta listen to them more. At the Key Club.

Mon. Nov. 26 -- You know Harry Smith, the guy who assembled the famous "Anthology of American Folk Music"? He was also an extremely innovative abstract filmmaker/animator, often hand-painting his cels, and they'll be showing a bunch of his works that almost never get seen, made from the '40s to the '70s. Dig: He used to make note-by-note films to reflect bop tunes, and hung out with Bird and Monk a lot. Quite a show. At REDCAT, 631 W. Second St. behind Disney Hall, 8pm; $9; www.redcat.org.