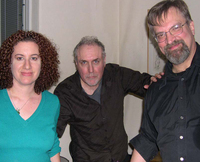 Fri. Nov. 2 -- Having sat in the actual presence of Roberta Piket while she was doing her piano thing, I can tell you that talking while she plays would be rude -- the New Yorker's nearly old-fashioned melodies develop and build upon themselves, and you'll want to understand where they came from. She's equally listenable on ballads and brisk post-boppers, abetted most drivingly by bassist Ratzo Harris and most sensitively by oftentimes L.A.-affixed drummer Billy Mintz. Both are with her here, and both play Eagle Rock on Sunday. At Café Metropol, 923 E. Third St., downtown 90013; 8pm; $10; (213) 613-1537, reservations recommended.
Fri.-Sat. Nov. 2-3 -- Dave Liebman bridges the soprano-sax gap between Trane and G Who Must Not Be Named. Way on the Coltrane side of the chasm, of course, as he was used as a kind of J.C. stand-in by Miles Davis on a couple of my fave '70s Miles records, "Get Up With It" and "Dark Magus." Not to mention Bill Laswell and Tom Harrell records and a lot of his own. And I just found out he was in Genya Ravan's Ten Wheel Drive, dude, way back in 1970! His name was spelled wrong on that band's Wikipedia page, and I tried to fix it but I don't think it worked. With Vic Juris (guitar), Tony Marino (bass) and Marko Marcinko (drums). At Jazz Bakery; $25. At Jazz Bakery.
Fri. Nov. 2 -- Among latter-day sorta jazz singers, Judith Owen is one I admire -- cool, clean, modern. And covering "Smoke on the Water" took some balls. At McCabe's, 3101 Pico Blvd., Santa Monica 90405; www.mccabes.com.
Sun. Nov. 4 -- Billy Mintz may be the most finely shaded drummer there is; sometimes you're not even sure whether he's playing or you're imagining it. He's in duo with reclusive Portland saxist John Gross. Playing solo is New York bassist Ratzo Harris, a dude who makes every note a statement and owns a relentless sense of rhythm. At Center for the Arts, 2225 Colorado Blvd., Eagle Rock; 7pm; $10; (626) 795-4989.
Sun. Nov. 4 -- Sacred communications via three combinations of our local spirit-channelers: the trio of Emily Hay (flute, voice, electro), Rich West (drums) and Haskel Joseph (guitar); the duo of Anna Homler (vocal extravagances) and Steuart Liebig (bass plus); and the duo of Dottie Grossman (poetry) and Michael Vlatkovich (trombone bounce-back). At Dangerous Curve Art Gallery, 1020 E. Fourth Pl., downtown 90013; 4pm; $10.
Sun. Nov. 4 -- Multi-instrumentalists Joseph Berardi and Kira Vollman create strange miniatures and mystic grooves as Non Credo; you won't believe the gymnastics and characterizations Vollman can execute with her voice. They open a four-band night that concludes with Czech spaz-rockers Uz Jsme Doma, whose art survived commie suppression. At Safari Sam's, 5214 Sunset Blvd. 90027; 8pm sharp for Non Credo; $10.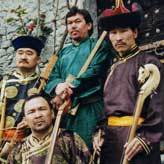 Sun. Nov. 4 -- Tuva is a little hat atop Mongolia. Many of its non-urban inhabitants ride horses, which has something to do with how the ancient throat-overtone music of Huun-Huur-Tu was inspired -- rhythms galloping, voices harmonizing with wind through mountain passes. Better listen while it survives. At McCabe's, 3101 Pico Blvd., Santa Monica 90405; www.mccabes.com.
Mon.-Tues. Nov. 5-6 -- Another one of those depressive ECM pianists who plays spare and beautiful: Tord Gustavsen, with bassist Harald Johnsen and drummer Jarle Vespestad. At Jazz Bakery.
Mon. Nov. 5 -- Around the World in 60 Minutes: many DJs spinning their fave tracks, all pals of Carlos Niño, so you know there'll be some vintage groove in there. At Rudolpho's Bar & Grill, 2500 Riverside Dr. 90039; 8pm-2am; (323) 669-1226.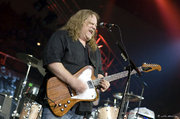 Thurs. Nov. 8 -- Regardless of whether you dig their new dub/reggae recycling album (I do), Gov't Mule will bring all that blues-rock mastery and refined but ultraheavy musicianship. Can't lose live, brada. At Henry Fonda Theater, 6126 Hollywood Blvd. 90028; (323) 464-0808.
Thurs. Nov. 8 -- What is it about 1968 that continues to breathe again and again in young lungs? Maybe people want to be naïve, and it's so hard to be that now -- "marching into the womb," as Magnus Pelander warbles on the new album "The Alchemist" by the Swedish psychedelic quartet Witchcraft. Yeah it's got Wolfmother and Queens of the Stone Age damage, but it really goes back to the source with dry, unadorned recording values, vintage guitar tones and the feeling of a sincere, idealistic quest. The title track spans 11 minutes of Sabbath and space. At the Echo, 1822 Sunset Blvd. 90026; www.attheecho.com.
Thurs. Nov. 8 -- Justo Almario will never be poor as long as he's got his tenor sax, cuz a lot of riches pour out of that thing. He leads a quartet. At the Vic, 2640 Main St., Santa Monica 90405; www.thevicforjazz.com.