Fri. Nov. 30 -- Ozzy rocks, and with Zakk Wylde in the band for most of the past two decades, he rocks twice as hard. Don't let nobody tell you he's over the hill. And I'm starting to like Rob Zombie more (just when his old fans like him less), because he's writing better songs and he's got John 5 playing guitar. This is a benefit for Sharon Osbourne's colon cancer charity, and I'd ordinarily make some stupid joke here, but what the hell, happy holidays. Tickets are still available, I think. At Staples Center.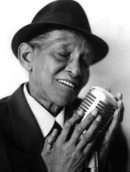 Fri. Nov. 30 -- Calling Jimmy Scott a singer is like calling Jesus a preacher. Jazz he is in the realest rhythmic sense, because he knows how to stop the clock, turn it forward and back -- so slow he's fast. (Must be how he can keep doing it at 82.) I have never heard anybody twist emotions the way this "little" man can. A genius -- and I almost never use that word. At Echoplex, 1154 Glendale Blvd., Silver Lake 90026; 7pm; $28-$32; all ages; www.ticketweb.com.
Fri. Nov. 30 -- On the site, the bill goes Chimaira, Kataklysm, Terror, Divine Heresy, but somehow I doubt they'll put D.H. last, cuz they're the new band of Fear Factory/Brujeria guitarist Dino Cazares, and they'll give ya a rhythmic workout that'll crack your ribs. At the Key Club.
Fri. Nov. 30 -- Don't try to dislike the intelligent, melodic pianistics of local up-and-comer Josh Nelson, cuz you'll fail. Especially with this band: bassist Darek Oles, saxist Ben Wendel, guitarist Mike Scott and drummer Nate Wood. At Café Metropol, 923 E. Third St., downtown 90013; 8pm; $10; (213) 613-1537, reservations recommended.
Fri. Nov. 30 -- Yeah, I saw The Raspberries last year for their reunion tour here, you wanna make something of it? Eric Carmen is one of the top songwriters of the '60s and '70s, period, and if you can't see the Beatles, the American Beatles will do just fine. At House of Blues.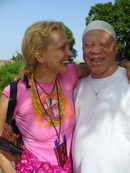 Sat. Dec. 1 -- You can search the world without finding another guitarist-singer-songwriter like Leni Stern; she's already searched there and found herself. I'll post a link to my LA Times feature on her the day of the show, since that's when it comes out. She's pictured here with Salif Keita. At Café Metropol, 923 E. Third St., downtown 90013; 8pm; $10; (213) 613-1537, reservations recommended.
Sun. Dec. 2 -- Eugene Chadbourne, the Shockabilly avant guitarist, plays a solo set. And vibesman-percussionist Brad Dutz presents his tribute to Shelly Manne's The Three, namely The Other Three; Dutz's Three include John Fumo on trumpet and Kim Richmond on sax, and they don't get any better. At the Center for the Arts, 2225 Colorado Blvd., Eagle Rock; 7pm; $10; (626) 795-4989.
Sun. Dec. 2 -- Duos you will dig: Nels Cline and Becca Michalak; Dan Clucas and Richard Wood; Jeremy Drake and Jessica Catron. Avant? Av course. At Dangerous Curve Art Gallery, 1020 E. Fourth Pl., downtown 90013; 7pm; $10.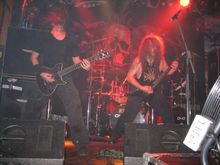 Mon. Dec. 3 -- The Death by Decibels Tour features two of my favorite metal bands, Poland's Vader and San Diego's Cattle Decapitation, plus four more. Read my review of the new Vader DVD here. At House of Blues.
Tues. Dec. 4 -- L.A.'s Xu Xu Fang have got some rock mystery, and that's a rare commodity anymore. At Echoplex, 1154 Glendale Blvd., Silver Lake 90026; 9pm; www.ticketweb.com.
Wed. Dec. 5 -- This week is starting to look absurd. You mean The Nels Cline Singers (a wild-ass power improv trio with no singing, as you know) are sharing a bill with Eugene Chadbourne? And DEFINITELY get there in time for Steuart Liebig's Mentones, who will blues & Beefheart your spots off. At Safari Sam's, 5214 Sunset Blvd., Hollywood; 7pm; $10.
Wed.-Sat. Dec. 5-8 -- The Moutin Reunion Quartet is a snappin' little combo, a coupla froggy Moutin bros in the rhythm section plus Rick Margitza on sax and Pierre de Bethmann on bass, doing urban jazz that feels real, real good. You oughta have a tumbler of scotch in hand for this one, but the venue doesn't accommodate such. At Jazz Bakery; 8 & 9:30pm; $25-$30; www.jazzbakery.org.
Thurs. Dec. 6 -- I'm here to tell ya that when it comes to country-rock, Gary Eaton and Kingsizemaybe got soul. Halfway through a big countryish night with lotta bands starting 9pm at the Echo, 1822 Sunset Blvd., Silver Lake 90026; www.attheecho.com.