Fri. Nov. 9 -- The magnificent avant windman Vinny Golia stirs it up and drives in a post-boppier direction when he does these patio things with his quintet, which usually includes drummer Alex Cline and often guitarist Nels Cline (who I think is in town this week . . .). At LACMA, 5905 Wilshire Blvd., 6pm; free.
Fri. Nov. 9 -- Speaking of Vinny, trumpeter/electroman Daniel Rosenboom records with Golia's redoubtable Nine Winds label, and he's on a bill with up-and-coming bassist Nick Rosen; keysman Danny Holt (playing early minimalist works by Glass and Rzewski); and intelligent world/neoclassical/etc. stuff from the chamber quartet Freshly Squeezed, featuring flutist Sarah Wass, clarinetist James Sullivan, bassoonist Sara Schoenbeck and percussionist TJ Troy. At Dangerous Curve Art Gallery, 1020 E. Fourth Pl., downtown 90013; 8pm; $10.
Sat. Nov. 10 -- Azar Lawrence does his hard-blowing, deep-flowing tenor thing at Vibrato Grill, 2930 Beverly Glen Circle, way up the canyon in Bel Air 90077; (310) 474-9400; www.vibratogrilljazz.com.
Sat. Nov. 10 -- For spacious and challenging outmusic, vibraphonist Nathan Hubbard's the guy; his star-studded Everything After quintet features windwoman Ellen Weller, clarinetist Gabriel Sundy, bassist Scott Walton and percussionist Brad Dutz. At Café Metropol, 923 E. Third St., downtown 90013; 8pm; $10; (213) 613-1537, reservations recommended.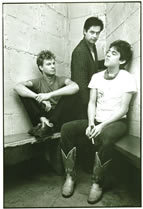 Sun. Nov. 11 -- When the Masque opened up about 50 paces from my Cherokee Avenue apartment 30 years ago, the timing was exactly right for me -- here was a place where I could hang out with similarly alienated creeps and bring down the decadent musical establishment. So I walked in the alleyway door, and the first thing I heard was from a girl sitting on the floor leaning against the wall: "You don't belong here." I dunno how she could tell -- I guess maybe I wasn't wearing anything ripped. But obviously she was correct, since her opinion was later reinforced by doorman Bruce Barf when I brought in a demo tape of my brand-new band: "You're too professional. Sorry." Well, it was the first and last time I ever heard that comment; I was way too unprofessional for me. But the gutter snobbery didn't stop me from returning often to see the Weirdos, the Screamers, the Gold Cups and the Metro Squad, and it didn't stop my band from playing gigs elsewhere with some of the groups reuniting tonight to celebrate the three decades, notably Tito Larriva's Plugz, whose bashed-up melodicism I always admired; they're back in their original trio format with the fantastic Charlie Quintana on drums and longtallblond Barry McBride on bass. Not just an anniversary, this is a publication party for Masque entrepreneur Brendan Mullen's new photo/reminiscence book about the club, and you should obviously buy it. The other bands are The Eyes (whom I first saw with future Go-Go Charlotte -- here tonight -- on bass I think, paper eyes glued to foreheads, opening for the Damned at the Starwood), the jazzfreaky Deadbeats, Billy Bones of the Skulls, The Controllers (whom I saw in '77 opening for the Seeds -- I was drunk enough to sit in on freeform keyboards with Sky, since they were taking all comers), The Dogs (not a punk band, just a very good rough-hewn pre-punk trio who played everywhere), Shock, the billypunk Gears, Wild Weekend (covering the pop-punk Zeros), The Diffs (covering the Germs), and, representing units from the Masque II Santa Monica Boulevard days, The Crowd and The Flyboys (hey John C). With film footage at 3:30, plus readings and BBQ, at Echoplex, 1154 Glendale Blvd., Silver Lake; 3pm onward; $18 via www.ticketweb.com.
Sun. Nov. 11 -- Vinny Golia's back, on a bill with the otherworldly harp of Susan Allen, plus sets by Ian Carrol, guitar maimer Jake Vossler and microtonal/effected guitarist Antony DiGennaro. At Dangerous Curve Art Gallery, 1020 E. Fourth Pl., downtown 90013; 4pm; $10.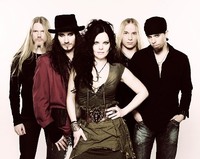 Sun. Nov. 11 -- The barnyard animals wanna know: Is Nightwish real metal? Is Riverdance real Celtic music? Is Mitt Romney a real Mormon? Well, ever since I saw Lordi at Ozzfest, I have come to believe that Finland has a whole different take on spectacle and authenticity, and what is real may not be the point. Nightwish's beard-braided guitarist yells "Fuckin' yeah!" before their classically piped femme singer goes all operatic, there'll be a real light show, and the music ain't half bad, really. Entertaining at minimum -- check out their DVD on Nuclear Blast if you're curious. Maybe Esa-Pekka will be there. At House of Blues.
Wed. Nov. 14 -- When I want dumb Southern metal, I'll take Hell Yeah, the latest project of Pantera drummer Vinnie Paul, over Pantera any day -- no Anselmo! Don't miss Otep, whose new "The Ascension" I reviewed in LA Times here. At the Key Club.