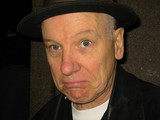 Perhaps it was no accident that a 30th-anniversary convocation of bands that had played the Masque, L.A.'s first punque clubbe, was held on Veterans Day. It was certainly no accident that it coincided with the publication of Masque founder Brendan Mullen's latest punque buque, "Live at the Masque" -- a fashionating stack of axxion-packed era photos by Frank Gargani, Al Flipside, Melanie Nissen, Jules Bates, Kerry Colonna, Ann Summa and on and on, which will cause interested readers to neglect job and family if they aren't neglecting same already.
The atmosphere was sweet, with younger attendees looking kinda, like, honored or something to witness the Plugz, the Eyes, the Controllers, et al. (Plugz drummer Charlie Quintana calls 'em OPs, Original Punks), while bent veteranz clumped shyly, looking both pleased and embarrassed. The intense 1977 reek of fevered invention mixed with posing, back-stabbing, chipping and cliquery had blown completely out to sea.
One does forget to pose when continually reminded that one is so lucky to be alive, a conclusion inescapable after the gloriously shag-headed MC Bruce Barf (who had fulfilled the same function three decades previous) rattled off names of the proto-punks who weren't: Tomata du Plenty, Craig Lee, Rob Graves, Black Randy, Marc Moreland, many more, and I could add a few citations myself. When Mr. Barf (Marc's brother) admitted that he had given Darby Crash the $7 with which the Lord of Germs purchased his final fix, he sounded not entirely regretful -- it was, after all, a favor at the time.
I'm not going to palm this off as a proper review, as nobody was paying me to write, I wasn't there the whole nine hours, and I had more fun without pen in hand, exchanging kicks in the shin with proto-punk film auteur Richard Casey, film slasher Kent Beyda, Screamers thumper K.K. Barrett, musick recorder Mark Wheaton, lush thrush Weba Garretson, freaksinger Kira Vollman, bangmaster Joe Berardi, bass fisherman Steve Fishman, image manipulator Ewa Wojciak, factual fictionalist Bruce Kalberg, dirt digger Kateri Butler, Al's Bar bookmaker Debbie Drooz, ecology spy Gloria Ohland, ax murderer Dim Wanker, and uh, and uh . . . I mighta blacked out once or twice.
My pen was, in fact, providentially knocked into the void during the set of the very first group, during the evening's very first and maybe only incident of what we used to call slam-dancing. The group was four kids aged about 18 called The Diffs, who inspired mental groans when a hand-wringing Mr. Mullen introduced them as a Germs cover band. But only a hard-bitten old bastard could have continued groaning when they played. They weren't as loose as the Germs (who could be?), and the Darby look-alike front boy, Richie, while stumbling less chaotically than Mr. Crash, sang into the microphone rather than around it, so he wasn't trying to be completely authentic. This was no problem; the Diffs played as if they really liked the music, which they should, because the Germs had good songs. (The Diffs possess a wider repertoire than what they showed here, by the way.) And we liked them.
From youngest to oldest, next up was the pre-punk trio The Dogs, whom I saw on many occasions starting at least as early as 1975 playing their simple, hard-driving street rock, which mighta been called punk at the time if guitarist Loren and bassist Mary had sported less Stonesy hair; they actually look punker now that Loren's hair is white and short. They sounded exactly the same.
The only weak band was Wild Weekend, three gals and a guy from San Diego (though the singer chick sounded like the Governator when she talked) covering the Zeros. Live, they didn't pull off enough melody to do justice to the Zeros' pop-punk songwriting; the Zeros were rough but could carry a tune.
Let's see, I think O.C.'s The Crowd was next, generic but strong. Holly Vincent (of Holly & the Italians) fronting Shock looked and sounded a little bruised, dressing new-wavey to fit her vintage pop hit "Tell That Girl," which struck an odd note in this context. Damn, a couple of The Gears had gotten big as boulders, but they sure did bash out the party-line punk rock. The Controllers virtually invented that hardnfast template, and they ain't forgotten how to crank it. Ditto Billy Bones of the Skulls. Could've done without The Stitches' neopunk revivalism.
No Weirdos or X on the bill; woulda needed a bigger hall for that. Only guys I spotted from either band were second-edition Weirdos bassist Mr. Barf and X drummer Don Bonebrake, who'd donned one of his trademark horrible hats to rattle with his pre-X band The Eyes, featuring bassist Charlotte Caffey (who famously moved on to play guitar for the Go-Go's) and guitarist Joe Ramirez. Onetime Eyes drummer Kyle and I agreed that they had a few memorable tunes, but the couple songs they introduced as pre-Eyes "prog punk" stood out as a good deal grabbier.
Sorry I missed The Deadbeats and The Flyboys (both reportedly excellent) when I had to go out and change my diaper; thanks to Echo mistress Liz Garo for suspending the venue's no-ins-and-outs policy for the night to accommodate the needs of the geriatric patrons. It was swell to encounter original Madame Wong's and Blackie's booker Paul Greenstein, but he had to retire early so he could get up and pimp vintage motorcycles for the movie shoot of some famous director. (Coppola? Scorsese? Can't remember.)
I had an appointment for dialysis and a spine replacement, so I too needed to recede before one of my very favorite bands, The Plugz, hit the stage to perform their classic album "Electrify Me" in its entirety. Tito! Charlie! And there, standing near the exit, was original Plugz bassist Barry McBride, whom I had not seen in 20-some years and who didn't look a day over 40, the fucker.
Anyway, the bar was out of Heineken.
PICTURED: BRENDAN MULLEN.