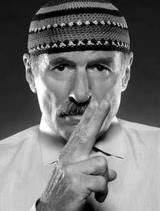 "I thought lightning hit me when I heard the news at midnight." That's Leni Stern talking, and she does sound electrified, glowing. It's 1am in Bamako, Mali, and she's just been told that Joe Zawinul's ashes will be spread over the River Niger in an African ceremony after sunset tomorrow, December 18. She doesn't think she'll be sleeping tonight.
"This was Joe's last wish," says Stern. "He said his soul would rest best in Africa." So Zawinul's fellow musicians Salif Keita and Cheick Tidiane Seck have found a way to pull it off in a traditional ceremony.
African music meant a lot to Zawinul -- Keita sang and Seck played keyboards on his 1996 album "My People"; Zawinul produced Keita's "Amen." And the African connection went back a long way: Zawinul wrote the song "Ndu Lima" on Cannonball Adderley's 1968 album "Accent on Africa," even before exploring African strains with Miles Davis.
Zawinul died September 11, 2007.
As she looks out her window in Bamako, Stern's eyes rest on a bridge over the River Niger.
A bridge, yeah. Think about that Tuesday around 8:30am LA time, 11:30am NYC time.