Fri. Dec. 14 -- It's X with Dave Alvin 'stead of Billy Zoom: The Knitters billy-club ya till your nose hairs snort roots. At Safari Sam's, www.safarisamsclub.com.
Fri.-Sun. Dec. 11-16 -- Subtle master of jazz-funk & world, guitarist Mike Stern hangs with his regular guys: P-Funk drummer Dennis Chambers, saxist Bob Franceschini and bassist Richard Bona. At Catalina's.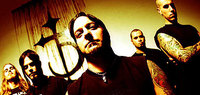 Sat. Dec. 15 -- Lamb of God, saviors of modern metal. Read Burk's LA Times feature here. Killswitch Engage -- too emo-bound for me. Soilwork -- good songs. DevilDriver (pictured) -- Dez Farfara's band is one of the fiercest blasts out there; great live. At Long Beach Arena, 7pm; www.ticketmaster.com.
Sat. Dec. 15 -- Out of Long Beach, bassist Anthony Shadduck may be young, but he's attracted a hellacious band: Nels Cline (guitar), Lynn Johnston (clarinets) and Bert Karl (drums). They play avant with a leaning toward early Ornette. At Café Metropol, 923 E. Third St., downtown 90013; 8pm; $10; (213) 613-1537.
Sun. Dec. 16 -- Kickin' country roots with several entertaining twists from I See Hawks in L.A.; I could listen to Paul Lacques play steel all day, and I could just about do that, cuz this is a brunch thing. At Safari Sam's, noon, and looks like it's free if you're eating. www.safarisamsclub.com
Mon. Dec 17 -- From Seattle, Reptet have been playing their avant jazz for a long time and have pulled together a nice ensemble feel. At Safari Sam's. www.safarisamsclub.com. Seems like I'm plugging Sam's a lot this week; what'd they do, get Keith Morris booking the place?
Tues.-Sun. Dec. 18-23 -- It's important to nurture a spark of madness, and Chick Corea Elektric Band is the keysman's way of doing it -- guitar workouts, space epics, unapologetic Scientology weirdness. With Dave Weckl, Victor Wooten, Eric Marienthal and Frank Gambale, as usual. At Catalina's; $35-$40.
Tues. Dec. 18 -- From New York, Bloodsimple. "What is the problem with drinking whiskey and smoking weed? Live within the system. If you don't like it, well fuckin' leave." Metal, but first of all, rock. At the Whisky.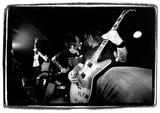 Wed. Dec. 19 -- Crude, sweaty Viking metal from Sweden with Amon Amarth, who are really entertaining. Seattle's hardworking Himsa (pictured), whose new "Summon in Thunder," featuring the return of original guitarist Sammi Curr, is the best thing I've heard from them and one of the year's best, period -- real thought put into the hard, sharp ax lines and the varied songwriting. Plus emo metal from Sonic Syndicate. At Avalon.
Wed.-Sat. Dec. 19-22 -- Kenny Barron, last of the clean, pretty piano masters of yore. With bassist Kiyoshi Kitagawa and drummer Johnathan Blake. At Jazz Bakery; 8 & 9:30pm; $30-$35.