Fri. Dec. 28 -- No kidding: L.A. sonic innovators Electric Prunes in a rare reunion of the '67 band, plus music the color of time from Strawberry Alarm Clock. As Randy Lewis says, all you need is Moby Grape and Ultimate Spinach, and you got the '60s psychedelic vegetable kingdom covered. At the Knitting Factory.
Fri. Dec. 28 -- Real enjoyable post-bop, Latin and trip music from the fine local quintet of trumpeter Elliott Caine. At the Millennium Biltmore Hotel Gallery Bar, 506 S. Grand Ave., downtown, 8:30pm-12:30pm, free except for $6 validated parking.
Sat.-Sun. Dec. 29-30 -- Barbara Morrison, one of the deepest jazzblues singers anywhere, stages a tribute to California jazz musicians along with saxist Houston Person. At the Musicians Union, 817 N. Vine St., Hollywood; (856) 232-0183; $20.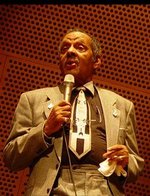 Sat. Dec. 29 -- Ernie Andrews' 81st birthday celebration. The singer has been around since the height of Central Avenue, so you know he's got some friends. At Jazz Bakery, 8 & 9:30pm; $30.
Sat. Dec. 29 -- Monster metaljazzfunk guitarist Jeff Kollman has busted down a lot of doors this year; he's got drummer Glen Sobel and bassist Chris Maloney with him. At the Baked Potato; 9:30 & 11:30pm; $20.
Sun. Dec. 30 -- Heavy but also arty and freaky: The Melvins, plus dense metallic punk from The 400 Blows. At Echoplex, 1154 Glendale Blvd., Echo Park 90026; $18; www.attheecho.com.
Mon. Dec. 31 -- Ernie Andrews celebrates his birthday again (why not?) on New Year's Eve along with vet saxist Houston Person. At Hollywood Park Casino, 3883 W. Century Blvd., Inglewood, 8pm; $50 in advance or $60 at the door includes a lot I bet; call (856) 232-0183.